Arvind Kejriwal is unequivocally the cynosure of the country these days, if not for his ideology then for his clean sweeping, thumping majority in the Delhi Legislative Elections. An almost non-existent opposition is certainly to facilitate easy passage of the bills on the table hence alleviating the cumbersome, unsavory process of legislation.
For many this win has reinstated him as the doyen of anti-corruption and a selfless patriot with an elixir to eradicate corruption; others, they perceive it as an act of condemnation of his fleeting ordeal, last year, by the voters of Delhi; and then there are those naming AAP's victory a spillover effect of BJP's lousy campaigning.
There certainly exists a dimorphic of skepticism for his administrative skills in contrary to his clean, anti-corrupt and honest image. Moreover his manifesto is a beautiful assortment of public subsidies, corruption desisting moves and proposed budgetary allocations for infrastructural development sans factoring out of strategies for economic growth. Not definitively opined upon his performance standards, I believe the determination of any of that demands a test of time.
However, distant from the direct political debate, herein I desire to discuss the stereotypes he broke in the process, which I could help but not notice.
1.

Love Life and Public Display of Affection

Malevolent at the very face of it, overtly contrary to our closed conservative culture is public display of affection, for being propagated by many moral polices in India that way. PDA for one's wife is also often tagged as debauchery. Almost all politicians in India do not openly express their affection towards their spouses, specifically on populist platforms. The boldest visual for my eyes ever has been that of Priyanka Gandhi holding hands with her husband. Also not to forget that that's the story of an aristocrat. It's perceived as blasphemy. However, impervious of such moral policing, in the euphoria of the land sliding victory, an impassioned and exhilarated Arvind Kejriwal hugged his wife; a gesture unprecedented in the Indian political history. The only image analogous I could rehash was that of Obama and his wife embracing each other upon Obama getting re-elected as the President of the U.S.A. Arvind Kejriwal didn't stop there and went ahead to affectionately put his arm around his wife while introducing her to the public upon his victory. The act, thankfully observed positive reception from the media as well as the masses. He has always been also vocal about his love life, his proposal to his wife Sunita and marriage then after. Upon victory Arvind Kejriwal publicly appreciated his wife's support and expressed his affection for her. Ironically such attitude is appreciated by most in our societies today, however is refrained from by the politicians. This certainly was some trend-setting!
Thank u Sunita for always being there "@rsaraf007: Sunita Kejriwal and @ArvindKejriwal first pics after winning pic.twitter.com/eDLxfxKMbd"

— Arvind Kejriwal (@ArvindKejriwal) February 10, 2015
2.

Protecting his Wife's Individuality

The best part about Arvind Kejriwal in general perhaps is his treatment of his wife. As was stated by a news agency, Sunita rightly does not just put food on the plates of the family but also roof upon the heads of the Kejriwals. As Arvind Kejriwal was experimenting with his social and political endeavors, his wife continued to serve the Revenue Department of the Government of India as an IRS officer to be the earning member of the family. This is quite unlike the plenary patriarchal set-up of the Indian society. She, through Arvind Kejriwal, hasn't just succeeded in projecting herself as someone smart, self-reliant, headstrong and independent but also single-handedly has managed to mar the stereotypical, traditional image of the Indian woman of being sacrificial figure living by the auspices of her husband whose life revolves around her husband's deeds. Arvind Kejriwal too offhandedly discarded the burden of being the 'Man' of the house to allow his wife all the freedom that she deserves. A great head over shoulders, on being quizzed upon the paucity of her participation in her husband's political forays, she neatly responded by accounting her incarceration to her role as a civil servant who has to abide by certain obligations towards the government. Not patently Arvind Kejriwal here but his wife certainly ascertains herself as an epitome. Women are likely to perceive her as an inspiration across the nation only rightly.
3.

Dress Code

The stereotypical ethnic display of sartorial by the politicians was one amongst the many he rebuffed. Arvind Kejriwal's cladding, famously, comprises of a shirt, pair of trousers, pull over sweaters, and the very famous muffler to compliment the winters and sandals instead of kurtas, safaris, lungis, gamchhas et al; quite unlike the garments that the Indian politicians popularly adorn. His style is far from what the Indian culture is re-commendatory of. He has rescinded the myth that one needs to dress Indian to connect with our masses. Akin to him, many of his party members like Manish Sisodiya, Kumar Vishwas, Rakhi Bidlan, Alka Lamba, to name a few, dress to their comfort. Vishwas goes a step ahead to be often seen in blazers and expensive watches dangling from his wrist. The rationale stated for such practice by them is "Representation of one's real self and to not dissemble the voters of our real identity. We continue to dress like we always did. Metamorphosing to suit the portfolio would be deceptive".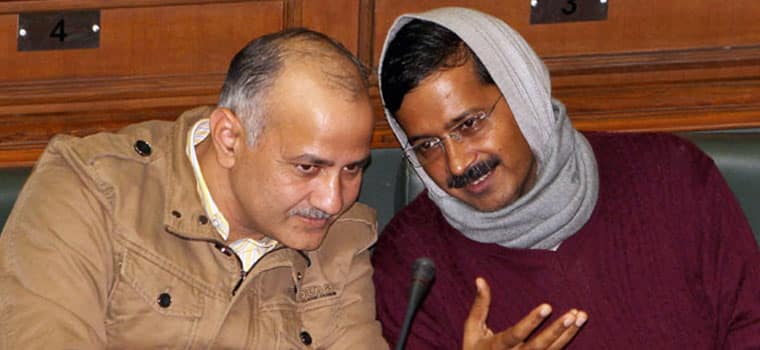 Courtesy: ibnlive
The thumping mandate is clearly indicative of the voter's interest being instated in issues rather than in clothes. It also echoes the acceptance of the synthesis of India and the west, which is ubiquitously in practice in the real India at all levels of the society.
4.

Negating God Men and Priests

The imam's fatwa announcing support in favor of a political party is something every political party in India yearns for. Every god man or priest traditionally is ancillary to huge vote banks. Speaking against or ill of such persons, leave alone rebuking of an order declared by him, is likely to upset most conservatives. Arvind Kejriwal bravely and blatantly repudiated the fatwa in his favor thereby observing secularism in its real spirit.
5.

Enunciating Nepotism

The AAP's framework clearly enunciates provisions regarding participation in the party. According to them only a single individual from a particular family can be involved with the AAP. This move boldly discourages nepotism and is a measure against plausible dynasty politics in the future. Although the longevity of it is a matter of debate but it certainly underplays the stereotype of preference to heirs of the antecedents. First of the kind, hence I believe is a matter of applaud.
6.

Envisaging Technology within Infrastructural Development

The AAP manifesto is dedicated largely towards infrastructural growth. Promises to replace the slums with brick and mortar houses were made. Likewise the constructions of colleges and schools have been promised. However, the show stealer was the free provision of local area wireless technology, the Wi-Fi. This bids to bolster connectivity and encourage the use of technology. This move was progressive as much as demographically acknowledging thereby insinuating a win-win. Unprecedented yet again, he rightly promised the land of technological wizards some magic wands.
7.

Acceding to LGBT Rights

The manifesto per se is devoid of the issue but upon being probing into his plan of action, Arvind Kejriwal acquiesced to the rights of LBGT on a populous platform. As does not cater to a large number of voters, the issue is absent from the books of most politicians. Also the profanity attached along with it leaves an exposure to controversy. However Arvind Kejriwal addressed the issue on the grounds of human rights and was indicative of his assistance towards their attainment. He also apologized for the error of omission of the cause.

With this election one can notify the inception of change in the Indian political scene. The progressed masses now demand for progressive leaders. Regression and conservatism hold no place in the list of political agenda. Arvind Kejriwal's probity is unquestionable so far but governing strategies for not being concrete is going to make the next five years in Delhi quite a ride. However a fresh play of politics wherein the conventional is being left behind to adopt the real scenario of our society is pleasing to the senses. Quite a few shackles of conservation and tokenism were gotten rid-off, hopefully to imbue progressive and non-pretentious way of politics.
Disclaimer:

This article is solely reflective of the author's OPINION, independent of undue influence of any nature. It should not be relied upon for the purpose of pedantic factual accuracies.