Know Us Better
We create and curate stories which give you a happy, positive, or an inspiring vibe.
In a world full of negative news, we attempt to focus only on the stories that are inclusive, interesting, entertaining, or constructively opinionated. We strongly believe stories can inspire a change. Because stories are powerful!
Why We Do What We Do
Imagine your child reading the daily morning newspaper that screams about rape cases, a 2-year young girl child molested by her drunk father, murders of elderly people, and what not. Do we need to tell you about the adverse effect it can have on you, or in your child's thought process? Can you let that happen? We can't. Because we believe there are too many of positive stories happening daily around us as compared to the negative ones. And we want to talk of about the positive ones only.
This is our honest attempt, through these stories, to uplift the spirit, inspire, motivate and empower people towards a positive mindset; and reflect on the aspects of life that truly matter.
Our Ethos
LifeBeyondNumbers.com is based on the following three core beliefs around which this platform has evolved over time.
1. Good Vetos Bad: These days we are overwhelmed by (bad)news. The idiom, no news is good news, rings truest today more than ever. We believe for everything that is wrong with the world, there is something going right which keeps the ball rolling. Through our stories, we want to spread this goodness and inspire a change.

2. Positivity Is Contagious: Every life tells a different tale. We wish to bring to the fore those life experiences and learning that can spread positivity, motivate and inspire a change.

3. Everyone Loves A Good Story: As children, we have been nurtured with stories that sparked the imagination and helped us escape to a parallel universe in our minds. As life goes on, many of us lose that ability as we box ourselves into the practicalities of "real" life. But the truth is that in order to face life we need stories – to give us hope, to let us dream, and to fuel us to thrive. At LBN, we create and curate stories that try to do just that – inspire a change.

Why The Name - Life Beyond Numbers
"Not everything that counts can be counted." – William Bruce Cameron.
We believe that success and achievement are the unavoidable byproducts of a combination of relentless pursuit of excellence, self-belief, perseverance, and courage. How do you count the courage that keeps you going through the hardest of times? The hope in that inner voice which tells you to give it one more try even after you've failed multiple times. The belief that enables you to come out of your comfort zone and chase our dreams or, pursue a passion.
Inspiration, perseverance, motivation, hope, belief – these are things that can't be quantified and yet, we know for a fact, that's all that counts. And that's what we call a Life Beyond Numbers.
How Are We Funded?
We are currently bootstrapped.
If you are an investor who connects with our ethos and strongly believes that positive stories are the need of the hour, you're in the right place. We would love to have a discussion and share the roadmap ahead with you to make one of your best investment decisions. Please write to us at the email below.
Let's do some soul satisfying and meaningful work together.

You Too Can Be A Part of Our Mission. How?
What we want to achieve is challenging. But not impossible, we believe. We always look forward to meeting people who resonate with our mission and can support us in this endeavor in any way possible. Though we are always open to exploring any new ways to get associated with, these are some of the steps you can take right now:
1. Write With Us:
It's not possible for us alone to reach out to so many positive stories happening around us. If you are passionate about writing and storytelling, you can volunteer to contribute inspiring stories, interviews, and thought provoking articles which are in line with our mission.
2. Tip Us Off:
You can simply help us by sharing details or connecting us directly to individuals or organizations whose story you find positive and inspiring enough to be shared with the world. Or maybe, just share your own inspiring story.
3. Fund/Sponsor Us:
It takes a lot of effort to maintain the platform and propel these inspiring stories to thousands of people. You can help us to keep running the show by funding/sponsoring us with your contributions.
4. Be Our Guiding Star:
If you are an expert in the field of Media/Publishing, Sales, Marketing, Editorials, or any other relevant field, then you may help us with your advice and involvement in taking this platform to the next level. Be our guiding star.
Can't wait to be a part of our journey? Just drop us a line here with your interest. We will get in touch with you.
The Founding Team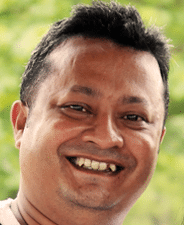 An Aeronautical Engineering drop-out, Syed Muksit, founder of LifeBeyondNumbers.com, wears multiple hats within the team. After over a decade-long career in the IT industry with a Business Intelligence and Data Warehousing background, he now loves exploring the emerging trends in social media and digital marketing. A first generation entrepreneur, he is intrigued by human behavior and the uplifting stories around. Inspired by life, he loves traveling, movies and music. A foodie by birth and cooking is his stress buster. Prefers to listen more, and talk less.
Meet him: LinkedIn | Twitter | Read his published posts
The Core Team
We are a bunch of people, spread across geographies, who share the same enthusiasm to inspire a change through the stories we tell. If you are someone who is responsible, self-starter and share the same vision with skills like Editing, Writing, Social Media Marketing, Sales, Business Development etc, you too can be a part of us.
To team-up with us, write to us directly here.