Courage. And its meaning varies from one individual to the other. To speak the truth. To stand against the wrong. To steal that 100 rupee note from their father's pocket. To go bungee jumping. To speak that lie. To watch that adult movie the night before the mathematics exam. It takes courage. Not to justify whether the courage is for good or bad. But this is courage in different forms of human behavior.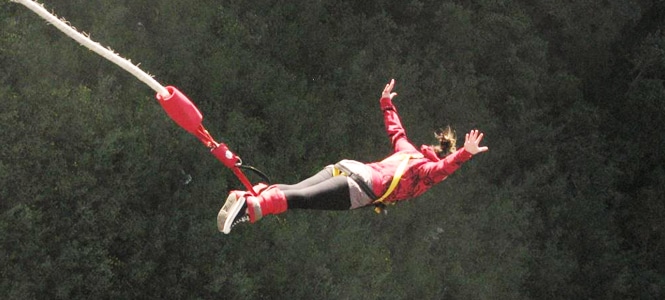 Sometimes back I got a chance to witness courage in a way not known to me before. It was a lovely weekend evening. Me with my family went out to buy my son his first set of wheels – a cycle. After our usual shopping spree, we wanted to taste something yummy. Like most of the times, we decided up on KFC. There was no getting away from the mad rush KFC gets on the weekends. I was somewhere towards the last in the queue and waiting anxiously for my turn to place the order. To add to my despair, our queue was moving much slower than the others beside me. I was starting to get irritated. The counter boy serving to the row I was standing in was too slow to take the orders. Somehow after attending a couple of phone calls, I got lucky to be standing in front of the counter. The counter boy was still not done entering the details of the previous order. As I waited anxiously, he was taking his own sweet time in punching those details to the computer. Finally he looked up. I was relaxed. And I started babbling out the order like a hungry 6 year old kid.
After couple of seconds, I realized, again to my surprise that the counter boy was just staring at me with a blank look. I was getting frustrated and was just about to start shouting when I realized that he was trying to say something. I paused. And couple of seconds gone. Then it suddenly hit me like a cold hard thump – the counter boy was deaf and dumb.
That was the moment of truth for me – courage. He allowed me to place my order by showing the items in the menu card. I also probably learned as to how to express, without my words, if I would have the food there or was it a take-away order. I took that tray he gave me. Exchanged smiles and I moved out of the queue. No, I could not go out of KFC. I placed myself comfortably in a corner and watched that boy take two more orders to every customer's delight. I saw courage in that boy to overcome all the odds and still earning a respectful living. Working hard every day to add to his skills and make every customer happy. But I also saw courage, oozing out of the KFC team and its management. For a brand like KFC, it is, I feel, too courageous to show faith, confidence and give support to that boy who stands at perhaps the busiest corner of that outlet – the cash counter. With the kind of crowd it has, they could have easily put an able boy out there and place that boy somewhere in the kitchen maybe, where he would not have to interact with the customers. But it was only courage in the form of faith and confidence that they allowed him to be there, greeting every customer with his smile and to serve them to their delight.
I saw courage. It was a wonderful evening. I learned how not to be taken aback by our disabilities and inefficiencies. It takes only a bit of faith on self. A pinch of confidence. A touch of courage. And it can be all smiles throughout the way, standing tall with our success. As Ambrose Redmoon so rightly said – "Courage is not the absence of fear, but rather the judgement that something else is more important than fear."
Have you recently offered someone a pinch of confidence to gather his/her courage and do something to feel proud of and stand with dignity?