Ambition can be of very different types. Some people want money, fame and luxury, some want to make a difference and create a positive impact. It is also a matter of maturity in one's thinking among other aspects that affect a person's goals and aims in their lives. What is really amusing to observe is the level of maturity that some people attain at a very young age. Aishwarya Goel, a final year engineering student who is barely out of her teenage years embodies that very spirit. Meeting with her made us look into our own lives back at those years when we were her age. It made us think, and think hard what we might have been thinking when we were 20 year olds. Aishwarya has started EmbedLearn in her third year of college, all on her own. She had a very clear and distinct goal with the step she had taken when she was still a teenager. She wanted to make sure that upcoming students should be able to make informed career choices. And on top of that she wants to do it for the students of remote schools where there is an obvious lack of resources, activity and thus a lack of awareness.
In her exclusive conversation with LifeBeyondNumbers, Aishwarya shares her journey, thoughts behind EmbedLearn, her career plans and lots more…
The Beginning And Birth Of EmbedLearn
Basically we are giving workshops and camps in different schools in Delhi and NCR region related to Robotics and Electronics. We are focusing on 11th and 12th grade students right now. The thing is that, I started this with my own experience. When I was in 11th and 12th, I had Physics and Electronics as subjects and I had no interest in these subjects, largely because I had to cram all the things. When I joined college for my engineering, I took up Electronics and Communication just because of the stats. There was nothing like I wanted to study those subjects or passion or something. But as I went into the practical field and when I started doing things practically not being limited to theories, I realized the kind of mistakes I committed back in school days. I realized that students mostly mug up things in the studies without really having a real interest in the subjects. I was fortunate that I chose the Electronics and Communications stream which later on became my passion. But I have seen so many people in this filed who are brilliant students, but that is not their field. They have chosen a wrong field. And I feel that's mainly because of lack of practical learning in their school days. So that was the main reason behind starting EmbedLearn. Right now we are getting a very good response.
We are focusing on the government schools right now, because we've seen in the private schools they have activity clubs and so many other things. Students of these schools have the scope to progress and they are, and I'd say by leaps and bounds. On the other hand, in the government schools there are so many talented students, but unfortunately they are not exposed to or aware of such things. So we want to remove all those barriers by letting them know basic electronics through practical learning. We are using Arduino which is an open source electronics prototyping platform. We want to make it easy for the students to learn programming. We are improving their skills of programming, and we are letting them know how to use those theoretical concepts of Physics and Mathematics in the practical field. And we are focusing on those schools which are removed from the main stream.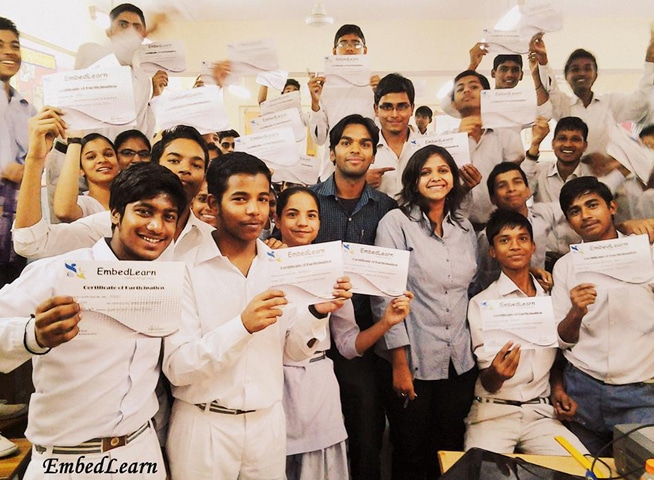 We are now limited to Delhi and NCR mainly because of my availability. I don't have a single day off in the week. College from Monday through Friday and on weekends I work on EmbedLearn. I had started EmbedLearn in my 3rd year college and I was the only one working on it then. It was just a year back from now, I had done few workshops but couldn't take it forward as I had my exams. I had interns from outside Delhi like Bangalore, Jaipur, etc. and was getting all my contacts from there. But I wasn't able to do it because I had my exams and classes, and traveling there wasn't possible. And also one mistake I made was I approached the private schools. It was difficult to convince them since I wasn't even a fresher, I was a student. I still am. (laughs…) I had to stop it then mainly because I was alone, and mine is not a kind of thing that can be done online or something. It needs my presence, and now that I have a partner, it has become possible to quite a large extent.
We have three kind of kits right now. The first one is a basic kit with basic components. The other one is the Arduino kit, in which there is the Arduino hardware, a USB and a small component. The third kit is the combination of both the basic and the Arduino kit. A lot of students and even teachers are showing interest in buying those kits.
So now, just a few months back I got on board another person with me who shares the passion and he is helping me out throughout the whole thing. Now we have 3-4 interns who help us get the schools and it's taking a good shape now. We also are tying up with NGOs to do our workshops. We do these workshops for free and in return these NGOs are providing us with the venue. So it's like a fair deal.
We are still in a testing kind of a phase, we are just starting up. Until my engineering gets over, it's going to be a little difficult because of the time constraints. I am sure about not getting into a job after college, so I am just waiting for college to get over and give my full time to EmbedLearn. I want to focus totally on my venture and devote my full time into it. If by investing 10% of my time, I can do something at this level, I am pretty sure that by investing 100% of my time into it, I will be able to make it work in a much larger scale. We have applied to some incubating companies to get some funding for a jump start, but until my college gets over, which is a few months from now, we will be operating without an office and other facilities.
We do an orientation and we show the students what they are going to learn in the workshop. We carry out kits and all the basic components along with the software for the workshops. We are charging a very nominal fee for the workshops, which is just Rs. 100 per student. Because our aim is not to make money at this point. We want to make some good contacts and demonstrate our model of work. But in the government schools, even convincing the students for that 100 rupees is not very easy. So we can't expect more than that.
The Present, The Future And The Challenges
Right now we have around 4 workshops lined up, till November end. After that in December, when the schools will have vacations, we will have a winter camp for them. We have got Delhi Girls Home School, which is funded by some people from Australia, as our venue for the winter camps. We also have plans to approach the government schools to give us the contracts of setting up their activity clubs which will be powered by EmbedLearn.
There are many startups and established players in the scene who are getting into schools and practical training and other things like that. What separates us from them is our focus on remote government schools. We are not planning to get into private schools and charge a lot of money for what we are doing. Our basic aim is to change the way students learn at the fundamental levels. And that's what we are focused on. I can assure that for at least 3 years from now, we will be focusing totally on government schools. Because the very aim with which I started EmbedLearn was to remove learning barriers. I don't want students to fall into wrong subject and eventually career selection due to lack of awareness. As I said I was lucky that Electronics and Communications later became my passion, but what if it had not. I don't want the coming generations to keep repeating those mistakes.
We will be launching our full fledged website in December. As of now, we have our Facebook Page and a blog through which we update people about our work.
My aim is not to earn a million dollars or something. Five years down the line, I want to know that I have done something fruitful. Something that would have created a positive impact. I want to gauge my achievements, maybe, by the number of lives I've touched and changed, and not by the amount of money in my bank account. When I started my engineering, I had this thing that I have to get into a good job with a good salary package. But along the way, my thoughts changed and now I am pretty sure of what I want to do.
This field is one of the toughest and a lot of challenges are there, I can say that. But I am ready for all sorts of challenges. I am prepared for everything because in my mind I am pretty sure what ultimate goal, and that's worth more than any difficulty of facing a challenge or obstacle.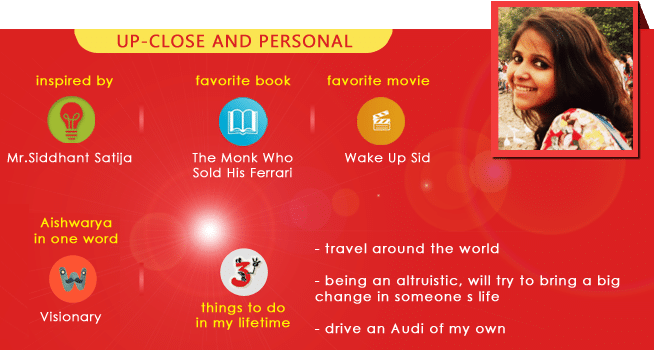 It's not very regular to come across 20 year olds who think of changing lives of others for good rather than a hefty personal bank account. However, with more young minds like Aishwarya, India definitely can bank on the youth brigade who hold the key to a more developed future. We, at LifeBeyondNumbers, wish Aishwarya and her venture EmbedLearn a great future ahead.