What defines a woman? Some would say compassion and simplicity. And, others – love. But, Bruce Lee had said, "To experience divinity, we must not stay there at the plateau.  We must go beyond". So going beyond worldly adjectives, if you observe a woman's eyes, you'd find they are the window to her soul. Strength, emotion, and everything that gives life its meaning emanates from a woman's eyes.
Must it be said, a sincere look into the eyes of Dr.Neharika Yadav goes a long way to affirm the above. While glaring at her rudely won't be advisable not because she believes in the violence of any sort. She can hold off angst by the gush in her smile. It's because the dental surgeon based in Gurgaon is too fast for the zing in your feet
Confused? India's only lady Superbiker is darn fast for us and at the same time, her eyes convey the steely resolve that best fits the definition of a woman.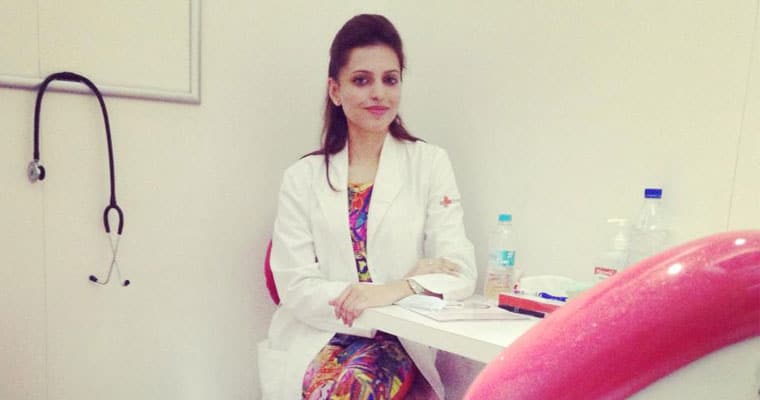 From 'Nowhere' To Knowing 'Where' To Go
Often, when we speak of accomplishments, we glaze past balance sheets of our lives. Comparing assets to liabilities immediately reveal the material that connotes our 'financial' status. While that isn't wrong, can it always bring us the joy of truly 'living'?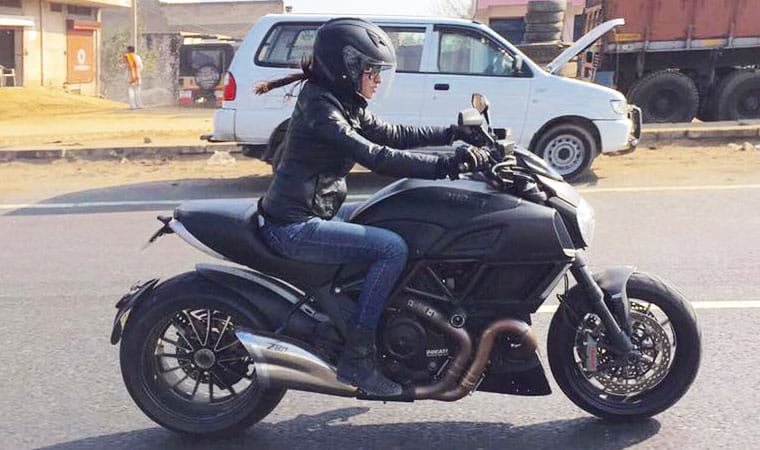 Dr. Neharika Yadav isn't a world champ yet, but one on the way to becoming an international level athlete in a sport utterly dangerous and dominated by male-dom. Laurels like appearances on city radio stations and interviews in print media that are beginning to flood aren't the wealth she aims at accumulating.
Ever a sincere pursuer of the difficulties in life, Neharika's dream is to see Motorsports, in particularly Superbiking enjoy broader participation from women in India.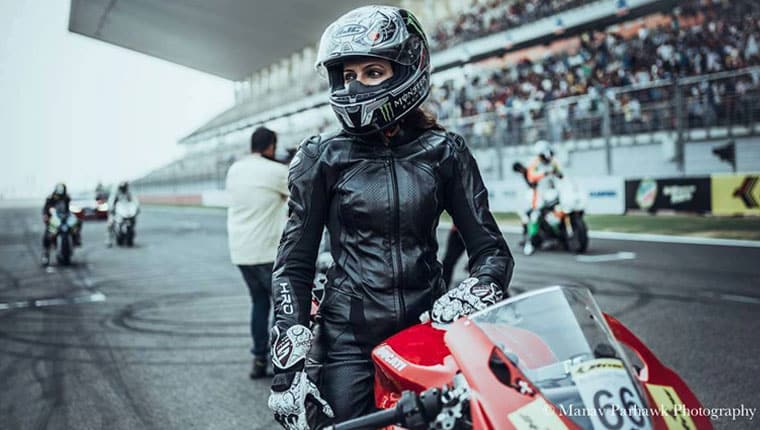 While a life beyond numbers, is a journey where experiences reach exhilaration, Dr. Neharika's path toward that exhilaration has been her able juggling between the rigors of her dental practice and the pulsating drive every weekend at "speed" and "open track day" events at the Buddh International Circuit (BIC).
Truth be told, it hasn't been an easy ride!
Support From 'Home Ministry'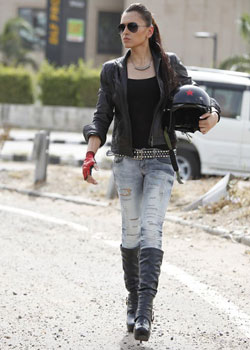 No parent would want their daughter to go out there and strut her stuff in a contest marked by tantalizingly exciting dogfight between beastly sounding machines. But, Neharika was motivated by her loving dad, doting mother, and friends who pushed her when the "fear" of competing in a life-threatening contest called Superbiking would reach a crescendo.
Today, after over 3 years of being in constant pursuit of her ambition, ever since having visited the race track as a spectator who instantly fell in love with the 'melody of 1000+ cc bikes', the Gurgaon-denizen flies in her lap times at India's premier racing circuit.
While recognition often broadens the smile of the girl born to an Air Force Fighter Pilot, being the feisty 'fireball' who can handle herself in an international sport marked by men, and dominated by wry stares helps her tackle the rage from 'loose wheel nuts'.
Rossi, Pedrosa – Listening In?
Dr. Neharika is miles from being a Valentino Rossi, Dani Pedrosa or Lorenzo, but, to have held onto her own against a male dominant tide in a sport that beckons hardly a response in a country thriving on Cricket, goes a long way to fan her flames. The sore thumb handed over to other sports, especially Superbiking in India doesn't sit well with Neharika and why should it?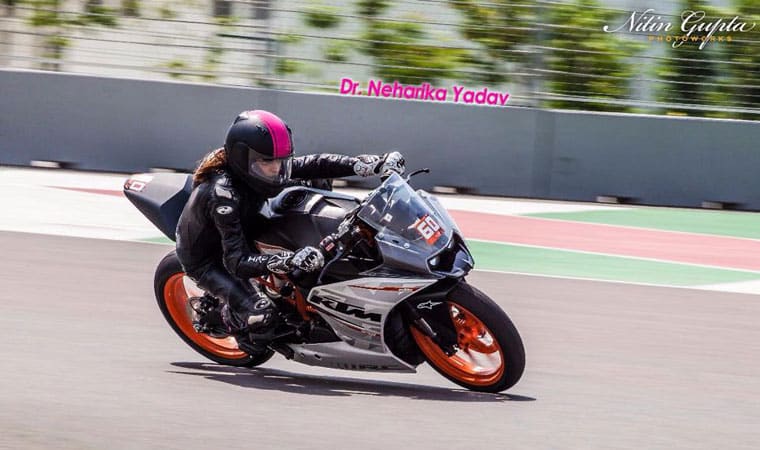 In motorsports, you need to have stamina equivalent to one needed to move mountains. Dr. Neharika, who mastered counter-steering, control, and whatnot, having honed her technical craft and finesse on a 150 cc Honda has today emerged with enough power to orchestrate 'music from the mighty two-wheeler beasts'.
A pro rider of the Ducati 899 Panigale, Dr. Neharika emphasizes the need to strike a balance between career and passion. Work at her Gurgaon Dental clinic is hectic and can be crazy at times but come weekends and the dentist in her transform into a leather-clad symbol of agility at the Buddh International Circuit.
The Power Of Perseverance
Today, an inspiration to hundreds who she pictures 'gassing it hard' on the 'circuit of life' has risen from latent obscurity to a gripping premise.
Standing her ground by sculpting a frame built on the painfully correct tedium of fitness and mental strength, Neharika credits her family for guiding her about the role discipline, mental toughness, and play regularity in honing her craft in a sport marked by undeniable tenacity and rigor.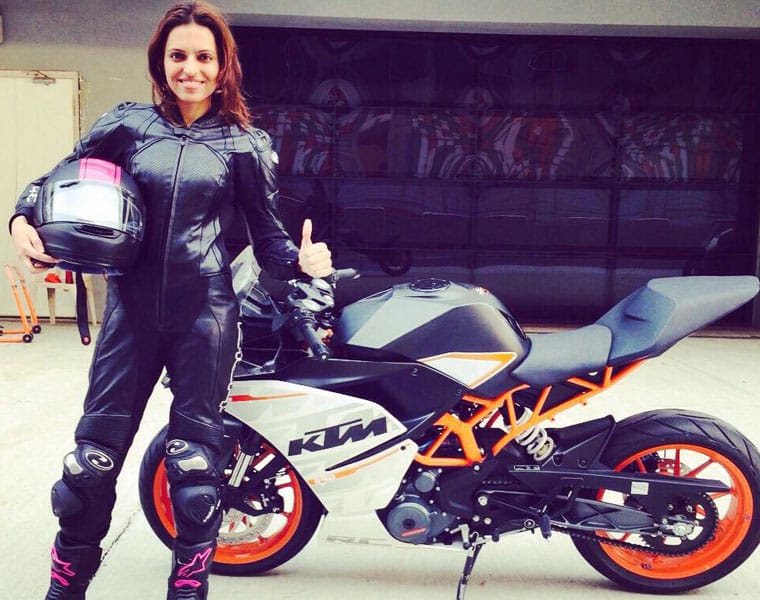 The "Kevin Schwants" fan (former motorcycle world champion) emphasizes to work toward 'self-discovery'. Having begun at the fiercely rugged terrain of Motocross where she started with 150 cc Honda, to completing over 2000 Km's on the Greater Noida racing track, Dr. Neharika has risen to break the bias about women's participation in sports demanding unforgiving physical and mental obduracy.
Breaking Bad The Biases About Women
In an age where women are taking the lead over their men counterparts in the flight to their dreams, whether at Corporate, Fashion, Literature, Entrepreneurship, Politics, and whatnot, Dr. Neharika Yadav's prominence as a fierce combatant working toward establishing her credentials internationally is breaking established molds associated with women in India.
This is what she has to say about women being independent and the importance of following a passion in life:
This confirms a looming reality. Women aren't just better than men in the commerce and economics of life but rapidly 'overtaking' menfolk on tracks that find the zigzagging design. Find it hard to fathom? Look up the stats. As of 2015 at the KTM Open Track Day event at the BIC, it was Dr. Neharika Yadav who clocked up the 20th fastest time out of 27 male riders in her session.
And hold your horses that run on judgment than speed fellas! She was then and often is, as we speak, the only lady Superbiker among 97 male riders. Not the average speedster you see!
More power to you girl.