Vishakha Singh, a marketing professional with 15 years of experience of working with top media conglomerates like The Times Group and Network 18, decided to turn an entrepreneur this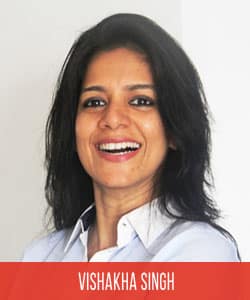 year. Obviously, it surprised a few but Vishakha has been known among her friends and family to take the road less travelled. Vitraveledunded Red Polka, an online window shopping portal, in Jan 2015.
Vishakha's strength lies in shopper behavior and brand building, and her thinking has been shaped up on a single philosophy of 'Jo Diktha Hai Woh Bikta Hai'. She believes that brand building should be a part of a company's growth strategy and thus it has to be a well thought out and a structured approach. She also serves on IAA (International Advertising Association – India Chapter) board where she is involved in IAA initiatives directed at knowledge sharing and growth for advertising and marketing professionals.
Vishakha Singh speaks exclusively with Life Beyond Numbers about her journey so far.
The Idea
As a marketing professional, shoppers' behavior has always attracted me. I got a glimpse into the minds of consumers while working for Times Now, India's most watched news channel today. It got me thinking how consumers think and their behavior towards brands. After Times Now, I moved to Future Media, a Kishore Biyani firm, which is out and out about understanding consumers' behavior. After a 2 year stint with Future Media, I felt it was time to go on my own with my shopper marketing agency. I knew my strengths—understanding shopper behavior and women fashion. So, I founded Red Polka, an e-comm enabling portal targeted at women shoppers.
Red Polka is a dream. A dream to enable several businesses, to enable designers, especially women entrepreneurs', to inspire them and to help them grow their business. If they grow, the world will be a better place. The name, Red Polka is inspired by the painting that is sold in an art exhibition carries a red round tag to mark it is sold, it is the Chosen One. So, Red Polka is for the Chosen One.
The Genesis
I get inspired by creative women all around me who make such beautiful designs in fashion and lifestyle and have a customer following through their presence at exhibitions and/or through their boutiques. I always wanted their reach to be extended and I kept questioning myself how my marketing strengths can make them fly higher.
Women Shoppers
We women have an innate ability to grasp good things in life and an eye for detail. We prefer forks to be placed on a particular side of the placemat and extremely efficient of changing our handbags according to our attire and many more such things. And all this requires an eye for detail and acute observation. Therefore, window shopping, even if it is a subconscious behavior, is a need.
Red Polka
Red Polka gets these women shoppers and great designer brands together. Red Polka curates designs in fashion and lifestyle and presents it to women shoppers to quench their window browsing need. These curations are based on interest graphs of shoppers and cater brands from all segments be it a new designer or a label or even international designs.
Red Polka stands for the chosen one! – Designs chosen from the fashion and lifestyle range. It is a podium to discover, crave, love and talk about curated designs in fashion and lifestyle shopping, be it from a designer label, or from the lady next-door, from high-streets to shopping web portals.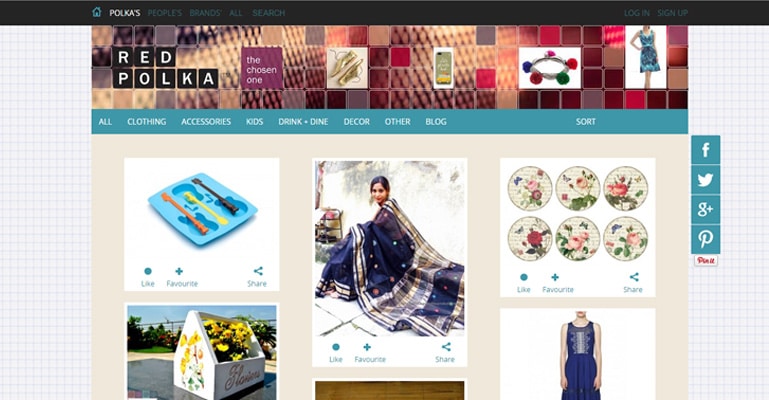 The Red Polka team of Fashion Curators showcases these tastefully crafted products under a weekly theme. A shopper can quench her thirst of window-shopping and can buy the product through the Red Polka link at the retailer's site.
Red Polka, a DOS Interactive Pvt Ltd initiative, is an e-comm enabler, targeted at women shoppers in the age bracket of 23 plus. Designer brands pay a fee to register with Red Polka to showcase their products. Currently, we are working with 50 such designers and retailers and in the process of signing up more.
Funding And The Road Ahead
We have recently raised a round of seed funding of INR 1.5 Crore from a clutch of investors which will be used to develop Red Polka's mobile app and further expansions. We are expecting to launch the app in 2 months. We are also in a team expansion mode. It is extremely important for us to attract the right talent. The company has recently hired Parnil Mhatre as CTO whose forte is AI(Artificial Intelligence). The company will be developing AI aided algorithms to curate fashion and lifestyle designs for women shoppers. We also have plans to raise another round of funding by the year-end.
Let your window shopping start right away. Visit Red Polka website now!