Sushama Shah was born in a middle-class family where having a 'stable' job was the crux of a professional life. Her mother was a teacher and her father was at a high post in a reputed government firm. After completing her graduation in arts, Sushama interned as a front desk trainee at a Pune-based architect's firm and that is where a renowned construction firm picked her up as a sales trainee. After about a decade of working with the firm, she finally landed the coveted designation of Marketing Head and a hefty salary. During this decade, Sushama also gave birth to a daughter and proved herself as a fine example of a working woman whose priority was and still is her daughter.
We got to catch up with her daughter, Priyanka Desai to talk about her mom and share her journey to being one of the most successful businesswomen in Pune. In this exclusive coverage of LifeBeyondNumbers, Priyanka talks about Sushama's journey, success mantras, Eve's Secret – the business and lots more…
The Beginning
It was in her early thirties that she finally heard a calling from within and asked herself, "If I can sell flats worth crores so easily that too for someone else, why can I not sell something for myself?" That is where the first seed of Eve's Secret, the best-known lingerie store of Pune, was planted. The man who watered this seed and looked after the sapling is Sandeep Shah, Sushama's husband. He has been the driving force behind Sushama and the wind beneath her wings.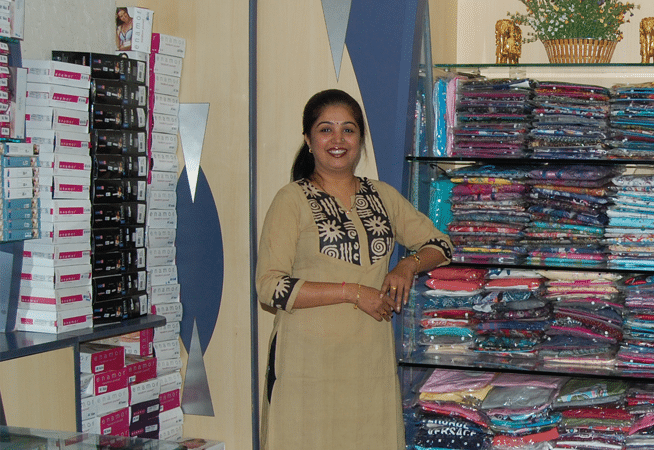 It was not an easy task to set up a retail outlet that too in a segment such as lingerie which is extremely intimate and that too at a time when it was thought of as an 'odd' career choice. She decided to go about launching her store fifteen years back. For the first two years, all she did was travel, research and explore. She used to visit every lingerie store of Pune each fortnight to know the changing trends. She used to also travel to Mumbai often to keep a tab on consumer behavior and needs. She scouted each area of Pune to find the right location for her store and finally found one in an area called Karve Nagar, which at that time was not considered too developed. Most people questioned her decision of wanting to quit her job and setting up shop in a secluded area, that too a lingerie shop. But she had a vision and she followed it. After two years of deep research, she opened the doors of her store on the auspicious day of Dashhera, thirteen years back. She still took a calculative risk and continued her job at the construction firm from 9 am to 3 pm and opened her store at 4 pm and closed at 9.30 pm, all seven days open. In the initial period there were days that Sushama would have to wait for customers and sometimes she would be upset at the lack of them but she did not give up. Today, after thirteen years of patience, zeal, perseverance and hard work, Eve's Secret has over 10,000 patrons from all across the world.
Inception of Eve's Secret
Lingerie at that time was a taboo subject. Daughters were shy to talk about it to their mothers and mothers were shy to talk about to the shopkeeper. This led to confusion and physical pain due to the wrong sizes being worn. Lingerie is like any other form of clothing. It actually is the framework of the clothing. No matter, how expensive your dress is but if a woman is not aware of the right lingerie, the dress cannot ever complement the body. Each woman is unique and so is her figure. Bio-imagery plays a pivotal part in lingerie selection and it is almost like a science, which was highly lacking in Pune. There was no retail outlet that could make women aware of the different options they had in the lingerie segment. There was nobody to tell the women of health hazards in the long run due to the wrong sized lingerie and that is what Sushama thought was the need of the hour. Since the beginning, her aim was to educate, spread awareness and allow women to open up about their lingerie needs. Her personalized tips and counseling sessions have helped thousands of young girls and women. She is also invited at various girls' schools to present lectures on right lingerie for one's child for the children's parents. She also makes customized bra adjustments, which are not easily available. These products are also highly in demand in the USA and UK.
The business is highly flourishing right now and has grown from strength to strength. Most of Sushama's patrons are not just her customers now but lifelong friends. Eve's Secret has been awarded several certificates of excellence from international brands. It houses the top brands of India and abroad. It is one stop shop for intimate wear solutions. It also houses an exclusive range of night wears and lounge wears, too. Sushama is also a design consultant for brands like Amante, Enamor, etc. The highlight of the business right now is the mastectomy range, which is not available in retail stores of India. It is said that in India, every fifth woman is diagnosed with breast cancer and Eve's Secret is doing its little part by providing a mastectomy range, which renews the confidence of a cancer patient and gifts her back her femininity.

Challenges, Learning and Future
There have been many challenges but all of them have proved to be a learning curve for Sushama. Indian women were very skeptical about spending more on good lingerie till a few years back but that mindset is slowly changing. Indian brands too have adopted, western manufacturing techniques, which have added to the comfort factor for Indian women. International brands are slowly and steadily marking their presence felt in India. The most important thing that Sushama has learnt is that 'Customer is Queen but not always Right'. Treat everyone with respect and inform them if they are making a wrong selection because your right decision for them can add to their comfort and Comfort and Confidence are the two most important driving factors of any women-related business.
"I just hope to spread more and more awareness about the right lingerie and the importance of it. I have already started hosting seminars in schools and I hope to continue with this endeavor. By God's grace, the business has been prosperous and I hope to house more and more worthy brands in my store. I would also like to have my own lingerie manufacturing unit, some day but those plans are on hold right now as the retail section of my business, takes most of my time and I have no complains", says Sushama.