An artist is a person who creates, extracting inspiration from people, places, events, circumstances, leaves, flowers, sky, the raindrops. These chance encounters also evoke a variety of emotions in the artist's heart.
Melancholy has been an important sentiment for many renowned artists, feeling hurt, lost, or wronged seems to serve as food for creative thought. This has been true for famous writers, painters and musicians. From Jim Morrison, Charles Bukowski, Susan Montag, Leonardo Da Vinci, Kurt Cobain to Nick Drake…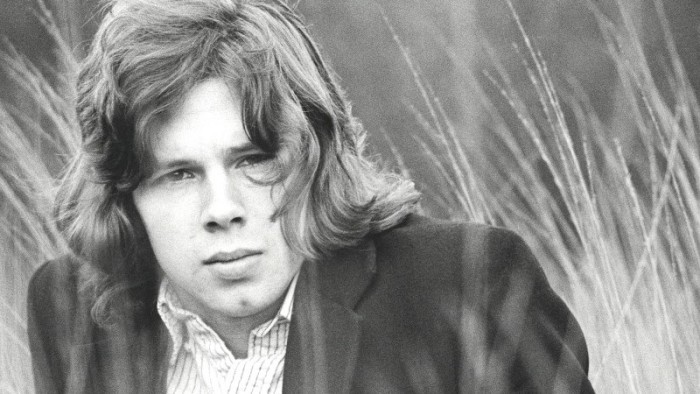 If you are a kid from the 80s you possibly have grown up hearing Nick Drake songs. His name has become an embodiment of a genre of acoustic music that defines gentility and melancholia.
One cannot say that Drake had a cult following. His legacy may, in one sense, be huge, but, there's painfully little of it: just three complete albums – Five Leaves Left (1969), Bryter Layter (1970), Pink Moon (1972) and a final quintet of songs recorded shortly before his death.
Some 31 odd songs that sold not more than 10,000 copies in his lifetime.
If you listen to all his compilations, it would hauntingly strike you that Drake knew he wasn't here for long, that he had a foresight and that in the life that he was chosen to live, he had a limited task.
As he sings on Fruit Tree, "They'll stand and stare when you're gone."
That is what has exactly happened.
Nick Drake was born in 1948 in Burma, where his father, Rodney, an engineer, worked for the Burma-India Trading Company. When Drake was three, the family moved back to England. One of his headmaster's in school wrote in the report that "none of us seemed to know him very well".
In his growing years, Drake distinguished himself in athletics and rugby and also began to develop his interest in music. He began to write his own songs.
He won a place at Fitzwilliam College, Cambridge, to study English, but delayed it for a year. In that year, he went on a hippie trail to Morocco and came back to London, sharing a flat with his sister, Gabrielle Drake, who had just started her career as an actress.
Friends remember Drake as an introvert who was shy but had an amusing sense of humor, somebody who generally kept to himself. As his father (who died in 1988) once recalled, "It didn't really seem to mean anything to him. It was as if there was something else going on in his mind all the time".
According to the Rolling Stones, in the summer of 1968, while pursuing his degree at Cambridge University in 1968, Ashley Hutchings of Fairport Convention heard him performing at London's Roundhouse. Hutchings introduced Drake to Joe Boyd, who managed Fairport, John Martyn, and other leaders of the British folk revival. Boyd immediately signed Drake to Island Records.
Drake released his debut studio album, Five Leaves Left, in September 1969. In November 1970, he released his second studio album, Bryter Layter, which featured a more up-tempo and jazz-influenced sound. Drake's third and final studio album, Pink Moon was released in February 1972 and despite poor sales, Pink Moon received a positive critical acclaim.
Drake was doomed. He was a shy awkward performer and typically did not like coming out in the public and performing.  He did not do any concerts after 1970s. This widely affected the sales of his records and disappointed the record label that had invested money on him.
He wanted more, it seems, but no one understood what was it for him. Was it the fact that British Music at that time was going through a makeover? Pop and Jazz were more appreciated than the lonesome guitar and a husky voice. Or was it the fact that it wasn't fame but a mental illness that was eating Drake?
Every record release made Drake more isolated and lonely.
As Drake's sister Gabrielle mentioned in the documentary A Skin Too Few: The Days of Nick Drake (2002), that their mother had a deep influence on Drake. He was in many ways like Molly, Nick's mother.
His isolation and confusion led him to take several psychiatric treatments that also required hospitalizations. He would stop writing and composing at times and then resume again. He wanted recognition but there was some strange force inside him that was eating him as well.
As he wrote in one of his songs,
A black eyed dog he called at my door
The black eyed dog he called for more
A black eyed dog he knew my name 
Something was constantly taking Drake from Drake.
In 1973 he began writing songs again. Drake died in 1974 at the age of 26, after having recorded four songs. He was a victim of an overdose of antidepressant medication. Drake's family refuses the fact that he committed suicide. Though, it is still unknown…still a mystery unresolved.
What stays back is Nick Drake's music.
The melancholy, beauty, the wilderness, the search and the aftermath that it talks about.
In 2000 Drake's music reached a much larger audience than during his lifetime after Volkswagen used his "Pink Moon" in a car commercial, which greatly spurred sales of his recordings. Also, Serendipity, an American movie used Northern Sky as one of the title tracks.
No word written ever fades away, music and words stay.
Nick Drake though gone, is here.
Try plugging in your earphones and give those 31 odd tracks a hear…for something lost and something found.