Distancing, if only for a while, from the tedium clutter of regular Bollywood 'Masala' flicks would bring you closer to the alley of films like 'M Cream'. It was a runaway success of 2016, and one of the most stand-out cinematic experiences of a year that has given Indian cinema and, fans in tandem, a lot to cheer about.
The solid veneer of emotionally riveting movies kept aside, films, the poignant bridge to unlocking human emotions, get a surreal feathery touch through fables like M Cream. One is glad and, thankful, in equal parts, to film-maker Agneya Singh. This talented and promising young film-maker, through this stellar 2-hour long show, depicted not just an interesting cavalcade of characters on a sojourn of self-discovery, but brought to life, a fine blend of emotions in an embodiment of pain, sadness, reckless energy, pure passion, energy and ultimately, redemption.
M Cream has been more than just a Stoner movie whilst occasional tripping on recreational drugs, the polarized subject in general, portrayed with effervescent ease, without pressing on the sensitivity associated with it. Agneya Singh, seemingly drawing on a turnstile of emotion painted an enriching journey through the nuance of the laidback but charismatic Imaad Shah, the charming Ira Dubey, the colorfully bright and coy Auritra Ghosh and the dude-like Raaghav Chanana.
A film as much about the anxious bundle of energy that the youth lives with as it was about youngsters finding their calling, M Cream, not your regular serving of Bollywood dhamaka was the saving grace in a year where much of public's attention and focus has unbendingly stayed with 100 or 200 cr. tags.
Life Beyond Numbers, in our surge to engage in meaningful and intelligent conversations with bright lives, were glad to interact with Agneya Singh. And boy, did we learn a great deal about this level-headed bloke!
Agneya Singh On The Craft Of Film-Making
Being fascinated with cinema ever since he was a kid, Agneya found this to be his calling soon enough. And thanks to M Cream, one is proud he made the choice. He has always felt the medium of films to be a powerful tool enabling communication and therefore, found this eventual art, a blend of marrying emotion and narration.
On Making M Cream
It was a surreal experience. Agneya shares that he felt glad and in a sense deeply satisfied having emoted the myriad canvass of the life of today's youth, one drawn by rebellious feelings and anxious energies that need fulfillment and a purpose. Figgs, the lead character, played by Imaad and Jayshree Bose, the definite leader, go-getter and an emotional individual who's driven by empathy are perfect counter-balancing stands of characters of the contemporary generation.
Interestingly, M Cream, according to Agneya was inspired by the antics and experiences of some of his own friends and peers and based on the blend of their radical ways of living and thinking.
On The Response M Cream Has Received
Drawing tremendous and euphoric reception from all over the world, M Cream has been hailed, celebrated with rich vigor by purists and experimentalists of cinema. Worldwide, M Cream has drawn richly on its bold, unrelenting depiction of the ideas, opinions and even, confusions and deliriums of the youth, so gifted with raw energy and talent and dismissive of vague, idealistic societal norms. This is a feeling hard to match according to Agneya and something he cherishes.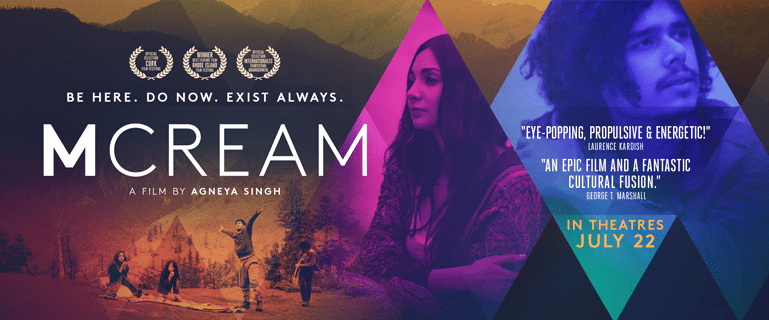 On The Cast Of M Cream
Committed, passionate and determined to bring something fresh to the table, both Imaad and Ira, according to Agneya Singh, were befitting leaders to M Cream's dramatic craft.
That they have had a strong theater experience only strengthened their credentials and lent a believable value to M Cream.
The Film-School That Shaped The Director In Him
New York Univ.'s Tisch School of the Arts shaped the person in him, technically solidifying his craft and adding zest to his flair. The exposure it got Agneya was tremendous in the sense that it gave him refreshing insights toward communicating through cinema, in hitherto less-experienced ways.
Actors And Films Agneya Singh Is Fond Of
Right from the likes of Sonam Kapoor, Om Puri, Abhay Deol to the likes of Robert Downy Jr., David Duchovny, Alyson Hannigan and others, Agneya wishes to work with some exemplary seasoned performers. Given his incredible talent of foraying in less explored trajectories, it doesn't seem a difficult task at all, truth be told.
There are many to share but the absolute necessary include Taxi Driver, 8 1/2, Pather Panchali and others. Since he fell in love with cinema relatively early in life, classics like Casablanca (starring Humphrey Bogart) has been one of Agneya Singh's absolute favorite. Also, since he is a JRR Tolkein fan, the Lord Of the Ring series also finds considerable love in his stable of best movies.
What Inspires Agneya Singh
Truth be told, Agneya is a wise, well-read, passionate and observant individual. As a result, his cinema, implicitly drawing on diverse shades of human character and feelings finds great footing in his journey. Agneya shares that human emotions and feelings are subjects he is drawn considerably to. Traversing on an enigmatic journey, his honest confession that in his youth, he was more drawn toward idealism and that when growing up, the realization of idealism's futility stung him like a wake-up call defines the youngster as someone determined to examine life from unique perspectives.
Perhaps this penchant to decode life and view it from a sense of passion and empathy and, the ability to put oneself in the real shoes of a situation marks this talented young man apart from others. This seems like a promising journey for a thoughtful young man.
What's Next
Agneya insists that making a film is a cathartic process. It involves sizeable research and the painfully correct tedium of settling for nothing less than pure perfection in putting one's energy into making a story stand out on screen.
[mashvideo]
Watch the full movie here.
Seemingly, one who fancies method over madness and mind over concrete matter, Agneya reveals that he will next make a film when he feels emotionally, physically and creatively ready to showcase his next story. This, given M Cream's rich texture, would depict a profusely passionate and erudite thinking.
Who knows, what comes next from Agneya's lens could taste even more delightful and creamier than M Cream?