The Official Audio Tour Partner of the Ministry of Tourism, AudioCompass is a free iOS and Android app that helps bring stories of India to a traveler by turning smartphones into personal tour guides.
The AudioCompass Guide has over 24+ tours covering 500+ points of interest at cities and monuments across India through high quality audio visual tours.
For Gautam Shewakramani, the brains behind AudioCompass, the idea came from a personal pain point – he found existing "last mile of travel" options less than ideal. He found plenty of resources to inspire him to travel, even more to help him book and plan a trip, but none of them truly made life easier or more convenient while he was actually experiencing the destination.
Born and brought up in Mumbai, Gautam got his undergraduate degree in Computer Science & Film in the USA where he spent most of his adult life. While doing his MBA at the MIT Sloan School of Management, MIT's focus on entrepreneurship coupled with his family background in the hotel business gave him the confidence to start his own venture.
Gautam returned to India in 2010, with the goal of setting up AudioCompass, whereby he would link travel, digital media, and technology.
In an exclusive conversation with LifeBeyondNumbers, Gautam shares how his passion for travel kickstarted his entrepreneural journey with AudioCompass.
Why AudioCompass?
The idea for AudioCompass was conceived because I believe that at its most fundamental level, travel is about stories – absorbing the stories of the destinations we set foot in, and then sharing personal experiences with friends and family back home.
On my travels I was forced to use guidebooks, human guides, and wikipedia pages to try to imagine the stories of my destination – and what I realized is that I was often experiencing 500 years of history condensed into 5 lines. I found myself whizzing past sights without learning about them and spending time in tourist shops, at the mercy of my expensive yet unofficial guide. I read history off my iPhone screen when I should have been looking around.
None of these options allowed me to hear and absorb the stories of the destination in a convenient, cost effective manner.
With that as my inspiration, AudioCompass was born when in 2011, the Archeological Survey of India made us the official audio guide provider at some of India's most important UNESCO sites, such as the Taj Mahal and the Agra Fort. We've now moved to a business model with a strong focus on mobile distribution and are covering over 500+ points of interest in the country!
Team and Culture at AudioCompass
We are a team of 4 full time and 4 part time people.
Our leadership team consists of Chhavi Sachdev, Pariket Doshi, and myself. Broadly speaking, Chhavi is our Creative Head – she is responsible for conceiving & creating all the wonderful content that goes into our app. Pariket is our Chief Marketing Officer, he's responsible for ensuring that our current and potential users learn about AudioCompass. Finally, I look after everything else – product, technology and finance – ensuring that things are running smoothly. However, we all contribute to all areas of the business. Given the size of our team, we are a very flat, easy going organization.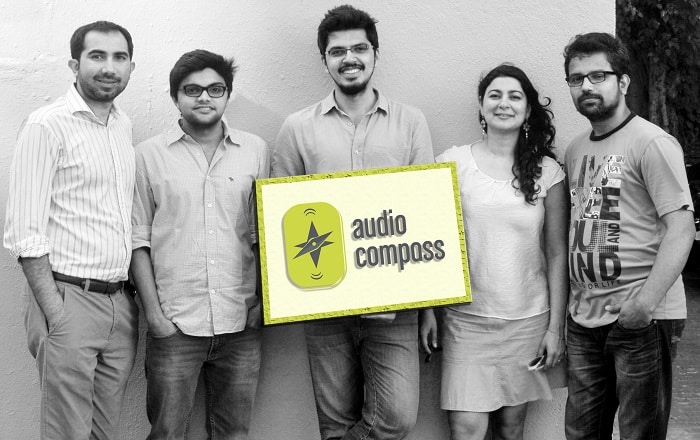 The AudioCompass team is always on the lookout for people who have a passion for travel, are resourceful and driven and we are currently actively looking for a product/tech lead. If interested, do get in touch!
What Makes AudioCompass Unique? 
The AudioCompass Guide, our iOS and Android app is not just about sharing facts. Our product helps create experiences by bringing the stories of India alive for our users. Rather than going to publicly available sources, like the web, and simply curating the content, we take a more painstaking route of personally traveling to the destinations, experiencing it for ourselves and then getting into a studio to bring authentic stories to our users.
Because of our heavy emphasis on technology and mobile as a way to scale distribution, we are able to do so at a fraction of the cost of equivalent experiences. We offer 30% of every tour in our app completely free, the rest can be unlocked at an affordable flat rate of Rs. 120 per tour via in-app purchase. Similar experiences such as heritage walks and guided tours cost over Rs. 1200 per person!
Additionally, our users love that our app is so personal – it enables them to feel a sense of freedom while experiencing their destination because they can go at their own pace and time, and eventually, in the language of their choice.
Challenges & Lessons
I would say that my biggest challenge has been around finding and attracting the right people to join the team. Competing for talent in India is difficult, even with our huge population! It's extremely important for the team members of a startup to be on the same wavelength and have the right attitude – I've been lucky to have that with my team.
My biggest lesson by far has been to give a lot of importance to collecting data about how a product is being used while making product decisions. At AudioCompass we have invested a lot of time in building analytics into our product – it is this data that is going to inform how we evolve.
Achievements & Goals
AudioCompass is the official Audio Guide as declared by the Archeological Survey of India and Incredible India. We were also recently recognized by Conde Nast Traveller India as "one of the 15 game changing ideas that is shaking up India's travel scene".
Our current focus is on expanding destination coverage within and outside India. We are endeavoring to partner with travel agents and other players in the travel space to integrate and deliver great experiences and great value to our users. The team is currently working on the "next generation" of their product to be released soon enough!
*****
A Free Audio Tour For LifeBeyondNumbers Readers
Hit this link for a free audio tour generously offered by the AudioCompass team who are thrilled to share their story with our readers. Tours of Agra, Fatehpur Sikri, Taj Mahal, Goa, homes of Bollywood stars in Mumbai, the Golden Temple and more are available. Redeem the offer before 20th June through the link to have credit to unlock any one tour on the app for FREE anytime in the future.