Anubhav Agrawal hails from Jabalpur, a small town in Madhya Pradesh. He went to Vellore Institute of Technology, Vellore in 2006. Aishwarya studied at MOP Vaishnav College for Women, University of Madras. For her undergraduate degree in Sociology, AutoRaja's three wheels of change: Facilitate access to institutional finance, affordable healthcare and quality education.she pursued a socio-economic research of auto drivers in Chennai. The research for a BA degree took her to the slums of the city, and she interacted with drivers and their families, union leaders, police and bureaucrats, and even liquor store owners to understand the economics of operating an autorickshaw. She found how drivers belonging to the bottom of the societal pyramid essentially lead a life of vulgar consumerism and nurtured middle class aspirations. The drivers worked hard only to lack social and economic security in life. She observed how autos were banned from many public places like malls, hotels, and airports: what the drivers faced was new age discrimination! At the time of defending her thesis, she was asked just one question – "Why doesn't anybody organize the unorganized sector of drivers?" With that question nagging her mind throughout, she embarked on the journey of a Master's degree. She went to the University of Oxford, UK, in 2011 for an MSc in Sociology.
"It was while Aishwarya was in Oxford that I contacted her, and together we began building AutoRaja", Anubhav says.
In an exclusive conversation with LifeBeyondNumbers, Anubhav Agrawal talks about how he and Aishwarya started AutoRaja, their challenges, journey and lots more…
The story behind inception of AutoRaja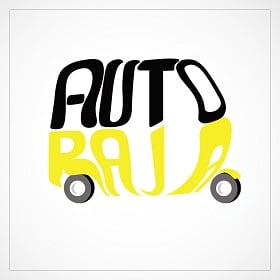 After three and a half years later in Chennai, I got my first taste of bargaining with the notorious Chennai auto driver, during my internship at IIT-Madras. While the exercise left a bitter aftertaste in my mouth, I continued my stay in the city earning the position of an Analyst at McKinsey Knowledge Centre, and determinedly dodging auto drivers. However, that would not be the case as I'd learn a year later. In 2012, I moved to Bengaluru for a Software Developer job. In less than a year, I quit that job too, to take up autorickshaw driving – not literally, of course! (laughs…)
Between 2010 and 2012, I had various encounters with auto drivers in Chennai. All ended the same way. As a northerner, drivers assumed I would not be familiar with the city, and tried fleecing me. Every day, I had multiple rounds of bargaining with the drivers – and all for paltry sums of Rs. 50 and Rs. 75! That money was to cover a meager distance of 1.5 KM! This was not to be done, I decided. I enquired with my friends – veterans, essentially, at bargaining with auto drivers and winning too! These veterans all exclaimed what seemed like universal truth: Auto drivers are incorrigible. You can't ever win at the game of bargaining with them! There was no scope or hope for a uniform, standardized service, they said. This revelation was unsettling to me. How is it possible that over 1 lac drivers in a city could all be overcharging, could all be above the law? The behavior of a community of 1 lac persons could not be "anti-social"! That's when I began looking for systemic answers to what appeared a systemic problem to me. I quit my job, for, I needed answers. On a whim, I signed up for a national conference on autorickshaw service industry, and flew to the venue in Mumbai. I met entrepreneurs in the industry, researchers and investors alike. As soon as I came back to Chennai, I found a job, and moved to a new city for the vested interest of understanding the autorickshaw sector in Bengaluru too. While still at my software development work, I continued online research – that's how I chanced upon the study of Aishwarya. Several emails and phone calls later, we decided to "organize the unorganized sector"!
We, Aishwarya at Oxford and me in Bengaluru – conferred upon the nature of our organization-to-be, models of revenue and expenditure, sources of funds, etc. In late 2012, Aishwarya returned to India, and I began shuttling between Bengaluru and Chennai. Pretty soon, I requested my employer to allow me to spend 4 days of a week in Chennai and the remaining in Bengaluru. During this time, Aishwarya and I met with drivers, union leaders, Transport Commissioner, Road Transport Authorities, Railway Police, Former DGP of Chennai, international non-profits focusing on innovations in the autorickshaw sector, experts in the fields of social entrepreneurship, other entrepreneurs, prospective investors, academics, and more! After 6 months of meetings, interviews, brainstorming sessions, we founded the organization AutoRaja Mobility Solutions Pvt. Ltd. and soft-launched the call-autorickshaw service, AutoRaja, on April 1, 2013.
Birth and Genesis of AutoRaja
AutoRaja faced a turbulent start in the sense that on the day of our launch, we had one Raja (we don't call our auto drivers, drivers!) with us. This was due to a lack of uniform pricing in the city. It took us, even before the launch, several weeks to convince drivers, and at last find one reliable Raja who agreed to ply at Rs. 12 per KM – the rate we had suggested after thorough research. 2012 was also the period when a petition was filed in the Supreme Court imploring the Government of Tamil Nadu to revise autorickshaw fares. Around then, a private citizen launched a signature campaign demanding the Transport Authorities to revise auto fares in Chennai. The Times of India too ran a campaign called, Bring Back the Meter. Public reports informed us that Chennai's auto drivers were charging as much as Rs. 25 for one KM! After a complete study of materials available in public domain and our own interaction with drivers, we arrived on a fare attractive to the commuter and financially viable for the driver. However, drivers were skeptical about the success of this model. As a result, we had one Raja with us on April 1, whom we decided to send to our friends and family as and when they called our hotline number.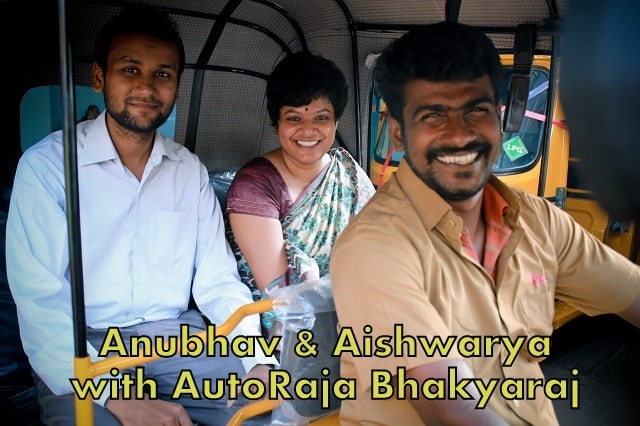 Within a few days, we had convinced a dozen more drivers to join our team. On April 6, we went live on Facebook, with 13 drivers catering to one zone of the city of Chennai. We were an instant hit. Our idea, at least from the point of view of the commuters, got validated. Customers began calling us from all parts of the city and requested we "reform" drivers in their localities too! Soon, we had no choice but to expand.
AutoRaja's recruitment and counseling of drivers is handled by transgenders and former sex workers. The social enterprise also provides a unique platform for the integration of the sexual minorities with the mainstream. For the drivers, we designed a unique ecosystem built on three pillars of social change – Institutional finance, Affordable healthcare, Quality education. This, in addition to the increased revenue the call autorickshaw business generated for them. That earned us the trust of our drivers, and continues to do so. From 13 Rajas in early April, our fleet size has grown to over 900 in a matter of 9 months. In order to manage our Rajas, we found the perfect team of managers among the Transgender community. Structured as an equal opportunity employer, our aim is to create a platform for the integration of the sexual minorities and the differently-abled with the mainstream. AutoRaja's mantra is to put an end to daily hassles with auto drivers. Call AutoRaja for a reliable, professional driver in a well-maintained autorickshaw at your doorstep. Get driven, help drivers, everyday.
Mission AutoRaja
AutoRaja is a social enterprise with twin-objectives of a) running autorickshaws on call, and b) helping create dignified lives for auto drivers by increasing business and facilitating access to institutional finance, affordable healthcare, and quality education. Indian cities, including Chennai, have been suffering from the unreasonable demands and unreliability of auto drivers. 229 million people across India who commute by autos have no other choice but to suffer. By organising this unorganised sector of autos, AutoRaja fills the void, beginning from Chennai.
Impact of AutoRaja
AutoRaja places differently abled in its call centre that handles bookings of autorickhaw trips across the city. AutoRaja can be considered a livelihood project benefiting those at the bottom of the pyramid. AutoRaja directly benefits the following groups of people:
Drivers: AutoRaja benefits men and women drivers alike. Auto drivers, most of whom are daily earners of a paltry INR 300, form our greatest beneficiary group. A significant number of drivers in Chennai reside in slums or slum-rehabilitation centres. A typical driver is a middle-aged man, dropped out of middle school, formerly a mechanic, electrician or welder, largely drives a rented auto, supports 5-8 family members, and is heavily indebted to private moneylenders.
As far as women auto drivers are concerned, they are very few in number in Chennai. Women take to driving autos when the husband is indisposed. A woman driver also faces resistance from her own family and opposition / threats from the city at large.
Sexual Minorities: AutoRaja's recruitment and counseling of drivers is handled by transgenders and former sex workers. AutoRaja, the social enterprise, provides a unique platform for the integration of the sexual minorities with the mainstream. Nearly all of them are middle school dropouts and hardly find themselves in any form of employment that promises to secure their present and their future.
Differently-abled: AutoRaja places differently-abled in its call centre that handles bookings of autorickhaw trips across the city. Despite good education, many find it hard to secure a livelihood. AutoRaja is an equal opportunity employer. We work towards securing the future of all our employees and part-time associates. We facilitate access of drivers, driver managers, trip managers to social and economic security benefits, under the concept of three wheels of change (modeled after the three wheels of an auto).
Three wheels of change: Facilitate access to institutional finance, affordable healthcare and quality education.
Commuters: Commuters of all sections of the society benefit from a reliable, safe, and economical service provided by AutoRaja, the call autorickshaw social enterprise.
Who else believes in the solution?
Chennai, unlike other metros, had not seen revision of auto fares along with changes in fuel prices since 2007. In April 2013, AutoRaja launched Chennai's only call auto service with fixed meter fares. Around this time, pressure on the government to revise fares from civil society organisations and the media was high. AutoRaja was consulted by the government, and our recommendation of Rs 12 per KM was both accepted and implemented across the state of Tamil Nadu.
Our Social Partners include Ericsson Labs, TVS Motor Company, Turning Point Educational Trust, Born2Win Social Welfare Trust, Association for Non-traditional Employment for Women, Tamil Nadu Subhiksham Unorganised Labour Union, Tamil Nadu Corporation for Development of Women, Brahmakumaris, The Art of Living, Tamil Nadu Railway Police and The All India Bank Officers' Association.
Challenges and the learning of our journey:
Getting drivers on board: Before fare revision, convincing drivers to ply at less than half the price at which they used to drive commuters around proved the greatest challenge. Once, we invited drivers to a meeting near their residential areas, and the only persons to turn up were the drivers' children! We didn't lose hope, and found a way to improve attendance to such meetings.
Going forward, we foresee the following challenges:
Communication Challenge: The success of a call autorickshaw service depends on how efficiently the company is able to communicate with its fleet on the ground. Non-responsive state of drivers, expensive telematics solutions currently available in the market do not solve the problem. AutoRaja is looking for partners to build a hands-free on-board telematics unit that will be cost-effective and do the job of tracking the location and the availability status of the driver, as also allow the driver to choose trips of their choice.
Collection of service charge and membership fee: Collecting money from the drivers and the commuters alike is a challenge. We are presently working on designing prepaid and premium subscription models for drivers and commuters, and devise ways of collecting money from them via the internet or an SMS.
Unionisation of labour: Unionisation of labour in a call auto company could prove detrimental for the company to scale up. A way to work around this is to allow for drivers to hold stake in the company by way of creating a workers' cooperative.
Competition: Call autos can be direct competition to call taxis. Call taxis could lower their fares, and because autorickshaw rates are controlled by the government, it might not be possible to fight such a competition at least when there is no deregulation.
Regulatory Challenges: Regulations by the government – state or central – might prove hard for the survival of call autos, as has been the case with a call auto company in Mumbai. Regularatory challenges in terms of modifying the carriage to meet ergonomical and urban needs – for example: AC Auto, Seat Belts, Better Seating, Advertising in autos, Change in vehicle body to optimise space for Ads, Permission required for ads, Sharing GPS data (owned by State Governments – Delhi, Chennai) and enable enterprises to put that data to use.
Industry: Lack of sufficient petrol bunks providing LPG, lack of interest among vehicle manufactures in hybrid vehicles (Electric + LPG + Petrol), Investors and Funding agencies
The Way Forward
AutoRaja is working towards developing low-cost tracking and broadcasting solutions particularly for the autorickshaw sector. Further, we are creating numerous channels of sales, allowing commuters to book an auto over a call, an SMS, a tweet, through our website, mobile applications, and other online applications. With the three wheels of social change in place supported by technological innovations, we look forward to scaling out to other cities in India, and consider penetrating the international markets too. Launch AutoRani, a fleet of all-women autos in the first month of 2014.