Winters in Delhi equals to the 'official wedding season' of the year. Every time I login to my social media accounts, someone is either getting married or engaged. I recently turned 25, which has given society the right to repeatedly throw 'The Question' at me. I step out of my house, run into neighbors, and obviously greet them, only to hear "Beta ab sahi-time aagaya hai, Shaadi kab kar rahi ho?". I know. I know it does not happen to each one of us, with every aunty or distant relative but, most of us have to deal with this question in our mid-20s. Times have changed and the debate over the right age for getting married isn't such a taboo topic anymore. Women empowerment, education, social development has brought about a change in the society and most of us 20-somethings are now quitting the norms by deciding for ourselves when exactly do we want to get hitched.
Today, I won't comment on whether or not we should get married and when is the right time, but share my thoughts on 'How to NOT get married'.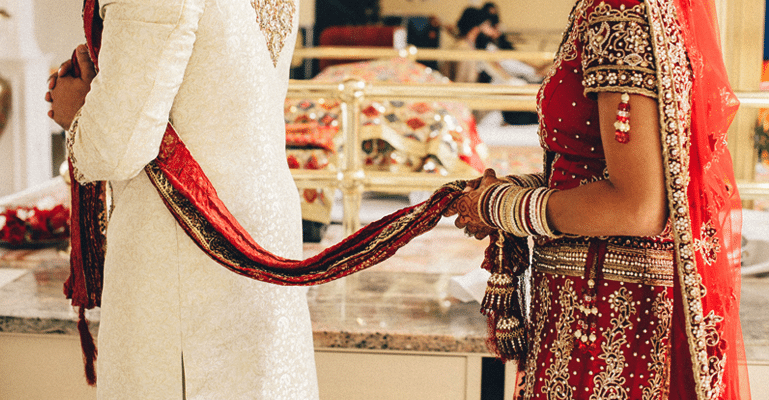 It's Showtime!
We have all witnessed that the event of marriage is the most celebrated and showcased event in one's life. It is safe to establish that over the years, this ceremony of marriage has become just a celebration or a grand show, and less of a holy matrimony. The wedding practices carried out these days have stripped marriage of its essence. Marriage is an occasion for family & friends to celebrate the togetherness, unity, love and the relationship of two individuals who are now stepping into a partnership of a lifetime. Wedding, a day or number of days of celebration which ideally should involve your loved ones, aimed at making beautiful memories, decorations, people having fun and carrying out respective marriage rituals, has now become a status symbol in our society. It is about the lavishness of the wedding, the diversified food cuisines, the fancy designer clothing, the long guest lists and the endless expenses incurred in turning a marriage into a grand wedding. I'm mostly in shock when I think about the exorbitant money spent on wedding clothes, not just the bride and the groom's but their families' clothes. I don't know whether it is the media or the filthy rich families who are to be blamed for creating a wedding fantasy that cannot be fulfilled without spending a bomb but most people dream about wearing the fanciest clothes on their wedding functions.
The bride's Lehenga is literally the epicenter of a wedding. Women are willing to spend so much on a dress which is to be worn for only a couple of hours and then packed in a suitcase forever. The factors such as filmy pre-wedding photoshoots, the intent to compete with the other friend who wore a Sabyasachi lehenga, the eagerness to look like a certain celebrity bride, the very pride in talking about how expensive her wedding lehenga is, are insane. It is but natural to be excited about looking beautiful and perfect on your big day but have we forgotten that money does not buy grace? Have we forgotten that it does not matter how expensive the lehenga is but how well you carry it off is what marks your grace. I can go on and on about this but I'm going to cut the long story short, and give you some pointers on why we should not spend a bomb on our wedding and some other factors involving marriage.
Who's Watching?
We want to dance like no one's watching, we want to ditch the thigh-gap and have that pizza, we choose vacation over bonuses and then do what? Put up a huge show and invite 100s of those who do not matter, to our wedding. Inviting every person you've known since you were a kid, every distant relative from another state and every acquaintance from your society to your wedding is not a sensible thing to do. What exactly are you seeking from these people? Have they been part of your life journey? Do you need an approval on your choice from them? Do you know for sure they wish well for you? Then Why?? Show off! Your wedding guest list should include your people, your set of friends and your close family members. Sure your parents will add some of their people to the list which is fine but calling 1000 people who you haven't said hello to, in the last 5 years is plain stupidity. Invite those who will actually wish you and your partner a happy wedded life ahead. Invite those to your wedding who will actually come there to celebrate the two of you and not just for the Butter Naan & Chicken Tikka.
It's Not A Who-Wore-What-When Event!
Can we please be real for a minute and accept that designer clothing is a tad-bit over rated? Sure those who have a load of money can afford Manish Malhotra and the likes, but why are we putting all our savings into just clothes for less than a week's affair? Technically speaking, the money spent on clothes for wedding functions amounts to shopping worth an entire year or two maybe, may be even more for many. No one is actually coming and checking your label. You will, anyway, rock any decent lehenga with your swag along with your kick ass bride squad.
Gone are the days when boys didn't care about clothes but, hello? Men are the gorgeous creatures who are allowed to not care a damn when it comes to clothes, right? But no, men are under equal pressure to get expensive Sherwaanis these days. Men, please be men again and take a chill-pill. You rock that stubble and get the Bhangra step right. And yes, don't forget you already impressed the bride and her family. Women, listen up. Your D-Day dress/jewelry need not pinch a hole in your pocket; need not weigh as much as you, and certainly should not overpower your natural beauty. Let's ditch the expensive lehengas and heavy jewelry and 5 layers of makeup. Simplicity with a sober make up and elegant jewelry is just what you need to rock the D-Day avatar.
More Functions or More Check-ins?
A typical fat Indian wedding has no less than 4 functions. Wait, let me count the number of events the Gen-X likes to celebrate on the account of marriage. It starts with a roka function, there's definitely a bachelor/bachelorette vacation/night; pre-wedding photo shoots seem to be taking the world by storm; good old mehendi/sangeet night; engagement & then there's cocktail, the wedding day & the reception. Phew! Like I said, some people out there have the moolah to do all of this and still go on a Euro – Honeymoon trip but the rest of us are beating ourselves to match up. Again, why? Let go off the pressure to match up anyone, be it your best friend, be it your London-wali-cousin or your childhood friend from Golf Links. Having any more than 3 functions, combined bride & groom's side, is taking money and literally throwing it in the bin. A decent wedding and a reception along with any of the other mentioned functions are more than enough. Instead of wasting money on numerous functions why not splurge on vacationing with your better half? Go to as many places as possible, combine love and adventure, tick off some destinations from your bucket list and have a blast while spending quality time with your partner. Because let's face it, we all have jobs to do once this wedding fever wears off. Make the most of it and in fact, plan a mini-honeymoon for your first marriage anniversary too.
It's A Marriage – A Partnership For Life, Not A Temporary Business Deal
It's 2017 and anyone who does not rebel against dowry is still living in the 90's. Every family wants to wed their children well and bind ties with a good family who is in it for their daughter/son. But, the sad truth is that majority weddings focus on how wealthy the family is. Be it while choosing the groom for their daughter or the bride for their son. It's a humble plea to all the uncles & aunties, don't let your daughter's marriage become a deal by showering the groom's side with expensive gifts, meeting their crazy demands for big cars and a very grand wedding, all borne by you & your family while assuming she's in safe hands and her well-being is guaranteed. Dear ladies, please choose your partner well, sensibly. Be it a love marriage or an arranged affair; don't let his money be the qualifying criterion to tie the knot.
Of course, money and financial stability are important factors when you're taking the big step but weighing the characteristics of the person is the foremost necessary thing to do. Education, family background, friend circle, personal traits are all to be taken into account. Look for a compassionate partner and not an Audi owner. Look for a respectful person and not a rich brat. Talk about how your parents and his parents/set of friends are equally important and how he should be supportive of you, whenever you wish to spend time with your family/friends, discuss your career goals, keep all the cards on the table and remember that on the hard days, you don't want to be crying alone, even if it is in a Ferrari. Having said that, it is not the case that all rich people are the same and there's any harm in living lavish but while choosing your partner for life, 'financial well-being' should be one of the factors and not the only one that should count. Don't convince your parents or rather be convinced by them, to give in to any kind of cash demands from the groom's side, big no -no. It should be a 50-50 affair, ideally. Talk it out with your partner before taking the final decision.
Phew! I think that's more than enough on Shaadi and how to ditch the old norms about having fancy weddings. I know that my thoughts here are not for everyone, 'to each, his own', but it is still for that majority of you who are in a fix when it comes to getting married.
I'm eager to hear from you on what else can we add here. Or just share your thoughts if you agree to disagree with me.
Here's wishing all you married couples, a happy wedded life and the ones in the queue, a very happy marriage, in the future! Cheers!
image: source