53%. That is the percentage of children in India who have admitted to be being abused sexually at least once in their lifetime. It is sad that India still continues to be a land of child sexual abusers. And who are these children? They aren't necessarily from the marginalized sections of society or those stricken with poverty. These are children from your homes and ours. The danger is so pervasive that no child is safe from this social evil.
But we as Indians, from the land of the Kamasutra, do not want to discuss children and sex in the same sentence. So much so, that there are parents fighting with school authorities not to include sex education in the curriculum. Why should they know about sex? They are content with stories about the birds and the bees.
However, this danger is so imminent and so close at hand that the abuser could be someone from your own family, in your neighborhood or amongst your close friends. 50% of sexual offenders were known to the child or were in the position of trust and 63% of girls are known to be abused by family members.
What's more, boys are as much vulnerable as girls are. If these numbers are scary enough to you, it is probably time for you to know more about them and learn how to prevent your child from being just another statistic.
Yowoto.com, a parenting website, based in Mumbai wants to fuel this movement by creating awareness about Child Sexual Abuse Awareness in this month of April 2014. Yowoto is looking to answer the question every parent want to ask – how do we keep our children safe.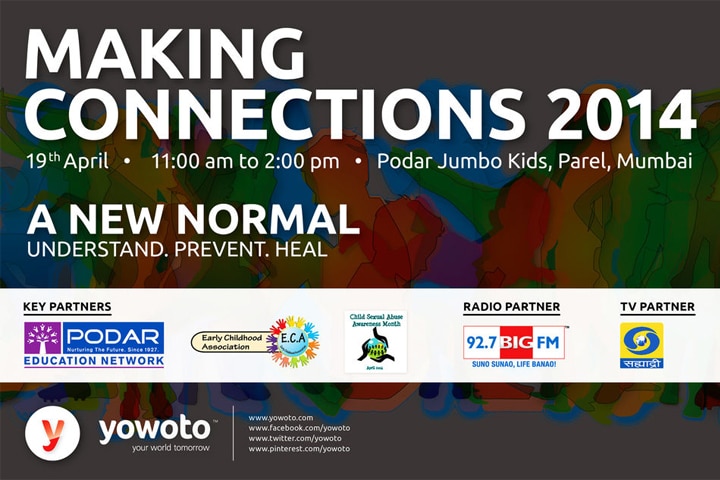 And the answer every expert tells is the same – speak about it! Break the silence around Child Sexual Abuse. This is exactly what yowoto.com is doing on Saturday, April 19, 2014 by organising Making Connections 2014: A New Normal – an event on Child Sexual Abuse Awareness in Mumbai. Click here for registrations.
Some of the sharpest minds on the subject will come together to discuss child sexual abuse and answer questions from parents. Swati Popat Vats, President of Podar Education Network will talk about the need to teach your kids about safe and unsafe touch. Pooja Taparia, the founder of Arpan (an NGO to prevent CSA) will talk about how parents can have this difficult conversation without scaring the kids.
Popular mommy blogger and co-founder of CSAAM, Kiran Manral, Cindrella Prakash, a CSA thriver, and Padma Iyer, mother of activist and CSA thriver Harish Iyer, will talk about myths, their experiences and brushes with CSA.
Representatives of Majlis, a legal resource centre and senior police inspector Shirish Sawant will talk about the law and why it's important to shrug off the shame and report crimes. And finally, there's Dr Avinash De Sousa, who will take parents through the process of how to help heal the wounds.
Payal Shah Karwa, the author of the book The Bad Touch talks about her research and understanding of the subject when she wrote the book, bringing to the table all the aspects of prevent Child Sexual Abuse. In an exclusive conversation with LifeBeyondNumbers, she shares her knowledge about Child Sexual Abuse and her book – The Bad Touch.
1. What are the signs to watch out in your child if he / she has been abused in any way?
Citing from the research done by ChildLine 1098, here are few symptoms one can watch out for to know if he/she has been abused:
Physical Indicators
Difficulty in walking or sitting
Anxiety related illnesses, such as anorexia
Recurrent urinary infections
Evidence of physical trauma, to the oral, genital or anal areas,
Behavioral Indicators
Sleeping disorders like insomnia, nightmares, refusal to sleep alone or suddenly insisting on a night light
Regressive behaviour like thumb-sucking, bed-wetting, or other signs of dependency
Sudden reluctance to go someplace or be with someone
Sudden use of sexual terms or new names for body parts
Sudden and inexplicable loss of interest in routine activities such as attending school, going out to play, etc.
Sudden use of sexual abusive language or actions
Psychological Indicators
Depression, Poor self image, Social withdrawal
Develop fears, phobias (specific place, person, activity – swimming
Suicide attempts or thoughts
2. What are the precautions for parents to take to prevent Child Sexual Abuse?
Here are some steps cited by NGOs to help parents protect their children:
Affirm and satisfy their emotional needs to whatever level possible
Teach them how to respect adults but at the same time not to obey them at all times.
Disseminate information about sex and sexual abuse in a balanced way which is age appropriate.
Encourage them to share daily events and their experiences in relation to that very event. For example, 'How did you feel when the teacher gave you the first prize?'; 'How did it feel when the big boy took away your lunch box?'
It is important for parents to keep in constant communication with the child. But the best step a parent can take to make the child safe is to 'educate' him/her about the possibility of sex abuse by explaining to them about 'Safe' and 'Unsafe Touch' using these points:
a)      'Safe touch' is one that makes us feel good and leaves us happy and comfortable. For example, holding hands with friends, a warm hug from parents.
Whereas an 'Unsafe touch' involves:
Anything that makes us feel bad/angry/scared/confused and leaves us uneasy or uncomfortable
Touches involving our private body parts of the body
Touches that are told to be kept secret.
So you must teach your child to say 'NO' to any such activity or touch. If they are not comfortable hugging someone, do not force them to do so.
Besides this a lot of other practical tips and guidance is available in the book itself which will answer several questions they are afraid to ask or would like to know more about.
3. What inspired you to write this book?
In 2007, when Harish Iyer and I were colleagues. One day he told me about his sex abuse and asked me to watch his interview on IBN. When I watched Harish's sharing his story on a public forum to raise awareness about the issue, I was impressed by his courage to speak up. What touched me even more was despite his ordeal, Harish was fighting with genuine spirit. He was what I would say, not a victim but a victor. As a writer, I wanted to contribute to society through my writing. So I decided to help spread awareness about Child Sexual Abuse through my book which would include true stories of inspiring people like Harish Iyer who are not victims but victors.
4. I have read the book and it has some graphic details. How did you handle the narration?
Well, I had to make myself strong and listen to the thrivers empathetically. But since the mission is bigger than the process, it was okay. I thought to myself, if the person who suffered the trauma has the courage to narrate, I might as well gather half that courage to listen.
5. It is difficult to believe that Anurag Kashyap is a thriver of Child Sexual Abuse? Can you give the readers an idea of how he handled it? 
Yes, I was shocked to read Anurag Kashyap's interview in a newspaper around the release of the film I AM. He had opened up about his own story in the article. So I approached him if he could share his story for the book as well, to inspire others and it was nice of him to agree to. From his story, it appeared that he took to writing to help him cope with his abuse. I think the rest can be interpreted from the entire narration in the book itself.
6. We all know Harrish Iyer of the Satyamev Jayate fame. And I read his account. It is difficult to believe that his uncle got away without being punished. Can you give us an idea of how it is not possible to get away with a heinous crime like this in today's day and age?
His Uncle got away a) because the man had threatened little Harish that if he told anyone he (the uncle) would harm his parents and b) Harish was too small to explain to his Mother what he was going through. He opened out to his Mother much later, almost when he was 18 years. After that the family almost cut ties with the man, but due to lack of a proper law and knowledge how to handle the case the Uncle wasn't put in jail per se.
Likewise even today it is possible to get away with this heinous crime. But, but but….with the anvil of the new law if as a society we raise a voice, take steps to prevent our own children and protect  them,  report the cases etc we can definitely make a difference. The new law 'Protection of Children from Sexual Offences Act' was passed in 2012 which helps in punishing the perpetrators.
For more details on the event visit here.