Mahendra Singh Dhoni. The name needs no testimonials about his contributions to Indian cricket in the recent past. The two world cups he brought home and India's elevation to Rank#1 in the Tests stand tall among many other things he has achieved as a captain.
After he stepped down as the captain from the limited overs India's ODI and T20I teams on 4th January 2017, today's warm-up game between India-A vs England is Dhoni's last match as captain of India.
Ambati Raydu, after scoring a brilliant unbeaten 100 of 97 balls, retired from the field to give MS Dhoni the final 10 overs of the match to bat as the captain of India. As MSD walked-in one last time to bat for India as captain, the crowd gave him a standing ovation and all you could hear is they chanting "Dhoni.. Dhoni… Dhoni… Dhoni". No warm up match might have ever seen such a big crowd ever. Call it a Mahi magic.
Watch the magic as he walks down to bat…
MSD definitely rose to the occasion and didn't disappoint anyone. He took some time to get going before taking control in the final few overs. He scored a quickfire 68 of just 40 balls, hitting 8 fours and 2 sixes in his unbeaten knock. Captain cool added 23 runs from the final over to take India's total to 304/4 in the stipulated 50 overs.
While MSD was batting, he also had a surprise visitor in the ground. A spectator jumped the 10-feet fencing, dodged the security cover and ran into the ground to touch Captain Cools's feet.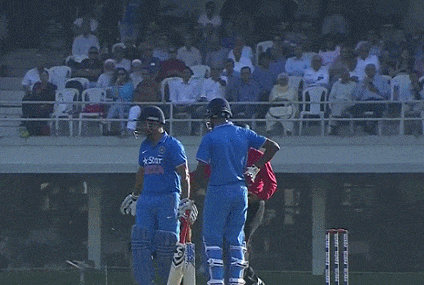 Captain Cool shows his magic power once again. We wish you luck for the up-coming series. The ODI and T20 series between India and England starts in Pune on 15 January, 2017.
video: source