Ever wondered what happens to those soaps that you barely use during your stay in the hotels? And surprisingly, a study by Unilever reveals that there are currently 70 million people in India who have never used soap.
Personal Hygiene is something you and me easily take for granted. It is only those times when the water runs out or we are forced to use a filthy public toilet that we realize how blessed we are to have simple luxuries in life such as the use of clean water and sanitary hygiene.
Meet Erin Zaikis, the young social entrepreneur who hails from Boston. Raised by her dentist and lawyer parents, she dreamt of being an astronomer till the day she realized she had a larger mission here on earth. It was when she was watching the Oscar-winning movie,  "Slumdog Millionaire" that her focus moved inward and she decided that somehow, in some way she was destined to make a difference by helping those who couldn't help themselves.
The Moment of Truth
After college, on one of her travel journeys, she found herself in rural Thailand where she came across children who had never used soap and didn't even know how to wash their hands! Once when she bought them a bar of soap, all they wanted to do with that is eat the soap bar. Because they have never seen a soap in their entire life until then and had no idea about its use. While dealing with the shock of such a scenario, she got very baffled by the thought that there were people and children in the world who did not even have access to soap – which is considered to be the most basic medicine available.
She had finally found the cause she was looking for and she determined to put her good intention to use. Hence, she founded Sundara, an organization that aims at imparting soap and hygiene education along with livelihood to communities who need it the most. Sundara works on sustainable and community-led principles and is serious about its commitment to making soaps a necessity, and not just a luxury.
In their Mumbai operation, they have trained 3 women to recycle soaps full time and 26 local women to become local hygiene ambassadors. Each month they deliver soap and hygiene training to over 2,000 children. They also deliver soap and hygiene training for adults and children at medical centers in the Kalwa slums to ensure that the good hygiene habits stick.
Apart from Mumbai, Sundara currently also has its presence in Uganda, and Myanmar.
The Vision
Sundara mainly focuses their efforts for the empowerment of women and children by making better hygiene and health care available to all. By doing so, Sundara is able to reduce the spread of preventable hygiene related diseases and deaths. Incidentally, women and children are the main victims of poor hygiene and this reflects in the number of victims of hygiene-related diseases in this segment of the population.
Sundara is realizing its mission through sustainability, female empowerment, local community building and intensive hygiene education, which are the cornerstones of this organization.
The Smart Hack With the Soaps
Hotels throw away billions of bars of soaps every year. Most of these soaps are gently or even barely used by its guests/visitors during their stays. These soaps are wasted, even if they are used only once. These bars then finally make their way to the landfills where they are left to be picked up and rot as trash.
As a solution, Sundara picks up those very bars from their partner hotels, sanitizes them to make them pathogen free, i.e. making them fit for use again and hands them out to those who cannot afford soap for themselves.
This video explains their simple soap recycling process.
This recycling of soap is done in a holistic, community lead manner by employing those people to do the job who actually gain from the outcome. Hundreds of underprivileged women are employed for the job, giving them a new purpose and dignity in life.
What Sundara does is, it hires locals as their employees and community hygiene ambassadors. These representatives are allowed to create hygiene modules in keeping with the cultural and other aspects of the community. It has not always been an easy journey for Sundara, but it is true that every hurdle is actually a learning experience. The greatest lesson Sundara has learned is that to be culturally effective, there is a more direct impact when the education is coming from someone who looks like you, speaks your language and has had shared experiences. This brings in a relatability that makes all the difference.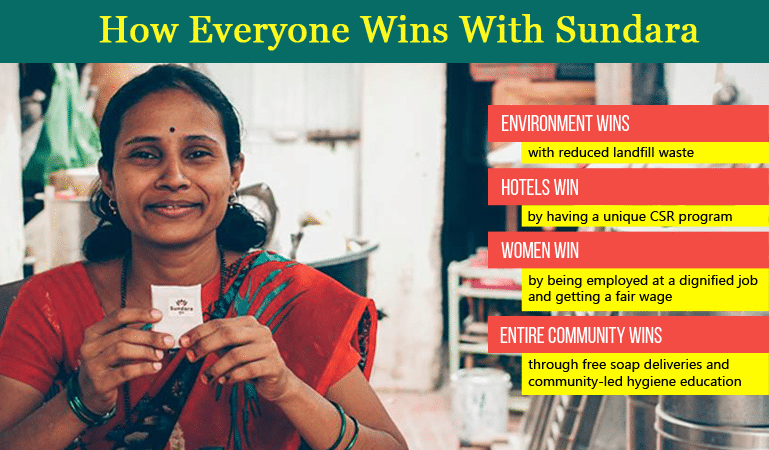 The Belief
It all starts with women. Sundara believes that women are the real change makers of society. But unfortunately, in many parts of the developing world, women face difficulties in finding dignified jobs. Sundara wants to change this by empowering women economically and socially, making them the driving force of change in their local communities. Women are the strongest foot soldiers in Sundara's mission.

For Sundara, it is all about self-empowerment and not charity. There must be a societal movement and shift in attitude towards hygiene being a basic necessity and not a luxury. People need to be educated regarding the importance of hygiene and the need to strictly adhere to basic hygiene conditions. No change can be far reaching unless it is backed up by grass root education, for it is the roots that last and flowers that fall off. In the same way, the seeds of better hygiene must be sown through education.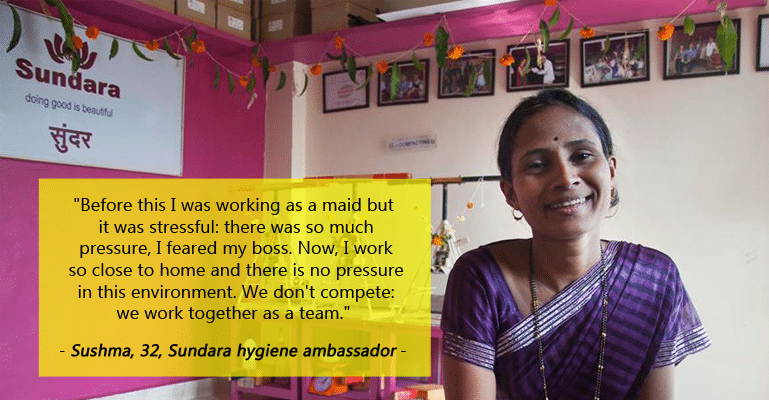 Making superficial efforts and giving free handouts is only a superficial solution that will not stand the test of time or run through the generations to come. Sundara loves to do it the practical way, making its people self-empowered.
To connect with Sundara, click here