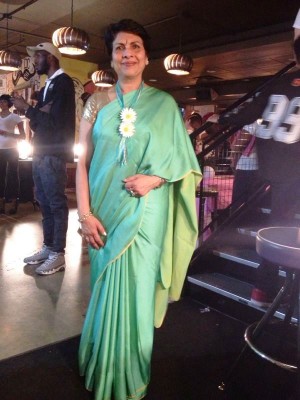 Business Growth or Personal Life? Both, She said!
In the story of the modern day woman entrepreneur, you usually have all the usual suspects playing starring roles. Finding home-work balance. Getting some "you" time. Not neglecting the children. A hands on approach. And at the end of the day, those numbers to make it all "worth your while."
Well, this lady did more than just numbers. She did life. Here's how.
Dolly Mahapatra started her brand of unique and exquisite patchwork linen from the garage of her home. Four kids at home did not deter her as she set about turning a lifelong hobby into a dream business. And success came soon. Her husband left a lucrative job in the Middle East to join her and take care of the administrative side of things. "Support", she says, "was an integral part of my life. Be it my children, my husband or even the tailors who would work with me."
Part of that was due to the fact that she never really had an eye on the numbers. She did her bit, indulged her passion, and in turn, she inculcated an ethic of faith and unadulterated hard work at home. Challenges came and she met them fair and square.
"When you are busy creating things to appease discerning tastes, there really is little time to reflect on how much you are going to bring in. I was always shy of getting into a full fledged assembly line set up, because I also had four children who needed more than just good pocket money to grow up on!" Balance seems to be her middle name and we quizzed her on how she managed to balance work and home so well.
"It was a matter of choosing, prioritising and being very sure about how much I wanted of what. I did not really want to be a huge brand with corporate offices all over the world. Yet, I did not see myself as a typical housewife either. My creativity and art only became an extension of my expression of that balance. Home and work were my world – I needed nothing else!"

With projects and clients like Price Waterhouse Coopers, Indian Oil, The Raj Bhawans in Hyderabad and Orissa, amongst many more, Dolly won laurels and remained an exclusive brand. Twenty five years later, she shut shop and moved to the United States, ready to start a life filled with the joys of retirement.
But again, an entrepreneurial spirit and sheer creativity did her in. Today, with Arachne, she has launched her very own line of designer hand painted stoles, hand painted bags and clutches, handmade polymer clay jewellery and has just had a successful Design Week showing in Washington. She also has an online store on Etsy, and is geared to take on workshops this summer to further her art!
So does she plan to stop?
"Age is just a number for me. So the answer for that would be a firm No! No, I don't plan on stopping anytime soon!"