This summer released 'Ghost Stories'- the British Rock band Coldplay's sixth studio album.
If you have followed Coldplay for more than a decade, and have been a dedicated fan, you would be able to comprehend the fact that this album sounds eerily distinctive.
It is melancholic, ecstatic, laidback and far from the original Coldplay enigma.
If you are still not over Yellow, Paradise, Every Teardrop is a Waterfall, Swallowed in the Sea, you will surely feel something is missing. It is by all means a lot like love and a lot unlike it. A lot mystical than cheerful.
The album co-produced by the band with Paul Epworth along with returning Mylo Xyloto producers Daniel Green, and Rik Simpson, was released on 16 May 2014.
A Musical Experiment
What makes Ghost Stories an interesting hear is the fact that it is a concept album partly inspired by Chris Martin's distressed relationship with Gwyneth Paltrow. Martin is the lead vocalist, pianist, rhythm guitarist, and one of the founders of the band Coldplay.
As Martin said in an interview, Ghost Stories is all about the consequences of your past affecting your present and future and the constant battle of not letting that happen. The album is based on the bottom line that "if you sit with your experiences and the things you've been through, they alchemize".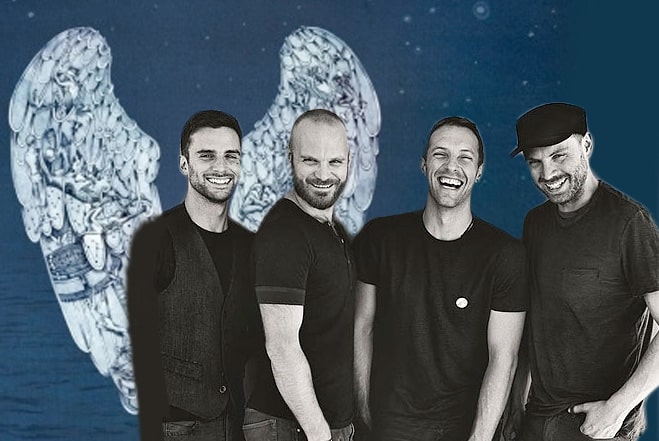 Coldplay: Guy Berryman, Will Champion, Chris Martin and Jonny Buckland
Songs One Must Give An Ear To 
Ghost stories, through its music tries to narrate the story of a man going through a separation process, from people and places. The music narrates the various emotional realms of this person – right from heartbreak to letting go. The verses beautifully convey the acceptance of the fact that a lot in life not lasts forever which is beautifully depicted in "O- Fly on".
As the lyrics say,
"A flock of birds

Hovering above

Just a flock of birds

That's how you think of love".
Fly On is also the most ecstatic track of the album. It makes sense, to believe that feelings are birds; they fly on! Give the piano keys a hear, they will transform your world for 5 minutes.
Magic is another beautiful track that intricately expresses the rigidity of a lover.  That it is difficult to "get over you, and I still call it magic, after all that we've been through".
Always in my Head makes you feel heavy and nostalgic. Makes you remember someone, crave for someone and yes, it is melancholic! The song is still like the sea and yet flowing and ends abruptly giving an ache in your heart-
"I think of you, I haven't slept, I think I do, But I don't forget, But though I try my heart stays still".
Oceans is another mourning track of the album that spreads the message of waiting across the listener. Waiting in rain, sky, under the sun and then just letting go. The song is beautiful on acoustics and is slow paced.
A Sky Full of Stars, Ink and True Love are average songs and lack originality. In fact, they remind you of some of the old Coldplay tracks such as Strawberry Swing and Viva la Vida.
A Bitter-Sweet Tug At The Heart 
I have always wandered with a Coldplay song in my head. The band occupies a dedicated space in my 150 GB of music collection.
Ghost Stories would give you a few Coldplay songs to store forever. Like Fly On to hum when you are all by yourself, Always in my Head when you miss somebody and may be tap your feet to Magic once a while.
Our lives revolve around people, and music gives us a reason to remember them.
Ghost Stories is a beautiful experiment in music, and more than just a break-up album they say it is. Hear it to remember somebody, it may get some fond memories back!
Photo credits: www.coldplay.com