Being the 11th passenger to board a seven seater three wheeler, I was entitled for only one-fourth seat space with full fare. Looking at my size, a compassionate co-passenger cramped himself further to make me comfortable. We exchanged smile, as if we have known each other for years. Passengers traveling in a tempo with a lunch box in hand can very well relate to each other's life style. As the driver jumped a traffic signal my co-passenger signaled me towards a tag line written above the driver's seat "Late aap hai, hum nahi" (your are late, not me). We smiled once gain.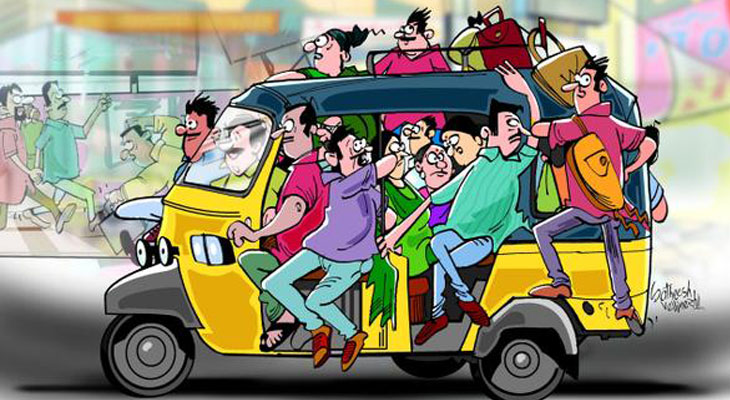 Image source: The Hindu
The driver maneuvered with ease across the busy traffic, overtaking all the luxury cars without any concern for the traffic rules. The more signals he jumps and keep on speeding, the more comfortable the passenger inside the container feels. Stopping at signals leads to sweating, so we the passenger don't mind as long as we get the feel of fresh air. Safety is the last thing commuters traveling by tempo can expect. But besides safety you are guaranteed a huge dose of free gossips, humor and general (read local) knowledge.
Through the open window, I saw a well-dressed gentleman standing beside a black sedan trying to negotiate with a policeman. He was probably been fined for not wearing the seat belt. His car has all the safety features but fined for negligence. On the contrary, our tempos hardly have any safety measures but still never been questioned. Both the vehicle runs through the same street. It's an irony or a privilege I would never understand! But whatever may be the reason, tempos are the thin line that separates our life between convenience and risk in actual sense.
---
You may also love: Mr.Li Pong And His Priceless Life Weapons
---
However, on entering the metro station, there is a paradigm shift in our attitude. All of a sudden we become more responsible and disciplined. We slowly move in the queue for security checks, wait for our turn and if someone tries to jump the line, together we caution him "you are not allowed to do that". With strict guidelines coming from PMO on adhering to office timings, pressure can be felt more in the metros. As the metro's door opens, there is a mad rush to occupy seats, that's when the discipline eventually breaks.
New Candy crush records are achieved, WhatsApp jokes are forwarded and Facebook updates receive maximum likes in the morning rush hours of the metro. Commuters appear fresh in neat dress and polished shoes. The ladies look even more beautiful. Their hair left lose to dry, cosmetics in perfect order and their strong perfumes fragrance create a positive ambiance.
Looking at one such beautiful lady with her wet hair falling apart, dressed in blue jeans and white kurti, I felt good. She must have straightened her hair very recently. I glanced at her for a second time. At the other corner there was a young gentleman standing near the door. He was tall, athletic and was looking handsome in his tight V-neck t-shirt. He too drew my attention.  He must have spent hours in the gym to get that physique. Watching him, I too felt like joining a gym.
---
You may also love: My Father Was Poor – Illusion, I Believe
---
With all these thoughts in my mind, I suddenly started wondering. Both the lady in blue jeans and the guy in tight t-shirt must have put on extra effort and time to maintain a perfect look. Their good look had inspired and made many commuters like me happy, but they would never know of the positive vibration they have spread unknowingly. So, I wondered if I should compliment them. I remained confused. My intentions were clear, but I could not muster the courage to express my feelings. I silently continued with my journey. My happiness left unshared but nevertheless I reached office on a positive note.