In February 2007, in a quest to find his true passion, Sean Aiken started an epic journey of doing 52 jobs in 52 weeks across Canada and United States. The journey soon became a movement and grabbed world wide media attention. After Sean, this project was spread globally and One Week Job project was done in Australia, UK and India.
In India, Jubanashwa Mishra, an engineer and a MICA alumni, has taken up the task of doing 28 jobs in 28 weeks across 28 states of the country. The reason behind embarking on the One Week Job India journey is to inspire the youngsters of India to choose a work profession that they really want to do, instead of doing something what they never wanted to do. To discover the passion and live with it!! All the wages that Jubanashwa will earn in all of the 28 jobs will be donated to GOONJ.org.
Jubanashwa has completed more than half of his journey when we managed to catch him over for a conversation to know first hand about his experiences so far.
In this exclusive conversation with LifeBeyondNumbers, Jubanashwa talks about the 10 craziest jobs he has done so far in the 28 Jobs in 28 Weeks journey.
#1. Photographer, Haryana – My journey of One Week Job started by being a photographer for Indianroots.com, a venture of NDTV. Walking down streets at temperatures close to 45 degrees in the month of May, I realized that a photographer's job is neither as easy as it appears, nor as romantic as one imagines. As my fascination towards the new toy faded early on, I realized, every child may love to play with color pencils and crayons, but that doesn't mean every kid wants to be a painter.
#2. Waste Warrior, Himachal Pradesh – As a Waste Warrior for www.wastewarriors.org, I was cleaning mountains around Bhagshu, McLeod Ganj. It is a very delicate and risky job, especially around the edges, where you take one small misstep and you could be going down and down. We all look for a scenic and serene place to spend our times when we are at the hills, but do we consider what happens to the water bottles, plastic wrappers, coffee cups, cold-drinks bottles and other things that we have just thrown out in the open?
#3. Sevak @ Golden Temple, Punjab – I did seva in the Golden Temple, Amritsar for one week. I was involved with the drinking water division in one of the four corners of the temple. Nothing gives you more happiness than serving water to a thirsty person. It was a thoroughly enjoyable experience, especially looking at a child's happiness after they had just quenched their thirst with the water.
#4. Rafting Trainee, Jammu & Kashmir – Working as a "White Water Rafting Trainee" with Eco-Adventure Club at Reasi, Jammu was perhaps the job I enjoyed the most. With excitement and adventure at every turn, the adrenaline levels never went down. Especially since it was my job to check the safety equipment, such as helmet, life jacket, feet grip in the raft, etc., and a situation such as this one, even the slightest lapse of concentration can lead to a grave accident. Thankfully none happened during my stay.
#5. Movie Marketing Executive, Maharashtra –It was almost impossible to stay away from the glitz and glamour of Bollywood, and so I spent one week in the world of Celebrity PR and Film Marketing with SPICE PR, Mumbai. It's much easier to create a personality for a brand than to create a brand for a personality. In this short time of stay, I realized that while brands can be controlled according to the messaging developed, in case of celebrities the messaging has to be customized to their behavior.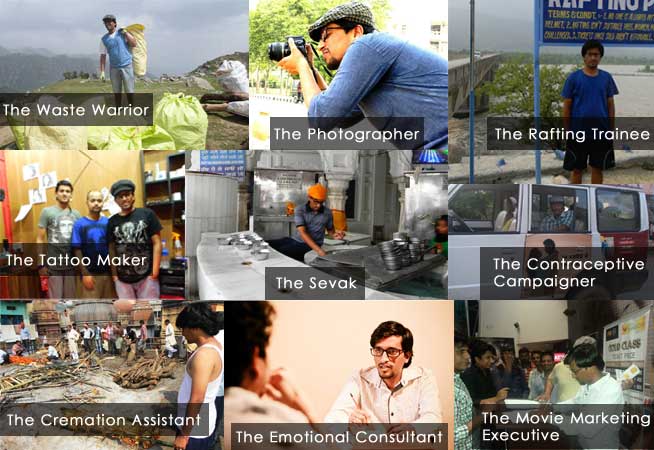 #6. Tattoo Maker, GOA – If I were to rate my jobs according to the patience level they required, this one would be on the top. Tattooing is a very delicate and extremely creative endeavor and in a place like India, where few artists know the semiotics of tattooing, I was fortunate to work under Ink Baba, a place where every tattoo tells a story.
#7. Emotional Consultant, Karnataka – This was the only job which directly reflects the cause of my journey, "Discover Your Passion". I was counselling those who were not satisfied with their jobs, confused with the career path or befuddled in discovering their passion. And I can easily say that this is almost everyone's story, "I wanted to be such and such, but I landed up with this career".
#8. Play School Teacher, Andhra Pradesh – Bhumi in Hyderabad gave me the unique experience of working with two year old children. It was perhaps the most fun I had in this journey; due to all the chaos and excitement, created by toddlers crying, playing or just laughing all around me. While consoling them when crying was perhaps the most difficult thing to do, it was equally difficult to say goodbye.
#9. Contraceptive Rural Campaign, Bihar – I worked as a field supervisor for a Contraceptive campaign in rural Bihar, which was a part of Percept-Rural and HLFPPT. Primarily, our mandate was to convince paan-shops, beauty corners and other small outlets in rural Bihar to sell condoms along with their other products, and in many of the cases it turned out to be a big NO. Culture playing a very important part in one's life in these areas, in a lot of cases we heard reasons such as "My father used to sit in this shop, how can I?" or "We both brothers share the same shop."
#10. Cremation Assistant, Uttar Pradesh – This was one job, in which I failed. And mostly because my heart was not strong enough to spend those long nights at the ghats of Varanasi. Being a place of cremation one would expect a lot of grief around, but it's strange that you won't find anyone crying at the ghat, perhaps because of the wisdom of Bhagvad Gita: "nainam chindanti sastrâni nainam dahati pâvakah na cainam kledayanty âpo na sosayati mârutah" which means "Never can this soul be cut to pieces, be burnt by fire; nor can it drown in water or wither in the wind."; but mostly due to the easy acceptance of the hard fact that death is a reality for everyone.
We, for sure, believe that it is of utmost importance to be passionate about whatever you do to be content in life. Do share with us about that one thing which you have done in life with all your passion so far and the feeling of contentment you have received out of it.