Updated: She died in Mumbai on Monday night, 26 August, 2019, following an illness. #RIP
Kanchan Chaudhary Bhattacharya has played many roles in her life including but not limited to an Officer in the Indian Police Service, Social Worker and now Politician. Not to mention the many roles played in the personal sphere. She holds the coveted distinctions of being the second woman IPS officer (1973) after Kiran Bedi and the first woman Director General of Police in the country.
In 1989, her inspiring story was adapted into a popular teleserial Udaan, written and directed by her sister Kavita Chaudhary who also played the lead protagonist in the series.
I have had the good fortune of knowing Ms. Chaudhary almost all my life and have taken advantage of this bond by taking the opportunity to pen down some valuable excerpts from a conversation with her. She has been graceful enough to open up in a way very few do. Hope you enjoy reading it as much as I enjoyed conversing with her.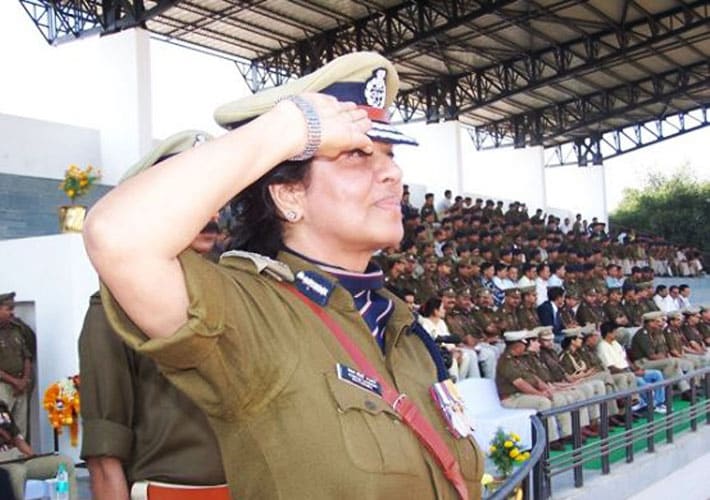 Please shed light on your early life, your childhood, and background.
Early years were tough though filled with love and togetherness. We were thrown out of my grandfather's house when I was around 7 years old at the behest of his third wife. I remember going to school that morning crying and returning to a place that was to be my new home. It was a small, dingy, dusty with peeling walls and had the smell of a place that had not been opened in a long time.
My parents transformed themselves to become people who worked without stopping. My father started to cultivate a fallow piece of agricultural land, one of the many properties of the family's ancestry, that nobody had bothered about till then. My mother was a very strong woman full of integrity and convictions. She grew from strength to strength as she struggled to make ends meet and keep us at school. We got many of our values from her.
I was a mediocre student at the school. Suddenly, by the time I entered college, I started to take part in debate and speech competitions and winning many as I shed the inhibitions of my childhood. I was referred to as the 'Pride of the college'.
What guided your decision to enter the Police force?
The land that my father had started cultivating began to yield income. That came to the notice of my grand father's family and they sold it to a group of notorious smugglers. These thugs came armed to the land and threw dad and his helpers out. My father almost lost his life to these thugs. Dad went to Court against it.
From then on, I remember my father going to different courts to follow up on his increasing number of legal cases. I too started going from office to office, trying to get the police to register a case against my father's aggressors. I appealed to Senior Police Officers, the Governor of the State and also the then PM – Mrs. Indira Gandhi.
After this experience, when I made it to the All India Civil Services, it was natural that I would opt for the Indian Police Service. The need to serve justice had become a part of me.
Coming from a Punjabi family, was it difficult breaking molds set forth by society?
We had a somewhat socially secluded childhood. I was a bit of a loner and the only social molds I knew were the ones set by my parents. My parents' unflinching sense of equality and fight for justice made me fight for the same all through my life.
Did being a woman make it any harder for you as a Police officer?
No. Though I have seldom wasted time analyzing these things. When I was the 2nd woman in the IPS in the country, I went through a confused phase when I couldn't decide how I was to conduct myself.
During the training years, the teachers and staff thought I would leave the service. I was delicate and the training was tough. One young girl amidst 90 men was a bit awkward. But I did not give up and wanted to be my parents' claim to a patch of the sky. Our lives had changed from the time I became an IPS officer and I worked hard at it.
Later, I realized being a woman became a distinct advantage. People trusted me more as I think women are more relatable.
In the context of the controversy surrounding Indra Nooyi and balancing work and life. It is well established that being anything alongside being a mother is a task. Did at any point the juggling act become too much for you to handle?
By and large, I have been through life without a plan. It helped that my math and calculative skills are poor! I believe though that if your intent is right then nature intervenes to help you along the way. My life illustrates this in no small measure.
My family helped in raising my girls and lived with us. My mother loved and was better with the girls than I was. I always believe that children clinging to parents as their life line aren't healthy. So it was good that their world was not small and they were loved by many.
When I was transferred as the first woman Deputy Inspector General on a field posting I worried about leaving the girls behind. My father said to me, 'Don't worry about these two, we will look after them, but there are many children waiting for you out there. Go look after them'. Marriage needs some investment- some of which I regret not having made- I try to make up for it now.
You are the mother of two daughters and now have a granddaughter. What values would like your daughters to inherit from you?
I have two good daughters – strong and loving. I have seen their blood boil at injustice too. I like that. I like that they are both kind and thoughtful. I think they know that you can influence your life through your own actions and thoughts. I think they are more talented than me and I feel proud of that. They have inherited their singing from my husband and enjoy dancing like I do. I want them to always believe that they can solve most problems with determination and faith.
My grand daughter will be 2 soon and is so lovely. I marvel at her talents and individuality.
Tell us about the man who shares your extraordinary life story.
I am married to a very lovely man. The more I see the outside world the more I realize how lucky I am to have him. He is large hearted and I love that most about him. He is calm- like a balm to my restlessness. He has stood by me most times. Recently too, during my electioneering, he took a month off from work, to plan my campaign. His planning raised the campaign to a different level.
Today when you read about the atrocities faced by females in our country how do you feel?
Yes – it bothers me a lot. I know that neither the police, nor the administration, nor the politicians are sensitive to the needs of women.
The way forward has to be multi-pronged. Government machinery has to be sensitized. There can be no tolerance of breaches and failure. Delivery of justice has to be time-bound and efficient. The law has to be clear and hard-hitting.The system has to show a serious commitment to women's empowerment- be it through holistic education or employment that gives them economic independence. Safety has to be ensured through a proper system of police patrolling and citizen involvement.
People should be enlightened through frequent public – police interaction. Society must be made accountable.
Retirement and beyond. Today you seem content and seem to be savoring this phase of your life as well. Your thoughts?
Thank you. Yes, life is divided into phases so we can grow and learn from each phase. I like that about life. Even the grass grows faster in the silence of the night. I like what is happening to me at this time.
How did you decide to switch to politics and social service? Tell us about your political philosophy and aims.
The move to politics was another one of my unplanned, impulsive decisions. I just chanced upon an interview of Mr. Arvind Kejriwal and liked what I heard. I wrote to him and said if there is anything I can do I would be happy to. After that one thing led to another and before I knew it I had landed a ticket to contest the 2014 Lok Sabha elections.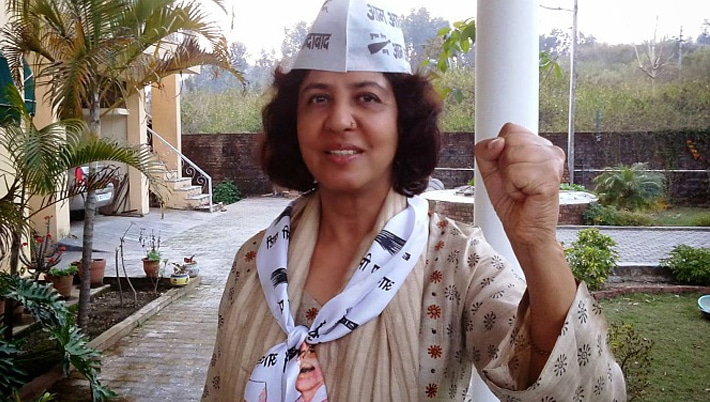 I have always dreamt of bringing dignity to the lives of common people. However, politics is hard. My very close encounter with politics has left me bruised in a way. I am going to give myself some time to make peace with it and then decide my future direction.
Why did you choose AAP over the rest of the lot?
I endeavor for the dignity and integrity of the common man. I felt that AAP shared this goal.
As a role model what I imbibe from you is that there is no end; one can do anything at any point in their life. Please share your thoughts.
Thank you for calling me a role model. Yes, I totally believe that limits are only what you place on yourself. Life itself set no limits. If I had to say anything to a person in doubt, I would say guard against social pressures to accept bondages on yourself. There is always a long way to travel.
A small clip from the serial Udaan
There was a lovely line in 'Udaan', the Tv serial about my life, where the father says to the mother: 'Yeh anth nahin hai- anth tab hai jab hum anth maan lethe hai- varna mrithu bhi anth kahan hai'.
"This is not the end. The end is when we accept it to be the end. Even death is not an end."  Isn't it Lovely?
On that note, we part and end this soulful conversation.