Blame it on my elephantine memory or my sense of observation, but Sorabh Pant's brand of comedy struck me as unusual, long before Sorabh Pant became a brand. During college, Sorabh was known for his side-splitting sense of humor and lighthearted manner of expression. So years later, it comes as no surprise to see his name popping up as one of India's top Stand Up Comedians.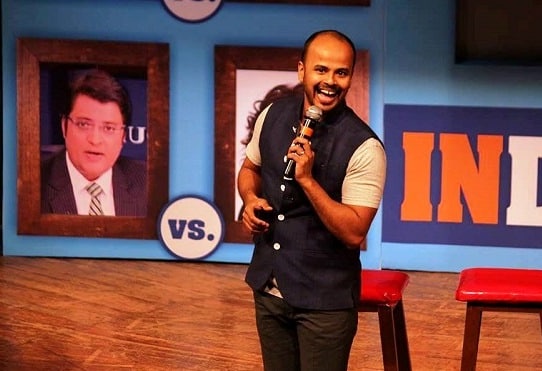 From the funny guy in college to being named one of the country's 6 best Comedians, Sorabh Pant has sure come a long way. In the recent years, he's done over 800 shows in 32 cities in 10 countries.
Sharing here excerpts from my conversation with Sorabh on what it took for him to carve a niche in an unconventional profession.
When did you decide to pursue Comedy as a profession?
I did the degree that people do when they have no idea what they want to do i.e. a BCom. And, then got into TV – which had as little to do with BCom as possible. I'd always been a TV writer and a comedy writer. Wrote for The Great India Comedy Show, Channel V, Filmfare Awards – lots and lots of stuff before my brain broke.
Was working with about 4 companies and Vir Das at the time when I decided: I may as well write jokes for myself! This was in 2008.
How was it – breaking the news to family and friends? Did you have a back-up plan in place?
My family has been pretty supportive because both my parents have some kind of creative bent. I didn't plunge headlong like some blind Ostrich into stand up comedy. I continued my other jobs and earning money. So, the back up job was writing – which was anyway happening. As was being an author which also happened!
You are now counted as one of the 6 best stand up comedians in India! Any lessons learnt?
Come for a show and I will tell you about lessons!
Jokes apart, it's relatively simple: focus on what you're doing, submerge yourself wholly into it and things will happen. I genuinely love what I do – which is why the 14-15 hour days are absolutely fine.
Stand Up Comedy is still perceived as a not-so-viable career option. What is your advice to young men and women who wish to pursue the field?
– If you're doing it for the attention – don't do it.
– If you're doing it because you love comedy – join in.
– Don't quit your day job, you're not going to make any money for at least 2 years – if you're lucky.
– And, come see comedy – to see what people have done before you.
What inspires your comedy? Internationally or nationally is there any comedian who you emulate?
India is inspiring for comedy. There's enough to be annoyed and delighted about here. The first comedian I ever saw live was Johnny Lever – who blew my brains out as a 12 year old! But, internationally – there's Brian Regan, Chris Rock, Mike Birbiglia, Jon Stewart, John Oliver – who I've been a fan of since 2009!
And, the Indian scene itself is aspirational – some great comedy inspiring more great comedy.
When you do a show, does the content depend on the kind of audience you are addressing, or do you stay true to your type of comedy?
Yes, it does. Fortunately, I have enough material to fit most audiences. But, obviously you wouldn't do sex or religion jokes in front of a largely 55-year old-corporate crowd. It changes depending on whether it's a corporate show, a live show, a bar show, a theatre show. Your level of abuse and much, much more.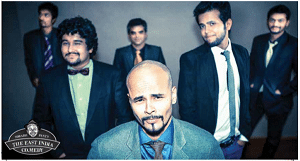 What are your thoughts on the comedy scene in India at present, and the changes you have witnessed since the time you jumped in.
It's really shot through. Some hilarious people. There are about 30 really funny comedians in India. And, about 10 more on the way. It's mainly centered around Mumbai, Delhi and Bangalore – which needs to change. Chennai also has a bunch of comedians who are quite good.
Now, it's getting official as well – as there are 7 comedy companies – all doing well, as opposed to 1 about 4 years back. We're on TV, youtube, stage, films, radio – everywhere.
The East India Comedy Company- Tell us about how it was born.
The idea was just to have a bunch of very good comedians do as much content in as many spheres as possible. We just started our small little TV show as well – a news comedy show, The Bottom Line, on NDTV Profit/Prime. We're doing radio, lots of live shows, writing a ton of award shows (IIFA, Star Screen etc.)
So, it's all going according to plan.
You are an avid reader and a published author. What inspired you to write The Wednesday Soul?
I was working on TV scripts – that could make you suicidal. Which is why the first book was all about death. I found the whole idea of writing a comedy about something as morose as the afterlife – fascinating. I'd actually like to revisit that world in a few years when I'm a more evolved writer.
Right now – I'm more excited about my 2nd novel, Under Delhi, which releases in a few weeks. It's about a woman going after criminals and rapists in Delhi. It's very angry, very funny and a far, far better novel.
What do you have in store for your fans  in the near future?
Well, currently there's about 4 things that are at the top of the agenda:
The novel, Under Delhi, obviously. Will be doing a few launches and even standup shows around it.
Our pilot TV show, The Bottom Line, should hopefully have a 3rd episode on NDTV Profit/Prime in July.
My new comedy special, India Vs. The World, will return in August.
And, lots of new content on East India Comedy's Youtube page, as well as our new video on the Apocalypse in Mumbai. Watch the trailor here:
*****
Comedy is certainly one of the toughest forms of performing art. Tickling a live audience's funny bone isn't easy, but Sorabh seems to have got it just right.
Want to watch Sorabh in action? Check out his upcoming gigs.  Stalk him here.