Kashish! You don't actually get to hear this name often. And when you do, there's an immediate inkling to get to know the person behind the mysticism of a somewhat overpowering name. So much about the name is about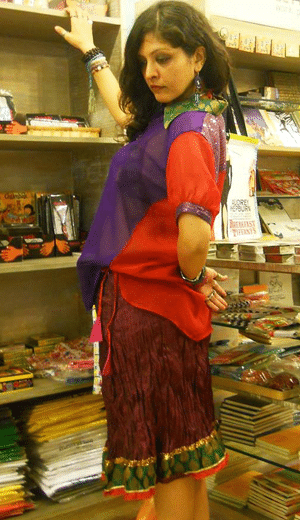 levitating on a different space altogether. And meeting the person therefore becomes the next logical step but one probed by enormity of expectation.
Chances are, if the Kashish you know, in your life spectrum is remotely as interesting and talented as the artist-blogger-spiritually inclined-healer-tarot reader-traveler-constant laughter- music lover- artiste extraordinaire-enchanting communicator that I've come to know, then you're doing well in life.
So much about life is about getting to know people and delivering people from their limited ways of seeing and believing. And yet, one hardly does justice to it. But in my surge to do the latter, albeit in finite proportions, I am glad to have met artists like Kashish.
Fundamentally, life exists in paradoxes. And beautiful ones at that! While there're many souls out there one would love to know and love to know a bit closer, time is usually calling the shots. So in the brief moment that augments encounters, knowing an artiste and someone who seems both – a time-traveling sufi out on a humane purpose and also an inimitable force of nature- can be a leveler of sorts. And therefore, an endearing experience in itself.
The Kashish Sharma we've had the pleasure to interact with borders between the most profound embodiment of Lord Shiv as one has come to understand him (given lord's infiniteness)- charming, artistic, enigmatic and unbelievably incorruptible and an utterly humane artist who believes in self-expression and the process of bettering oneself at that.
A free-wheeling chat with a woman who reminds of the volatility albeit magnificent gift of Janis Joplin, the suave of Meryl Streep, one a commoner has access to, the sedate aura of compassion walking on two legs and the appeal of a hurricane who's waiting for its time to come, not for unleashing havoc but for transforming the colors of sky from the limitless mold of self-expression.
People usually focus at doing one particular thing they're good at. But you are both: an artist and a brand alchemist as you describe yourself at times. How do you manage that?
I don't think I managed anything. I have innate sense of not trying to force something new, which has happened with practice. So I am managed by a Divine Force which manages the desires that I have. The desires that need to transpire through me are being lead through a guided hand and I have to do my part.
What excites you about your work?
Oh the journey of it! From ideating with the popping Neons in my mind to it being researched upon and than formulating it into something that needs to be realized into what can be seen, touched, heard, felt, tried, tasted in totality.
How is it being a Tarot reader? What is it about this talent that excites you?
Tarot in a gist is a tool for guidance when we are at Cross Roads, when we are Confused with something and need clarity, when we are unsure of taking a decision and need to understand what we are Feeling, when we need to understand that we have the capability of handling what we are going through, when we need to understand Life Situations, Tarot can answer questions that we have in varied Circumstances & Situations. I feel a deep sense of satisfaction when someone comes for a reading and I see confusion or lets say seeking in their eyes and when they go back with what they have received their eyes are twinkling with the clarity and empowerment that they feel. Being of service is deeply satiating.
How would you describe yourself as a person?
A spiritual being having a human experience.
I've heard you're also a practicing healer. Could you explain that in detail.
I am a Reiki Channel, a Tarot Reader, Angel Oracle Card Reader, & a Karmic Healer, can help you do guided Meditation, Induction & Relaxation techniques via a few exercises & also help with PLR (Past Life Regression) Can Channel departed ones I pick up energies via reading eyes. I am also a New Shaman in this Life. Something new that I am getting into is Profiling the Persona 🙂
You've led quite an exciting journey where you've donned versatile hats: from being into design to doing tarot reading and even painting and healing. How do you think you've evolved with such serious and varied talents. And how do you make time for each?
I never liked people telling me that I have to choose to do one thing or two. It irated me when I was asked to make a choice and made me wonder why do I have to choose, why can't I be what all I want to and made it work, even though it has been tough, excruciating, tumultuous, required immense perseverance, and constant work on oneself since I believed it I made it work for myself. One doesn't have to be all together and make time for the same in a moment, it's addressing one in one moment and that helps make all work 🙂
Could you tell us about your painting and artwork. What's keeps you going.
Well I love healing as a word and the essence of it and have incorporated the same in my paintings and what I write. The paintings I have made is when I was feeling a particular feeling, a particular emotion and that needed a vent which came out via a medium and those as paintings I have given the name of an emotion, the dictionary meaning of it and how I addressed it. How they heal is when you look at the visuals of the paintings and the one that pulls you is the emotion in you that needs to be addressed. Words have a strong resonance in terms of what they create and the way they make you feel, so when I write I write with my heart and soul and in that believe when it is read it, touches hearts and anything that makes us feel warm and heals us.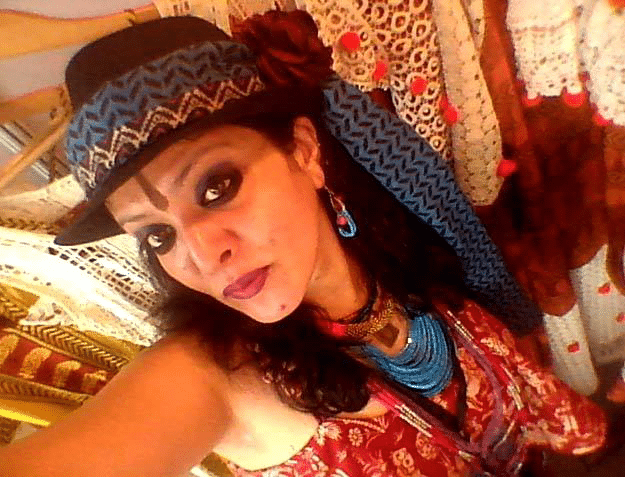 How important is it for you to express yourself through art and what does it mean for you to be independent?
It is extremely important that I EXPRESS, the medium can be what one chooses in the moment or that chooses to express itself through you. Being independent to me means being interdependent, be of service in ways one can and co-existence, and not adding on to people's woes. Not necessarily that I may have lived the not adding on to the woes part, I do the best that I can and that I have accepted.
What inspires you Kashish? Are there any particular inspirations or motivational figures in your life that have impacted you?
Yes I am inspired by Lord Shiva, The Spiritual Realm, Khalil Gibran, Thierry Mugler, Sarah Jessice Parker (Sex and the City), J K Rowling, Janis Joplin (Thanx to a Friend introducing me to her music) Mamtaa Gupta, The Love of Alcohol, The Love of Dancing, Colors, Expressing via Singing, Everyday Man the one who keeps walking 🙂