On the evening of April 29, 1995, a 19-year young gentleman cadet suffered a near-fatal accident during his passing-out parade at the Indian Military Academy. The injuries were so grave that doctors declared he would not survive more than three days.
Today, Navin Gulia is an accomplished author, award-winning adventurer, philanthropist, motivational speaker and above all, a source of inspiration to many.
In 2004, he made it to the Limca Book of Records by becoming the first and only person to drive from Delhi to Marsimik la, the highest motorable pass in the world, driving nonstop for 55 hours. He is the recipient of numerous prestigious Awards including the Karmaveer Chakra, National Role Model Award, Global Indian of the Year, KavinCare Ability Mastery Award and many more.
This is an attempt to share his story with you, although, five minutes into our meeting, it dawned upon me that this exceptional journey cannot be summed up in a few hundred words. Sharing here Navin Gulia's remarkable journey, in their own words.
From Underachieving Student To Armyman
As a child, I was a below-average student, and as I was physically weak, I never got to participate in sports. The constant snubbing by my classmates led to a lot of frustration. Now looking back, I feel it is very important to get frustrated in life because it pushes you to make decisions. One day, I decided to work on my shortcomings and soon became one of the most accomplished sportsmen in my school.
I joined IMA at the age of 18. When I injured my spine during the final obstacle training competition, I was just one step away from becoming an army officer. As I lay in the hospital bed for several months, I got a lot of time to think and to observe people. I saw many people saying, "Why did this happen to me?", and I would think, "Why should it not happen to you? If it can happen to anyone, you have an equal chance, why should you be the chosen one?"
The accident left me paralyzed from the waist down but I did not want to spend the rest of my life complaining. Recovery took almost two years, as in those days medical science was not as advanced. I was a trained sportsperson and an army man which helped me a lot in channelizing my energy towards getting better. Also, as a child, Reader's Digest had been my favorite magazine. I had read many inspiring survivor stories, so somewhere I knew that if I face a challenge, I would be able to overcome it.
Living Life On My Own Terms
After my recovery, I completed my Masters in Computers in 1999. While my batchmates got placed in big organizations, I chose not to take up a full-time job. Instead, I began teaching computers to disabled soldiers at the National Defence Academy.
I was always an adventure-seeker. I wanted to live my life, take risks, have free time to follow my heart because I believe our time here is limited. In the past 18 years, I have flown hang-gliders and adventure aircraft, driven over 1 lakh kilometers on adventure expeditions and worked for a cause close to my heart… Today my friends tell me I come across as a happier person.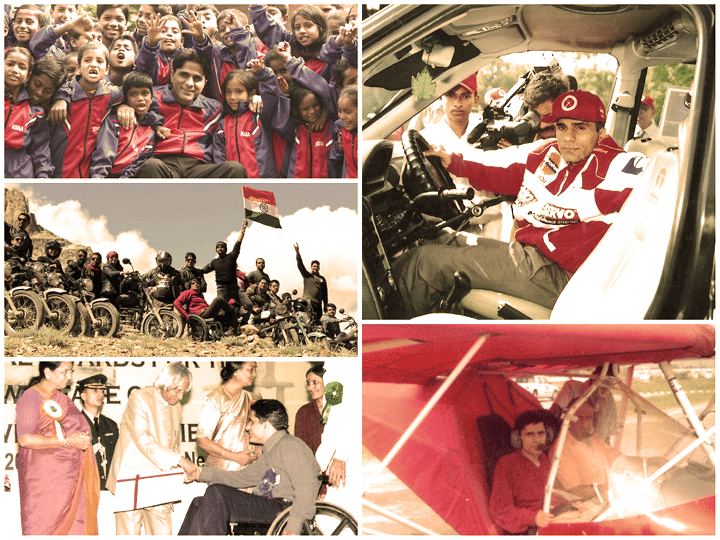 Mr. Gulia's incredible experiences have been chronicled in his books In Quest Of the Last Victory and Veer Usko Janiye.
Positivity Does Not Come Easy
Often, people tell me they would not have been able to do what I have done. I believe we should never say those words because then your mind starts believing it and you will not be able to face anything in life. I did not always have a positive mindset, I have had to cultivate it over the years, it requires constant hard work.
Today, I have no complaints. The people who have more complaints from life are those who play safe. Because when you are taking chances, you know the possible outcomes and you still go for it. When people come to me looking for motivation, I just ask them one thing. Tell me about your action plan. Let's discuss the solution and not waste time shedding tears over the problem. I follow a simple and practical approach to life.
Once I was talking to a female friend and she would repeatedly use the phrase, 'As a woman'. I had to tell her that every time you use these words, you are making yourself weak, without even realizing it.
You should believe that you are a person of substance rather than trying to present yourself as one.
ADAA (Apni Duniya, Apna Ashiana)
I believe that the progress of a country is not measured by a successful mission to Mars, but by what we do for those at the lowest rung of society.
In 2007, I founded ADAA and began working with beggar children living in hutments in Gurgaon, and later children from nearby villages. But this is not a popular cause. If I make an orphanage or a temple, those are popular causes.
Why do you think we see a filthy, naked child on the road? It is because we want to see such a child, give him money and feel good about it. This is called social corruption; we only worry about our electricity and water. We have no time to raise our voice against this menace.
You give away coins because they are useless to you. But that child will not spend that money on himself, because then his condition will improve. His job requires him to look dirty because he is working for a lot of people. He earns money for his handlers, gives us the satisfaction of doing good for the poor. He gives filmmakers an interesting plot and NGOs a reason to win awards.
He does not have a voice; he cannot go to India Gate with a candle. I spoke to some news channels but they say it is not an interesting story to cover unless we have children whose limbs have been chopped off. Unless society wants this to stop, it will not stop.
Where is your orphanage?
When people ask me this, I tell them my children don't need an orphanage. They live with their families and are happy where they are. A poor child staying in a hut is happy in a hut. Why do you need to take him out of there? But that appeals more to people. It is not for the child, it is for the people who want to feel good.
What these children need is guidance, medical aid, and education. For children who beg, food is the first priority and education the last. I just work for the welfare of these children and spread the message.
How do you stay motivated through all this?
Because I have chosen to fight this battle. In the end, I would prefer to lose this battle than win any other. Karm (action) is your only right. The result is not your right. So you should focus on your actions and not the results.
I will not be able to follow these kids around but I believe what I do will make a positive difference in their life, it will motivate them to create a better life for themselves.
Tell us something which not many people know about you.
That I have a funny bone. I can laugh at the most mundane of things. I have a close circle of friends with whom I share a lot of light-hearted moments. I am not as serious as I look. I like to spend a lot of time with myself, and I value my freedom.