By now, we have almost realized that the education system in our country needs a big time overhaul. This is obviously a lot easier said than done. Nonetheless, a passionate, courageous and enthusiastic lot of people are doing their bits to change things for the better. We have in the past covered stories of change-makers in the education sector and we will continue doing so as it is one of the closest issues to our hearts.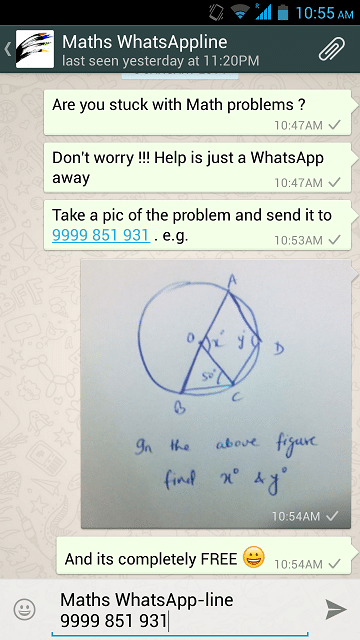 Rahul Khandewal, an engineering physics graduate from IIT-Delhi who is pursuing his Masters in Philosophy from Delhi University has set up Unlearn Formulae, a venture through which he is trying to make a solid impact and bring about changes in the way children are taught and moulded. Rahul has worked with a Dutch firm as a business analyst for 3 months before realizing that he was not meant for that. He joined Pratham, an NGO where he managed programs in north India. Then after getting a bigger picture of what children are going through he started loving his work, he says. 2 and a half years with Pratham and working on large-scale systems, Rahul decided to work on the small-scale system and wanted to understand the process of understanding Math by children. That's when he started Unlearn Formulae and understand the pedagogical nuances of learning Mathematics. They have recently launched their WhatsApp helpline for students, where students can seek help for problems on WhatsApp Messenger. Just click a pic of your problem, WhatsApp it to 9999851931 and you'll get your solution. Cool, eh?
In this exclusive and extensive conversation with LifeBeyondNumbers, Rahul Khandelwal shares his journey, his vision, Unlearn Formulae, their new initiatives and lots more…
The Beginning and Inception of Unlearn Formulae
I am from a small humble town from Madhya Pradesh. After my higher secondary exams, I decided to prepare for IIT-JEE, went to Kota and it was like a nightmare for me. I couldn't even understand for the first time that how a circle can be written in the form of an equation. The idea is that, the way math is taught in schools, students always end up considering Math as a collection of formulae and finally lose touch with the basic logical capacity. It took me two years to put my basics in place and thus I was able to crack JEE. Because I have suffered, therefore I have affinity toward the cause which is a reason of fear and stress in too many students.
Before starting Unlearn Formulae, I was working with Pratham, a leading NGO in the field of education. My job profile involved program management, training government school teachers and content development (Math) for children studying in primary and upper primary schools in rural India.
In the two years, I realized it was amazing to work with a large institution as it provided one a huge platform and tremendous outreach to bring about desired change, but there were certain pitfalls too. That's when I decided to start Unlearn Formulae, a venture where I could work and deliver in a manner that I felt would have the maximum impact.
For most of us, math is merely a collection of formulae, and a formula is like a black-box in which we provide inputs of numbers to arrive at the final answer. But do we know how the black-box works? This ignorance becomes our limitation. If a formula does not directly fit a math problem, we instantly conclude that math is incomprehensible, boring, tough and so on.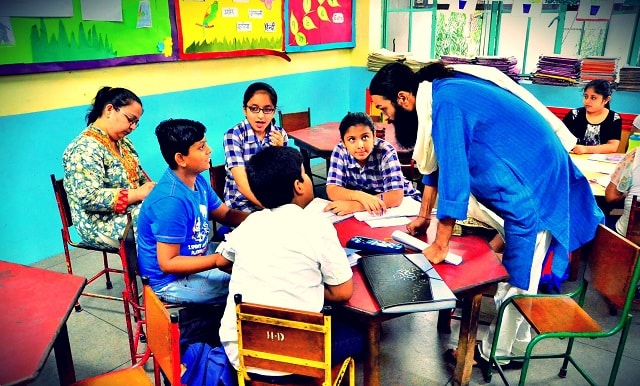 At Unlearn Formulae, our effort is to understand what exactly is going on inside that black-box – that formula – and how it works. Having done that, a student is no more afraid of it but can, in fact, play around with it, make his/her own formulae and apply them to life situations around them.
What is Unlearn Formulae
Fear is a factor of not knowing. It could be the fear of math or of anything else in life. Unlearn Formulae aims to make students experience the joy of understanding MATH on their own and, therefore, become free of the fear of MATH.

Unlearn formulae is a Math club as well as research organization to help students understand mathematics in a better way so that they can relate to it. Presently Unlearn Formulae has one centre which has catered to more than 100 students in a span of three years. After this success we are launching another centre in Gurgaon. Unlearn Formulae is also supporting the research wing of Mentoring Million Minds which is a Pan-IIT Initiative where we have developed a software which supports natural learning process. It focuses to teach students ability-wise rather than age-wise. It's a highly individualized method to cater to millions of students. We have not raised any funding so far. Unlearn formulae was run single handedly for 2.5 years by me and then we collaborated with this pan-IIT initiative called Mentoring Million Minds.
Catered to more than 100 students under very close observation which helped us a lot in making the software for the natural learning process which helps students to study at their own pace and according to their own capacity. We have achieved success in breaking the age-wise classroom model and are successfully running a class with mixed students from grade 6 to 10.
E-Tutoring:
It is ETHICAL Tutoring executed through electronic medium – tutoring on clearly identified learning goals – NO TEACHING – school is NOT REPEATED – child is encouraged to focus in school! Each contact is against identified learning goals!
Parents, tutors and child himself will monitor child's report at the same time – Parents COMMIT to it. Nurturing of the talented CANNOT happen without parents. Of course, we make the task very simple for parents by making it prescriptive (micro-actionable reporting – follow up!) in nature.
Designed to make child independent of us as soon as possible – create enabled learners – conceptually backed up, organized higher-level challenges to always keep them on their toes.
Small learning groups:
Strategic groups based on child's strengths and weaknesses.
Saving child's time as the tutor knows the individual problem beforehand.
Peer learning – it's always the best – what we do is to change their conversation topic!
The Challenge
It is common knowledge and concern that the below average students find themselves a misfit in the current schooling system. The school curricula and methods of teaching are meant primarily for the average children. What doesn't strike us is that the talented children find themselves as much a misfit and are as marginalized as the below-average students. The schools, we are at pains to find, do little to address the cause. The classrooms usually brimming with children with different capacities make it almost impossible for them to try out anything different.
The boundaries drawn by the syllabi and the habit of being spoon-fed further hinder the growth of such children. As a result, the child is seen lacking the initiative to start a topic on his own even though he has studied the same in the previous class. So, the stimulating exercise of exploring new things on the basis of previous knowledge becomes a mere routine and children start finding education burdensome. Have you ever heard of any parent hiring a tutor for teaching video games?  Children are ready to put in hours just to cross one level even when these games are not a walk in the park. The reason is the increased sense of responsibility amongst these students; there is the joy of struggle leading to success and a sense of achievement at the end of the task. Our education system, unfortunately, does not offer them this meaningful sense of  "Hurrah! I did it." It spoon-feeds them, and is devoid of any meaningful challenges for them. Why can't we have struggle as part of the learning experience in our curricula too? Aren't we then underestimating our students?
Defining the Problems
Why does an average or a weak student always remain at the same level throughout school?
The answer is that they are never told their weaknesses. The school report card will tell you that your child is weak in Math, but they will never tell you what exactly is the weakness or why is it there and what is the remedy. Unlearn Formulae pioneered in pinpointing these issues, carried out a structured plan to help the students and has been able pull many of them out of the murky waters of hopelessness and gloom. As a result of several years of research, Unlearn Formulae has launched an ACT initiative (Academy for Talented) to solve this problem by providing the student with guided freedom for choosing the concepts and problems and therefore stretching their potential each time. Unlearn Formulae is excelling and evolving in not only tackling these issues but making it possible for students to move across classes in the concepts wherever required, based on their ability.
Why do most talented primary and secondary students become average in higher secondary classes?
The talent lies in the reasoning or the logical ability that should be aimed at through subjects such as math and science and not in the subjects themselves. It is only by stimulating students through the right kind of challenges that we can nurture such skills. The idea is to help students explore ways of creating formulae on their own rather than having them mug up the formulae and stunting their growth for good. We want to see our students shape into powerful minds by providing them the tool of reasoning and independent thinking. We want them to take initiatives and get out of their comfort zones to develop problem-solving skills.
Solution:
The key to the solution is reorganizing the curriculum and making it ability-wise rather than age-wise.
Honestly, the curriculum is not the right framework for the talented. The initiation out of school's conditioning for years is best mediated through the familiar curriculum framework to make this transition smooth. We provide continuous challenges in graded stretches – 'boundless curriculum'. To top it, the focus of the learning transactions rests on the logic and reasoning enhancement rather than the mundane mathematical operations.
Getting the child to write the mathematical proofs and problems in the language is again one of our unique ways to peep into the child's mind and find out exact problems with his/her thinking processes. Peer evaluation of their writings will magnify the details of the thinking mechanisms in two dimensions: across concepts and across students. It must also be stressed that guided-freedom of choosing the concepts where students wish to go ahead of their class and self-goaled learning are the major tools to boost the confidence of the student and make him/her responsible learners.
ACT is an amalgamation of technology and experience of direct teaching with a view to making it possible to implement the above solution with the involvement of parents. If a 5th grade student has the ability to understand concepts of 8th grade, we would help him/her achieve it, as the model that we are providing doesn't make them stay over the concepts of just their present standard but gives them access to the similar or complex concepts of the higher or lower classes based on their ability. This means going beyond the physical and age-limits of learning.
Stress Busters
We, a group of IITians currently engaged with school education and pedagogy, are happy to announce a first of its kind, innovative campaign to fight stress faced by students during exams.
Through our campaign, we will help your child in the following ways:
Revision of Chapters at our workshops.
Run a help-desk to solve specific queries and doubts.
Students can also come to our centre and work for 3 hours each on Saturdays and Sundays with the support of our staff.
We will enable your child to complete the entire Math syllabus over January and February, so that they "face and ace" exams confidently without any fear. There are no charges for any of our services in this campaign.