Had he been just another common passer-by, you might have been reading one more news of a gang rape in India. It's not very uncommon to overlook any untoward incidents that happen to a stranger on the road. The reason? It doesn't affect our lives. They are not our family. They are not our friends. Why should we take any pain to help them?
But fortunately, not all are the same. And we still have some heroes alive among us who will go the distance to do the right thing. Doesn't matter for whom.
Meet Vasanth Paul from Chennai who just averted a gang rape and saved the life of a stranger girl. As per his facebook profile, he is a model and photographer. And not to forget, he is a fan of superstar Rajnikanth. Being a fan of the superstar, he was out there watching the latest record-breaking release of Rajnikanth, "Kabali". Post the movie, he met a couple of his friends and spend some good time with them. A day well spent.
Vasanth Paul – The real life superstar
But while returning home, somewhere in the Alandur area of Chennai, he suddenly heard the cries of a girl from an isolated place. What he could sense from the remote screams is that a girl needs help and is in a possible danger.
He narrated the story on his facebook profile which has gone viral already. In his attempt to save the girl he got several body injuries. But he is not a bit worried and this is what he has to say, "I have so many scars on my body but I'm sure I'll be proud of these".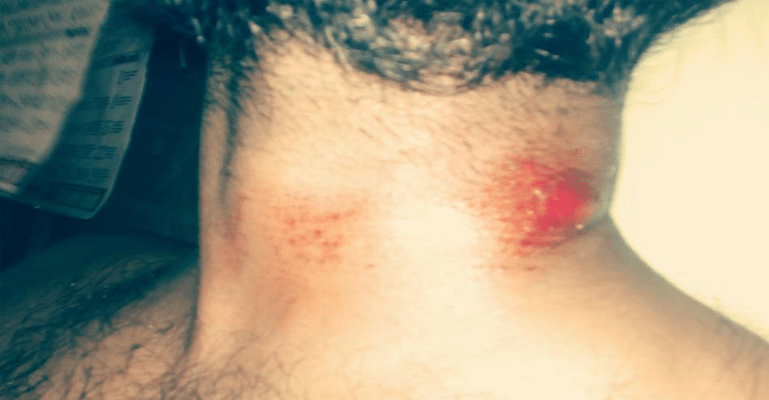 He writes:
"I have so many scars on my body but I'm sure I'll be proud of these… Today was just a wonderful day, I got to watch KAbali, first day, first show.. met a couple of my close friends.. had a beautiful time.. and when I was returning back home, I took a detour at Alandur, to avoid the fucked up roads between the underpass and the airport during their renovating hours… I generally try to get past this before they shut it down.. I'm glad I didn't..
On my way I stopped by to pee(I'm sorry, I couldn't hold it) and extended my stop for a smoke.. right behind me was an empty piece of land and I heard mourning sounds combined with sounds of resistance… for a few seconds, I thought it was a cat or some kinda animal making out, not longer did i realize it were human.. I tried walking away but instantly heard a faint drugged cry saying"bachao.. please help… anna.. anna.. anna..
I immediately shouted out angrily and jumped in hoping a passerby would hear and join to help… There were 3guys, none of them from the south ( I know this cos I can understand all four languages spoken in the south) . It wasn't normal Hindi, it had some kinda accent to it.. not sure though..

The moment I jumped in, a guy engaged in a fist fight and I could see a girl drugged full on and two guys trying to undress her.. within seconds i was strangled by the other with a thick jute rope…
the more I tried repelling, the more it cut through and intense the situation became.. thankfully I was able to create enough time and space for the girl to get out and get an autowala's attention… he stopped right away and ran in to my rescue.. he beat the shit out of those bastards and saved our ass.. but they ran off… it took me a bit to breathe normal. No police case was filed as per her request.. the sad thing was I circled the area for the next half hour and I couldn't find a single cop to even notify of this event… 😖😬😨 but my friends are on the lookout for those cunts as I type… we'll get to you bastards soon enough.. 
Moral of the story: 
Don't be afraid to face a situation, just cos you're alone.. if the cause is right, the world would join you right away!!!!! Stay safe people.. and look out for one another!! ''
The original facebook post:
Kudos! Humanity is still alive.