W
e all dream to do something big in life. There is an incessant desire to do something different and seize our potential in a bid to stand out from the crowd. But, that doesn't mean that all follow a logical path toward garnering success. Increasingly, we are seeing sons and daughters of established businessmen, traders and others from our younger generation hailing from renowned families breaking away from norms prescribed by the patriarchal society. Not every rich son or spoilt brat, as it is termed, ends up in a seven seater cushy and comfortable corner office of his father, a space from where he 'expands' the family businesses. But, if we pause for a second and witness the world around us, we will find that there is a reserve of
commoners
who despite not having a rosy economic bearing end up doing uncommon things, that weren't expected of them.
We find success stories that have garnered immense respect having begun with modest beginnings. We met up recently with Sanjay Singh, one such commoner with an uncommon story, from the capital city of New Delhi. But this was not before it took us quite a few days of pursuing the young lad of 32 with a reservoir of energy, spirit and sky reaching ambitions, one whose phone doesn't quite stop ringing. A gentle soul from whose forehead ounces of sweat continues to drop for he is constantly on a 24/7 run to fend for his family, with whose able support he has turned out to become who he is today.
Growing Up With Adversity
At the outset, this plain shirt and denim clad bloke with sport shoes and a non fancy cell phone may simply pass off as a simpleton who is amidst a run of the mill job in today's vastly busy and hectic city life. But this father of a young 2 year old child is way more than that. Sanjay, one of those rare species of youngsters, who grew up in a family without a cell phone, was to chart out a destiny for himself that took him deep in the intricate world of engineering. This Software Engineer with 8 years of remarkable work experience that liaised him with a memorable journey which started from Mother Teresa Public School in East Delhi, and forayed towards completion of his graduation from Krishna Institute of Engineering and Technology where he completed a diploma in Electrical Engineering. During this period, he lived with almost no extra penny in his pocket to be spent on himself other than the concerns connected with his educational pursuits. This is just one of the startling revelations about his strenuous journey in making a name for himself.
Sanjay as a child grew up in the not so fancy locale of Pandav-Nagar, one of the blotches that constantly comes to be represented as an 'eye soar' by journalists in print media who often forget about recalling the nightmarish experiences of those who toil in the lesser developed areas of East Delhi in front of their adulation for Khan Market's suave coffee bars. As a child he once went with his father to a nearby Kirana shop that sold his favorite candy. The young child didn't understand what credit or debit means and his world was instantly filled with joys at seeing his father placing a handful of delightful candies in his hands without paying a single rupee at the store where he would settle the bill at the end of every month. Little Sanjay would smile at the realization that he was in a world where endless supplies of candies at no cost at all was none of his business. Only later did he realize, upon growing up to be in class 12th, a year significant for those aim to master Board Examinations that Sanjay's own household lacked certain basic amenities that his effluent friends at school and others in those routine tuition classes were blessed with. Sanjay's parents were dutiful to meeting the basic needs of their son and continue to love him endlessly to this day but as a young child gaining insights into a bad world that runs of extremities of competition, the ever falling power of the rupee, the hard working and earnest boy knew there would only be a certain limit to which his father could support him.
That he was to fend for himself, not just to meet immediate needs of his life but to carve a path that would foresee his parents life being safeguarded by the will of his efforts, would go on to be Sanjay Singh's life story and ultimately, his triumph at beating the odds.
An All Round Student, A Stupendous Athlete
Self belief and simplicity to face challenges have given Sanjay a stable career and in turn, a life. In a world that is intensely competitive and where destinies of children are forcefully dependent on the marks secured in school and college levels, Sanjay excelled in his senior secondary examinations and his graduation engineering course. At the same time, he came to represent his school at all major inter school and aligned sports meets and athletic competitions, often being hailed as the front runner winning high jump, long jump and short stint races. Soon came a flurry of state level recognitions. Sanjay Singh began seeing his name in local newspapers for excelling at 100 m race, long and high jump. From his school's stable, he was adjudged as athlete of the year at zonal level. And, the young man didn't stop there. Against all odds, he even excelled at cricket, a sport every child loves from the very start but hardly do people get to play their beloved game at a recognized level. He was one of the main faces during 2000,2001 and 2002 at the IG and later, National stadium of New Delhi where for his school exploits, coaches had begun to take him under their tutelage, finding his immense talent as a batsman to enable the lad for lasting success.
It is during these crucial years Sanjay began to battle a personal crisis between his academic inclinations that were begging for a renewed focus and his athletic interests. Being the elder son and a successful graduate, he realized that he had a line of duty to fulfill for the house and his personal interest that was fast dwindling away into the world of sports where he was a stand out from his contemporaries.
Rational, thoughtful and focused in securing a career through a safer path in line of his intellectual prowess and possessing the zest to excel in the field of software engineering, a line that assuredly would fetch him a stability in career as opposed to the ills associated with the tumultuous lives of sportsmen, Sanjay opted for a technical career.
Giving Wings To His Career
While most people from his batch during graduation were lurking under scathing lights of competition, Sanjay Singh found himself on a flight to Hyderabad, where he had stuck big time. The disappointment of not making it as a sportsman in life did little to trouble the youngster who landed a job with Satyam, a renowned software development company in India. It was here that Sanjay got a slice of real competition and excelled at bettering his challenges, handling reputed clients like GSK as an application support analyst.
Greater glories for the promising lad were in the offing and he did what his heart dictated him to, balancing the need of the family whose loving support has brought him so far, and finding the passion to fan his own flames.
His Maiden Trip To America
Sanjay returned to Noida after a fruitful three and a half year stint at Satyam to work with an American MNC Aptara. He handled various clients such as inkling, RR Donley as an Assistant Manager in the software wing. It was here that the boy who once had problems in assimilating his humble beginnings and a financially restrained platform in life was sent to United States on being selected to undergo an year's training at the firm's posh New York office. Soon, San Francisco came calling. It was at the Golden Bridge, that the avid youngster, now married and blessed with a kid, and one who continues to root for team India being a sportsman at heart, continues to dream big. It's where he made a pact with himself that soon he would bring his father and mother to the United States soon one day. Importantly, he dreams not for himself but for the sake of his family.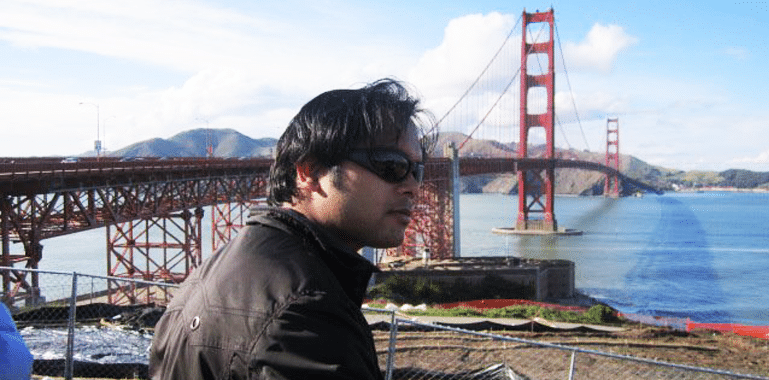 Sanjay's earnest story is based on flight of self belief and conviction. Sanjay may not be a CEO or a COO for us to applaud him for that fat pay check or perhaps the Mercedes that he may or may not drive in future, but his story conveys a true slice of life. We learn that the word struggle cannot be thought of in isolation with the result it fetches an individual, provided the person continues to make great inroads toward dedication and self belief. Then that boy who thought candies were free and came without a single rupiya can dare to dream of taking his entire family to a double course meal at the most fancy restaurant at New York's posh ensembles.