To help kindle a real passion is a sure way to touch people's hearts.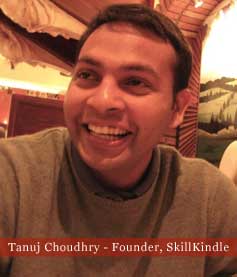 As Tanuj Choudhry, founder and CEO of SkillKindle walks into the room, there is an air of quiet wisdom and contentment about him, quite in contrast to the exciting times his dream project is going through these days. However, as soon as he starts speaking, the zealous young entrepreneur with a million exciting things to share takes over.
Having parents who have both been involved in training, Tanuj says he learnt the value of skill-building early on in life. The spark was always there. What added fuel to fire was his exposure to a pro-entrepreneurial environment while pursuing an MBA at INSEAD in Fontainebleau & Singapore. One idea led to another and hence was born SkillKindle.
What is SkillKindle?
An organized, virtual marketplace to (a) discover an assortment of interesting recreational experiences and hobby courses, (b) book a seat online for a course of your choice and (c) get access to the best trainers in your city and also get in touch with him/her directly, all at one place.
Why SkillKindle we ask, why not SkillShop or SkillBazaar or something else…

"Because to Kindle is to ignite, to awaken, to inspire, to bring excellent skill-oriented courses under one roof for a person who wants to step out of the daily grind but does not have the time to browse through or call ten different places."
Launched in March 2012, today SkillKindle lists more than 1000 select courses and close to 900 verified trainers across three cities – Delhi NCR, Mumbai & Bangalore as of now, and helps users pick a course of their choice on the basis of skill, sub-skill, location and price.
The People
"When we started off, the core team comprised of myself and a fresh IIT-grad (who has donned many hats – sales, marketing, product development and now product technology) and our current technology-head joined us during the journey.
Today we have grown to a 10 member strong team, an eclectic mix of Ideators, Creators and Deal Clinchers. We have two amazing sales champions and a relationship manager, who take care of trainer acquisitions and corporate partnerships. Our marketing head works on expanding our online reach; the customer support team helps us build strong customer relationships and two tech-geeks round up the team"
Why would someone want to join a startup? – A question I ask myself frequently, particularly when we are looking for a new team member to join us.
As an entrepreneur, I believe it's less to do with how much money you have and more to do with how much promise you show as a startup. The money will eventually come. It has to. But to build and retain an exceptional set of people will always be my first priority. Today, for everyone in the team, SkillKindle is more than a startup; it's something that they are building. And this approach makes a lot of difference in the end result of every single endeavor, big or small.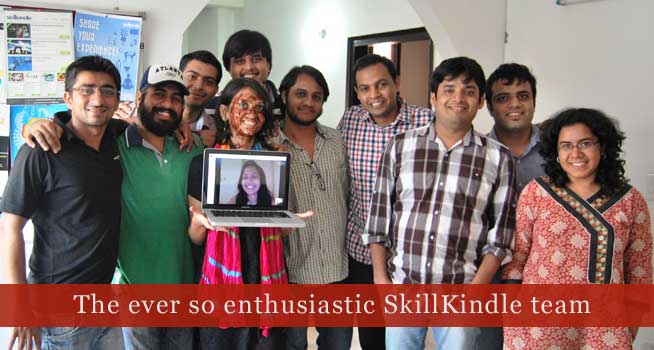 As far as the organization's culture is concerned, no one is the boss here, and then everyone is. Everyone has a say. Everyone is important."
The USP – Personalize, Delight, Retain
"Over time we figured that we have two sets of people we need to make happy. The trainers and the end users.  How do you do that? How do you make sure that a first time user comes back to SkillKindle the next time they are looking for a hobby class? How do you ensure that they recommend you to their friends and family? And how do you increase trainers' engagement and interest in transacting through SkillKindle?
For Trainers:
While we were ideating on how to tackle trainers' apprehensions in transacting through us, my sales team came up with this brilliant idea of subscription packages for trainers. For a trainer, it meant better listing on the website, more visibility, newsletters which go out on their behalf – basically things that a trainer would like to do but may not have the resources or the time. The idea worked and within a week of its inception, we had sold 7 subscriptions.
Also, for anybody who buys the package, we bring down the commission on ticket sales to almost one-third. The results have been fantastic. More and more trainers are using us as a payment gateway, they have started taking more charge of the content, updating class schedules, sharing links, asking questions about how much traffic their page is getting and so on. Over the last three months, we have sold close to 40 subscriptions. Now trainers want to use us as a marketing platform, they want to showcase more content on the website. It's been good. So this one idea resolved a multitude of bottlenecks for us!
For End Users:
Paid marketing is very good; however I strongly believe that it is not a solution for startups. What will entice a well-informed, tech savvy but busy customer to come to SkillKindle for a transaction?
We realized that traffic would come if we can build a relationship with the consumer, if we can showcase the trainers better, if we can tell a customer something like – 'you just completed the first level of Salsa, here is Salsa 102 for you.'
Anybody can tell you that a wall climbing class is available at a particular place, but what if someone took 30 seconds extra to tell you about the types of wall climbing classes happening in your city. That's the kind of connect our dedicated customer service team tries to make every time they answer customer emails and phone calls.
We already have the review section in place where a user can rate their learning experience. We are also working on a blog to feature trainers, so that users can know the trainers better. The blog will also feature users who want to share their experience. For example, if you have done a Salsa class, we create a blog where we feature you, your pictures, and your thoughts on the entire experience. We want to celebrate the person who took the time to pursue their interest. It's a motivation, an inspiration for others.
Plus when a customer books through us, they would receive follow up emails suggesting further advanced courses, a list of local events that may interest them. Customization and delivering a personalized experience is the key. It's work-in-progress but we will get there. The objective is not just to have transactions going on, the objective is to inspire individuals to do what they really want to do and you can't inspire someone unless you strike and foster a relationship with them.
The Competition
In the last one year, 8-9 start ups have come up in this segment. Does it bother, we are tempted to ask.
"No, it doesn't bother us. If at all, it's actually good for us since there's more buzz around online booking of courses. It is a market which is still in its infancy in India and the publicity is more than welcome. The important thing is the value proposition for your customer. The online market is a dynamic place and for a start up, the biggest challenge is to retain customers. Experiences are intangible and therefore it becomes all the more important to delight the customer in the first interaction itself. The actual course comes much later. What you are offering, how you are offering it, the number of trainers you have on board – everything plays a role.
Take the example of a cocktail mixing class. It has a certain exclusivity attached to it. So the user would want to book first to ensure that they get a seat. For our cocktail mixing trainers in Delhi, we have generated business worth several lacs in the last one year, using this channel.
The test is not whether we will be able to bring the traffic in, the test is if the traffic comes in, are we able to retain the customer, and you cannot do that unless you have great customer service, an awesome product, and verified trainers who are great at what they do." In the years to come, Personalization is what will set us apart from the rest, I am sure of that.
The Way Forward – Strengthen, Expand, Leverage
"We launched our operations in Bangalore in the first week of October. The entire launch was handled by three rock stars working part-time for us in Bangalore + our Delhi-based relationship manager. What's interesting is that in Bangalore, it took us two weeks to get the first 150 courses on board vis-à-vis Delhi or Mumbai where it had taken us almost 3 months to secure the same number of alliances. So that's a good sign. Over the past 18 months or so, there have been quite a few lessons that we learnt and one of the most important ones is –
Don't repeat the same mistakes over and over again hoping for things to change. If you see a bottleneck, think of how to remove it, rather than sitting back and waiting for it to go away with time. One of our key goals is to make our product so simple that the trainers find it easier and easier to update class schedules, manage and track bookings, promote special offers, etc. At the customer's end, this will translate into a better user experience.
We have also revamped our business model. Till March this year, we had a simple revenue model wherein we would list trainers and charge a certain amount of commission on every ticket booked through us. Now we are looking at expanding to more cities, driving repeat business through social engagement and leveraging existing corporate connections for new alliances. It's exciting.
In about a few weeks from now, we will be launching in Singapore. Most of the 300 trainers we contacted were excited to come on board.  In international markets the percentage of online reservations and discovery of services is much higher, so we are bullish! We have enough fuel to keep us on track, even though we are constantly meeting investors. We have a great team, too. However, I do want to take it a step at a time. In the long run, it's not going to be about numbers, of course we need the moolah flowing in, but right now our focus is to build the brand, amplify our trainer database and increase customer retention.
Is the model replicable?  Yes and no. Yes, the concept can be replicated but at the same time we are consciously and constantly working on improving our product which is a strong entry barrier for competition, online or offline. Compared to other companies which have recently come up, I believe we have more mass. The number of listed trainers, the credibility of the trainers, and the delivery of service – these things are crucial to establishing a long term relationship with the customer.
We want to boost our social media presence and invest more in social engagement. People like to share their experiences and newly acquired skills on social media.  If you have attended a Zumba class, and your friends come to know about it, it has a great impact on decision making. So we are working on a few of those things. Social connectivity will definitely play a bigger role for us in the near future."
Click here to visit SkillKindle
From an end-user's perspective, the idea of a one-stop shop offering a variety of courses is quite a nice one. It will save a lot of time and effort. And if I have to pay a booking fee for the service, I won't mind. It'll be interesting to see how this passionate and dynamic team takes things from here. LifeBeyondNumbers wishes them all the success.