Where there's a will, there's a way. An old saying with an eternal relevance to life. One such story is of Mr.Sudheer Nair who is a living embodiment of achieving success with sheer will power and consistent dedication to learning. The 40 years young Sudheer, a first generation entrepreneur, founder and CEO of eresoursce Infotech Pvt Ltd., India's leading web-based ERP solutions company, started his journey as a helper with no solid academic or business background.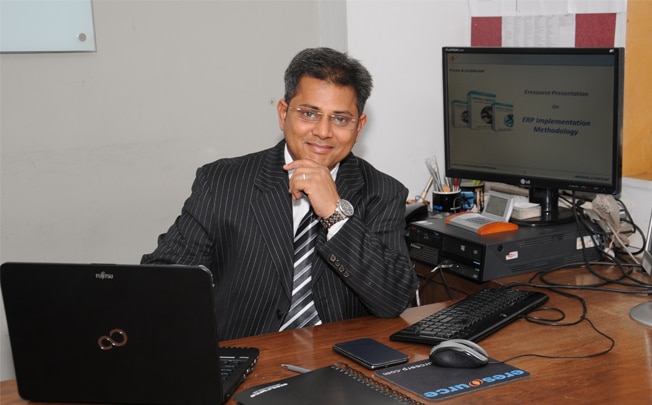 Coming from a lower middle class family, Sudheer had to discontinue his studies after the sudden demise of his father and following financial problems. With no degrees to his name he was forced to take up a job and landed a helper's job which had him loading and unloading cargo at Sahar Cargo Complex, Mumbai. Being enthusiastic and progressive, he would take up any task that came his way. This was when he was introduced to the typewriter needing to do some documentation. Learning the typewriter and soon becoming an expert in it was the obvious thing to follow.
The hunger to learn and move ahead in life, made Sudheer take up the job of typing programs for a computer programmer. He had zero knowledge about the machine at that time. The journey of understanding the basics of a typewriter soon converted into becoming an expert in computers. After typing programs for a programmer on a daily basis, he started generating software codes independently for the company. Then the offers started pouring in as a consultant. Sudheer is a quick learner and he soon realized software programming is going to be the world that he was searching for. He was sure he could make it big if he would concentrate on software development. In a short span of time he has become a good FoxPro Programmer. His first job as programmer was with the famous afternoon daily Afternoon DC in the year 1990. Computer technology was progressing day by day and he saw ERP system was coming into existence. That is when he joined JD Edwards in London as a consultant followed by Planet Optical Disc Ltd in Dubai.
The year 2006 saw a new beginning. Sudheer Nair has evolved exponentially from an employee at a helper's capacity to a consultant to ultimately reaching his destiny as an entrepreneur. He established eresource Infotech Pvt Ltd, with some talented and dedicated professionals. Sudheer Nair was supported by Vivek Jingade from day one in the making of the company and its success. In the last 8 years, eresource Infotech Pvt Ltd has created a strong space in the field of ERP. The company has grown to be an exclusive web-based ERP solution company for Indian complex market.
Sudheer Nair talks exclusively with LifeBeyondNumbers(LBN) about eresource Infotech and more.
LBN:

Tell us something about eresource and its journey so far since inception.

Sudheer: One of the pioneers of Web-based ERP solution in India, eresource provides end-to-end solutions that leverage technology-enabling customers to grow their business. The mission of eresource is to provide world class end-to-end ERP solution for mid-market process and manufacturing operations along with customer benefits and on-time support. eresource serves a clientele in India and abroad.

Over the years eresource has pocketed many prestigious industrial awards. eresource  Infotech is the only ERP organization in India, which has been awarded the Udyog Rattan Award along with Business Excellence Award for the year 2008 followed by the Business Leadership Award conferred by Institute of Industrial Development, New Delhi.
Understanding the need of the clients, eresource Infotech Pvt Ltd has recently introduced special ERP training section. Users of ERP system in the corporate world and IT students who are keen to make their careers in the ERP technology will be trained with expertise through this new venture, eresource Academy.
LBN:

What is the customer base of eresource?

Sudheer: eresource is relatively a young company. In just 5 years of product development, today eresource has over 300 customers and over 10,000 users on eresource ERP. These customers are from different industries, mainly Manufacturing, Process, Infrastructure and Transportation. India is our priority market, which will continue to remain so. Majority of our customers are Indian companies. Besides India eresource is implemented in Middle east, mainly Dubai, Uzbekistan, United Kingdom and Bangladesh.
LBN:

What is the company's turnover?

Sudheer: eresource is growing at 40% consistently every year since the product was launched. In the last fiscal year, eresource did a turnover of 80.7 million INR.
LBN:

What about the company's funding? Are there any investments coming in from external sources?

Sudheer: eresource is yet to raise any external funding. eresource is entirely funded by the founders.
LBN:

What's in the roadmap for eresource in the coming time?

Sudheer: As regards to the future plan, eresource is launching a new "eresource ExV2" (eresource Express Version 2). Eresource ExV2 will also have compatibility with hand held devices, mobile and is going to be technology independent. eresource, currently, has about 80-90 channel partners wherein 8 are affiliate partners while the rest are referral partners. We are slowly growing and many avenues are opening up. We are now considering taking it to the next level. Our partners have always shown interest towards taking up our solutions for deployment too. The company is looking at appointing partners in each geographic region with one or more in certain locations and in total appoint about 30 channel partners. This will allow us to scale up.
LBN:

What is your word of advice to budding entrepreneurs?

Sudheer: Very important is that you must love what you are doing. Most successful businesses have one thing in common; they love what they are doing. And the only thing that is constant is challenge. When one challenge is solved, another will evolve. You must have the ability to persist with the challenges and move-on. Before getting into business, first study the market, local and global. As they say, it's not going to be easy, but it's going to be worth it.

Click here to visit eresoursce Infotech Pvt Ltd
We at LifeBeyondNumbers wish Sudheer Nair and eresource Infotech Pvt Ltd a great future!