"Nothing is a waste of time if you use the experience wisely."
– François Auguste René Rodin –
Life is all about the decisions you make based on your experiences. Good or bad, till you can keep learning from it, every experience is worth counting.
During one of the founder's first trip to Dubai in 2014 as an MBA student, his near and dear ones gave him an array of do's and don'ts for this golden city. Once he landed there, even though few suggestions came in handy, leading a student life was completely a different experience. Further, he was supposed to travel to Sydney and Singapore. Like most of the students, he too had no idea about the best ways to survive. To fill this gap of finding authentic experiences of activities which people have done before you, 3Es of Life was born as a small college project. The whole idea was to share
To fill this gap of finding authentic experiences of activities which people have done before you, 3Es of Life was born as a small college project. The whole idea was to share Expectations, ongoing Experiences, and Emotions attached to the students enrolled and the professors imparting knowledge which can work as a guiding beacon for future students. Thereafter understanding the potential of the concept, 3ES of Life(Expectations, Experience, Emotions) evolved to "Talkeees" as an experience sharing app.
Talkeees – The People Behind
Talkees is the brainchild of Neeraj Kumar, who's travel experience as an MBA student to Dubai triggered the initial idea. However, life has its own ways. Being married and having a professional career post his MBA, it was quite impossible for Neeraj to plunge into this project full time, so he continued with his job.
In August 2015 the idea was reborn when his wife Kohuwa Baruah and Anoop Alexander decided to take the idea forward with all new energy and vision.
Kohuwa is a post graduate in Mass Communication and was earlier working as a PR officer for Taipei Economic and Cultural Centre in India (Taiwan Embassy). She is the daughter of an eminent cinematographer of Assamese Cinema, Late Ajan Baruah and national award winner Geeti Baruah and married to Neeraj Kumar from Haryana.
Anoop is the magician of Talkees. A creative guy – Graphic Designer, Editor, Photographer, Cinematographer, Actor, Social Media marketer, all in one.
The Journey
"We had started a food catering services back in 2010 by the name of "Food Delight Services". We used to supply food to IBM and Genpact in collaboration with Calcutta Chef. It was working good and after a lot of struggle we reached a sustainable place but unfortunately a couple of our founders met with an accident and being in the service industry, we lost both the contracts. Being from engineering and mass media background, family pressure never allowed us to go back the same business.", says Kohuwa.
"But this time, we really believed there is a problem and our product can solve it. So we went ahead with it. Like most of the Startup gurus advice, we made a prototype to check feedback from a closed group and to show the product to investors. But after getting a few users and good feedback we realized it was more of an energy drainer and not worthy of spending time in. Investors, too, once they see the product, demanded some traction which is not possible with a prototype.", Anoop adds to the conversation.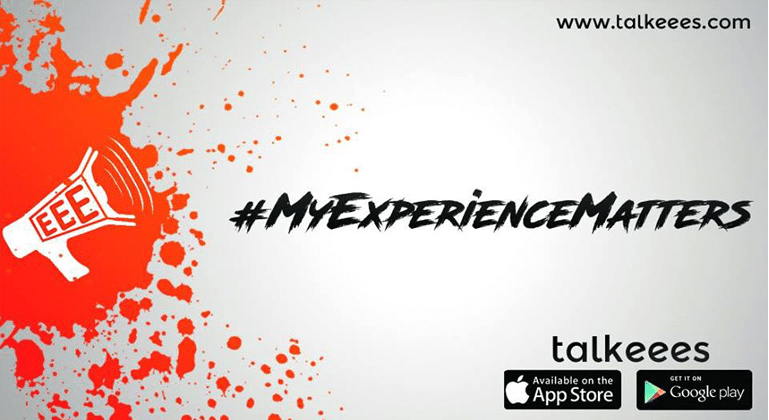 They finally decided to make a Beta product and got in touch with some of their friends and developers to build an app from scratch. After a lot of efforts, they finally got an android version and started sharing with friends and families. They got a very good response and feedback from their users and were really excited.
The App
"Talkeees" is a social networking platform using which you can help each other take better and informed decisions. The main purpose of talkeees is to disrupt and simplify the decision-making process. Users can share their experiences about anything and everything under the sun in the form of 45 sec videos.
Bootstrapped so far, they are now also looking at some external funding to further improve the App.
They are currently concentrating on a closed community of early adopters. Users are sharing experiences right from purchasing and using as simple as a talcum powder to enjoying Vijender Singh's boxing matches, a movie experience to trekking expedition etc. Apart from English and Hindi, experiences are also shared in Marathi, Assamese, Punjabi and Kannada.
Be on Talkeees to check authentic experiences of people in your own language.
Their immediate plan is to strengthen their user base, improve the product and concentrate on indulging people to share authentic experiences making it fun and interesting in India. Within a year, they are planning to open the platform globally.
#NammaBengaluru
They compiled some of the experiences shared by Bangalorean's, right from the IT guys, young street performers, a well-educated beggar to an Auto wala. Everyone loves the weather and complains about the rising traffic situation, a sneak peek into the broader picture and boom here opens the Pandora's Box of cons as well as pros. Bangalorean's opened up about their experiences of living in this city and it is beyond the awesome weather and the horrible traffic. From deforestation to garbage on the roads, great food joints to police issues, people from all walks of life spoke their heart out about various ongoing experiences.

Inviting people living in Bangalore to share all kinds of experiences on Talkeees App and the best 10 would be compiled and shared by them in #nammabengaluru – PART 2, plus you or your company stands a chance for a special coverage.
Your Experiences do Matter. Start sharing on Talkeees and make them count.
Visit their website | Facebook Page