In the 1999 movie – Fight Club, Brad Pitt in the awesome character of Tyler Durden says these very powerful lines, "We're the middle children of history, man. No purpose or place. We have no Great War. No Great Depression. Our Great War's a spiritual war… our Great Depression is our lives."
And indeed, if we come to think of it we all are fighting a war with ourselves. We are in search of some fundamental answers to questions like who we are and what the purpose of our existence is. Every time a major natural calamity happens or a group of individuals bomb a public place in the name of justice, freedom or religion, we find ourselves a bit deeper into the realization of the fact that how impermanent and precious our living days are.
In our conversation with Vlad, he tells us why is he doing what he is doing now and what prompted him to be in this journey to study Dharma.
Why Study Dharma
After the big tsunami of Japan in March 2011, Vlad Doroican, 27 year old guy who was born to a Christian family from Bucharest, Romania, found asking himself these very questions very intensely. "Shortly after the devastating earthquake, I resigned from the job I had back then in order to find a different approach to life", says Vlad. He moved to Austria in Tashi Rabten Monastery, and started learning Tibetan language. Tashi Rabten Monastery is one of the first Buddhist Centers established in Europe. The study program includes various aspects of Tibetan Buddhism, like Philosophy, Psychology, Meditation, Logic, Ethics, Right Conduct, Right View, and so on. He is studying Tibetan Buddhism with other novice young students, as well as with monks of different nationalities.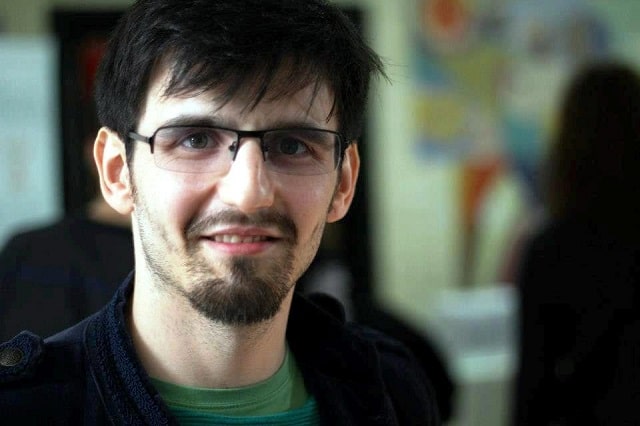 Why Buddhism
It seems that all the things we own are useless as long as we still live with an unhappy mind and an unsatisfied heart. What are we really missing? I think that, somewhere along the way, we have failed to understand the real causes of happiness and wisdom that can show us how we can move forward, as spiritually happy human beings.

Where can we find the means for long lasting happiness and for transforming ourselves in this way? In my case, I found them described in the Lord Buddha's teachings.

"I was very curious to understand why His Holiness Dalai Lama is always so happy and at ease and, in general, why do Tibetan people smile most of the time, even though many of them are living in poor and harsh conditions…"

"I wanted the same things in my life – and who doesn't? Thus, for me, the methods shown by the Lord Buddha are extremely valuable for truly seeking happiness and overcoming suffering. This is what suits me, and what fuels my spiritual quest for the meaning of life."

"As a young person, with so many temptations nowadays I got involved in many negative actions such as: taking drugs, drinking alcohol, lying to my parents and so on… It's hard to look back in the past, but now I have this great opportunity to learn from all these mistakes and make it right!"

"I deeply believe that attaining true happiness is the birthright and the purpose of every being in this world, and in any world whatsoever", says Vlad.
After completing his studies at the centre, Vlad aims to share the wisdom and knowledge with others, when he returns to Romania. He intends to set up a center for Buddhist studies in his country, translating Tibetan texts into Romanian language, organizing teachings and other events with Tibetan Masters and so on!
Way To Lasting Happiness: A Young Man's Journey To Study Dharma!
Vlad has started a crowd funding campaign on Indiegogo.com to raise money to cover the necessary costs for his first years of study in Austria.
This is the first time ever he says that he's reaching out to the public for help as he feels the strong call to advance with his studies. He says, "You are not only helping a young man accomplish his studies, but you are also wishing for a better world, for continued wisdom and awakening!"
If he exceeds the goal in raising the money, that money will go for advance payment to cover the remaining costs and the rest of the study program. He says he will invite all the members of the Monastery to a dinner to celebrate the power of random acts of kindness.
In many of the scriptures, Buddha is called The Great Physician or Doctor, because his aim was to cure all ills of mind and body, that inevitably generate suffering, and so his teachings are even set out like an ancient Indian doctor's diagnosis of disease and suffering and his prescription for its remedy. Now I feel inspired by this Great Doctor, and I aspire to discover a "medicine" that can cure me and others.

In order to understand this remedy, I must study hard and for a long period of time. Just like a young student who aspires to become a physician – I understand that this requires many years of study and practice before being able to apply the teachings and helping other people to cure, for example in a hospital.

This is the reason for which I put myself in front of the others in the previous enumerations: in order to help and cure others, I must first learn to help and cure myself.

"This is my motivation, that's why I am here! I did not run from a different way of life, I ran towards a way of life that can be meaningful and helpful both for me and for many others."
You too can be a part of this young man's wonderful journey to finding answers by visiting his campaign page here, and along with the many attractive perks available, accumulate for yourself a lot of positive karma!
We, at LifeBeyondNumbers, wish Vlad all the success and happiness and may he be successful in his mission to enlighten himself and others.