On a recent official trip to my home state, I called my old friend Utpal, after winding my work in the afternoon. He was on the way to play a day-night volleyball tournament. The thought of playing a tournament under floodlights in an interior village with thousands of spectators cheering for us gave me a sudden high. I asked him if I too can play, forgetting that I am on an official visit and have a meeting to attend the next day. The venue of the tournament was more than 200km from the place of my work, which means it will take more than 4 hours to reach. Without thinking much of the consequences of my unofficial adventure on an official tour, I started my journey.
The team I would be representing is full of young boys whom I and Utpal coached during my posting in Assam. All the players were super excited because this was going to be the first time we all will be playing a tournament together. Within an hour of my journey, I started getting calls from many of my old friends. Knowing that I will be playing after almost a decade, they were coming to witness the tournament. I started getting restless thinking of meeting many of my childhood friends. We have played hundreds of tournaments together prior to joining my office. I called my wife to inform of my decision. As anticipated her response was "Have you gone mad?" But being a sportswomen herself she can understand my excitement. But before she hung up on the phone, she whispered gently, "Mera nak mat katwana, haar kay mat anna".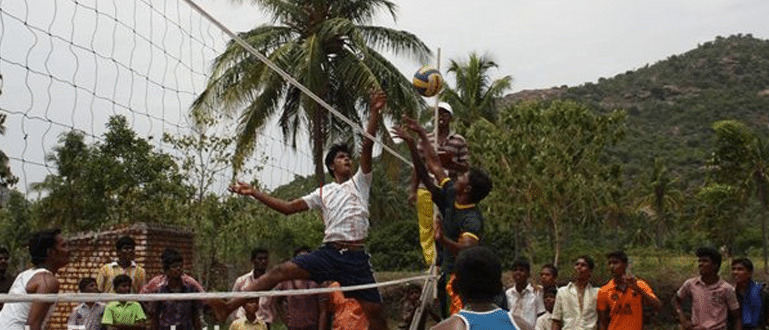 At the Highway Tinali, Utpal was waiting for me on a bike. The village was around 7km from the highway. Driving through the narrow roads along the ripe paddy fields under a full moon in the month of November was an awesome experience. It was a full moon, probably "Kartik Prunima" or a day before or after it. From almost a distance of 1km, I could see bright lights and hear the loud speaker announcing the score "points to Dhemaji twenty-four – twenty three". It was followed by a loud sound of referee's whistle, probably the trailing team coach must has asked for a time out.
By the time we reached, Dhemaji team won the match. Seeing us, a small kid ran to the makeshift stage to announce our arrival. We were accorded a grand welcome. Who is who of the entire village was there to welcome us. We exchanged greetings with them. Among them was a 70-years-old ex-state football player, a retired senior govt. employee, teachers and a famous folk singer from that village. I took a chair along with them on the stage. The host announced many good things about me over the loudspeaker. I knew the organizers always do the glorification thing to engage the spectators. I felt embarrassed but on a second thought, I became more worried than embarrassed knowing for certain that the spectators must be expecting a lot from me. All my excitement reduced to fear. But, spending few minutes with my team mates boosted my moral.
The fixture was already out and we have to win three matches to reach the final. It was a knock-out tournament and we cannot afford to lose a single match. The first match was against a local team so it helped in getting accustomed to the ground, lights and the ball. By the time we were playing the second match all my old friends arrived and were sitting on the substitute's bench. Somehow I managed to hit few good shots and they all ran to lift me after the match.
It was midnight by the time we won the semi-final. Now, there was no space to move out of the ground. Every inch of the school building and area outside the court was covered with spectators. This was the celebrity time for me. I could spot few i-phone owners among the spectators asking for a selfie. The organizers escorted the me , the part time celebrity, to a nearby house to take some much-needed rest before the final. As we were moving out someone screamed from behind Abhijit…… Abhijit. He was asking for an autograph for his son who wants to become a volleyball player. Looking at his son, I felt reassured that as long young boys like him continue to play this non-glamorous game, we shall continue to have the opportunity to become part-time celebrity. I tried to come in terms with the reality but for a while, or for a change, I simply enjoyed the moment. I just can't explain how much energizing the whole experience was for me.
After the final, we had our dinner in one of the classrooms of the school. On the blackboard, an old Assamese proverb was written "Lao jimanay na'barhok, xadai pator talot" ( no matter how big the Lauki/Bottle Gourd grows, it will always be under the leaf ). I don't know why, but the line suddenly reminds me of my office, my boss and the entire system under which we are working. At that moment somebody shouted to bring some water for Abhijit. The water was brought from the old iron tube well behind the classroom. The mouth of the tube well was tied with an old gamucha to filter the iron content. As I drank the water, I thought of the mineral water bottle given to us every day in our office  building.
In office, we drink pure water to keep ourselves healthy without thinking much of how much those plastic bottles put pressure on our earth. I made a small promise to keep a permanent water bottle and fill it up every day.
I cannot think much of all these, I have to enjoy the last few minutes of my part time celebrity status before I am back to office to take orders from my boss. I went ahead thanking each member of the organizing team. I shared my mobile number, clicked few more pics, and bid goodbye. It was 3am.
Oh yes! The final match. It was a neck to neck contest against the Tezpur senior team. Even though our team is also from the same town, our young boys usually don't get selection in the senior team, which gave birth to a new team called "Rangoni" which means ray of hope/light in Assamese. So, it was all the more reason for an exciting encounter. Our team has never won a match against the seniors. That night the aggression of our boys were evident on the ground. Diving, rolling, jumping, and shouting, the match went on to deuce. Bashab, the youngest and most ferocious of the lot, scored two direct points through jump service helping us to win the set. (Few months back Bashab sold his laptop which was gifted to him by the state government for securing first division in matric exams, because of his family financial problem. The financial condition of all other players are quite similar. Another player Santamoni is working as a part-time mechanic to support his family).
The second set was more of mental than physical. As the ball kept crossing the net, verbal comments between both the teams continued at much faster speed, giving enough reason for the spectators to enjoy the game. I too managed to score a few points. That night we did not leave any scope for our opponents to come close to us, we were on a song. Getting to play with my boys for the first time, gave me the satisfaction of a lifetime(we have trained these boys from beginning. Today we have more than 90 players training under the banner of Rangoni). We won the final in 3 direct sets. The senior team lost to the young boys for the first time. Nothing is permanent. Every day, there will be a new champion. The match gave me an opportunity to re-live my sporting life once again.
I deviated from my tour program but was on time for my next day assignment. I don't know if this invites a memo from my boss but I would be more than happy to take it with a smile. I truly enjoyed those 9 hours of temporary celebrity status. I felt relaxed after returning. Now, sometimes when I feel sad to be on the receiving end of my boss's ire, I will be able to reassure myself  that nothing is permanent in life. Not even my part-time celebrity status nor my status in office.
Like the Lauki, we all have a leaf above us no matter how big we grow. Whether we consider the leaf to be overshadowing us, or simply giving us shadow, the choice is ours.
Image used for representation purpose only | source