As we bid adieu to yet another year of life, we are thankful not just for the bright sunshine we've had, but also for the darker times that taught us what life really is and made us what we are. It is those testing times that give mankind the opportunity to find out what he is made of and what he can do. At Life Beyond Numbers we celebrate that spirit of the human mind which enables it to keep moving forward through the toughest of times and take the hardest of blows. It is that spirit which keeps the head held up while enduring all the hardships and keeps walking toward the goal until it reaches there.
It was six months back when we started off on this journey with a mission to collect, document and present stories of grit, determination, courage and achievement. We came across many people in this short span of time, all of whom were amazing in their own ways and we have nothing but respect and admiration for each one of them. As we step into a new year, we look forward to meeting more of such amazing people and keep moving forward with our mission. We wish everyone great success in their endeavors, peace in their hearts, strength in their bodies and joy in their lives.
Looking back into 2013, we see many stories on Life Beyond Numbers being received overwhelmingly well by our readers. Here we present ten of the best received articles in the past year.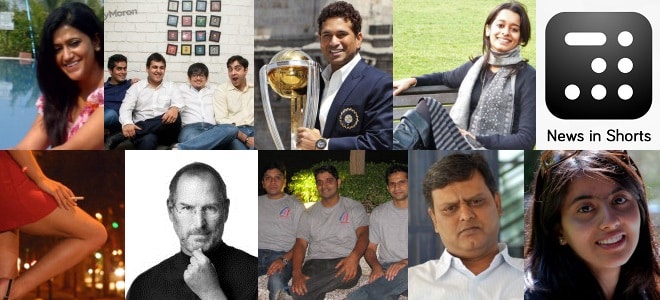 #1.

Shruti Dhanda: An Entrepreneurial Journey From 45 Thousand to 15 Million Rupees And Beyond
Shruti Dhanda, an amazingly enthusiastic and energetic young lady, a serial entrepreneur who now runs an gifting website ShoptoSurprise.com which aims to bring the 'WOW' factor to gifting experience. Read full story…
#2.

FoxyMoron – From 64 Thousand To 250 Million Rupees, A Fun Filled Journey Of Five Years!
Story of four guys still in their early twenties, who own a 250 million rupees business built from 64 thousand rupees of holiday money. They are the creators of India's leading digital marketing company – FoxyMoron. Read full story…
#3.

Sachin Tendulkar – The Man Beyond Numbers
Cricketing legend and inspiration of a billion plus country, Sachin Tendulkar retired from all forms of cricket this year. A tribute to the Man beyond Numbers. Read full story…
#4.

Prerna Mukharya And Her Research Start-Up – A Journey From Harvard, MIT And World Bank To Rural India
After a Masters Degree in Economics from Boston University and having worked with Harvard, MIT and World Bank, Prerna Mukharya started a primary research company 'Outline India'. A spirited entrepreneur who can actually see beyond the cushy jobs and the AC cabins. Read full story…
#5.

News In Shorts – Story Of 3 Not-So-Idiots From IIT, Changing The Face Of News Reading
Three IITians found their course too boring. And they wanted to challenge themselves with something more exciting. So they took a study leave and ended up being entrepreneurs by collapsing news in shorts. Read full story…
#6.

To Prostitutes, With Love…
A beautiful article written by the immensely gifted Neetu Ralhan, this one is for the almost 3 million unethical, invisible women making a living out of selling themselves. Read full story…
#7.

15 Life Changing Quotes by Steve Jobs
One of most inspiring figures of the 21st century, Steve Jobs was responsible for revolutionizing an entire industry. Besides being the super successful entrepreneur, inventor and innovator, Steve Jobs also held a very strong and sensible thought process. This one is a collection of 15 of his best quotes. Read full story…
#8.

From 90 Thousand To Half A Million Rupees In 4 Months: The Story Of Tationem
Vijaykant Nadadur refused a hefty paycheck in the United States to keep a promise to his childhood buddies – that he'd come back to India after completing studies in the US. Started up Tationem, a training consultancy, with those very friends. Read full story…
#9.

Nawaz Ahmed – Journey From A Vegetable Seller To A Startup Business Consultant
His wife used to laugh at him when he tells her what a business plan is. When he left for business meetings with his laptop, she'd call him the 'electronic fakir'. But his determined journey continued and Nawaz Ahmed made it possible from selling vegetables to helping startup businesses get funding. Read full story…
#10.

Massachusetts To Gulabganj – A Startup Journey Powered By Solar Energy
Story of Kanika Khanna, a graduate from MIT who has taken up the job of electrifying rural Indian villages with solar power through her company Sunkalp Energy. Another spirited soul who doesn't fear getting her hands dirty when she sets out on a mission. Read full story…
So, there you have the top 10 from 2013 at Life Beyond Numbers. We sincerely hope you've enjoyed the journey so far with us, and we thank all of our readers and all the people who joined hands with us. Happy New Year to you all!