Anshul Goyal, a young and successful entrepreneur found entrepreneurial skills at an early age of his life and started Guava Softs Pvt. Ltd at the young age of 20 back in 2006. Guava Softs is a successfully running Information Technology Research Company. Anshul has also been credited for founding a number of growing companies in the field of IT, Financial Market and Real Estate in India and abroad. With an amazing sense of humor, Anshul, when asked about the reason behind naming his firm Guava Softs; he stated that Apple, Blackberry and Orange were already taken! Guava Softs started with a single employee, Anshul himself and today has a headcount of more than one hundred employees working at the head office in Ludhiana, Punjab.
A couple of years back, the idea of creating a premium and personalized email service germinated in his mind and thus Email.biz was born. Today his idea is creating ripples in the web-mail space. Email.biz raises the bar to a new level of innovation by providing its registered users unlimited freedom to create an email address by incorporating their name, company's name or even their nickname.
In an exclusive conversation with LifeBeyondNumbers, Anshul Goyal talks about his venture Email.biz, his journey, achievements so far and lots more…
Inception of Email.Biz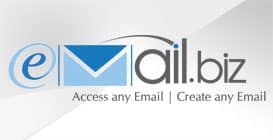 After graduation, I started looking after the family real estate business. I have tended to go against the popular thinking throughout my career and it has served well. As entrepreneurs we could do worse than hang on every word that we have to say about future trends. Over the years I discovered that there was a good demand for premium email, but there was a dearth of options to choose from. Keeping this demand in mind, I conceptualized email.biz. Today I'm delighted to see my efforts paying dividends. Email.biz is helping hundreds of thousands of people in creating an email id's of their choice. Email.biz is a premium and personalized email solution conceptualized, developed and operated by Email.biz Pvt. Ltd. At Email.biz, we are driven towards excellence by our passion and commitment with an irresistible urge to innovate and change the way people communicate with each other around the world. Our premium email platform, gives our users  a "One size fits all" web-mail experience.
Email.biz is a one stop solution; where one can access all email accounts from any web-mail service provider. At Email.biz, users can access and create any email account. Users can also create shortest email id's, personal & professional email accounts, customized email id's & business email services. Email.biz also offers premium personalized services, wherein you can make your email at your own choice of domain. For example: you@z.biz; you@supermodel.biz; mi@films.biz; iam@perfect.biz. The range of domains are categorized under different heads. There are around 15-20 k domains to choose from. Some of the most widely used domains are email.biz, profit.biz, gaining.com, up.biz, bargaining.com, mimicking.com, media.biz etc.
Achievements
Brand Excellence Award of Best IT Portal 2013
In a glittering event hosted by World Brand Congress, in partnership with CMO Asia and CMO Council USA, Email.biz bagged the ABP News Brand Excellence Award in the IT Portal Sector category. The award highlights recognition of the Email.biz concept and steps taken to make it a reality. It is a testimony to our business values that aim to provide customers with the highest level of excellence and personalization. It is indeed a great fillip for our young startup to be honoured on the same platform as the Best Indian IT Company winner 'Infosys' or the Best e-Commerce portal winner 'Flipkart'. We are privileged to be in the company of such stalwarts.
Technology plays a pivotal role in the way we communicate today and I am glad that we are able to usher in a change for the better through our personalized email service. Our success can be attributed to our constant endeavor to improvise and enhance the features of email.biz. By doing so, we have ensured to keep up our promise of providing an unmatched email experience to our burgeoning number of users. There a lot of new updates and innovations still in pipeline for Email.biz.
Access any Email. Create any Email. This tagline of Email.biz definitely screams freedom and individuality. An innovative concept which is already doing very well. We would love to see these kind of services have even more penetration and bring value to people's online existence.