Ashish Chandani spent more than 15 years in the Hospitality and Retail industry with reputed companies like Graviss Hospitality Ltd. and Ambition Trading Pvt. Ltd., where he was responsible for various verticals in hospitality bakery, gourmet cafes and banquets. He had been administering various responsibilities like business development, operations and services. On the other hand, Vivek Mathur was associated with ShoppersStop.com as the Vice President, Corporate Planning and Business Head of e-commerce. His preceding consulting experience include multiple engagements in investment assessment and due diligence for leading venture capital and private equity investors, market entry strategy, new business strategy and start up, growth strategy, etc. for retail clients in India, Europe and South East Asia.
Vivek and Ashish got together and co-founded Giftease.com, where Vivek Mathur is the CEO, and Ashish Chandani being the COO leads the company's sales, marketing and customer services division and is responsible for driving corporate and operational strategies.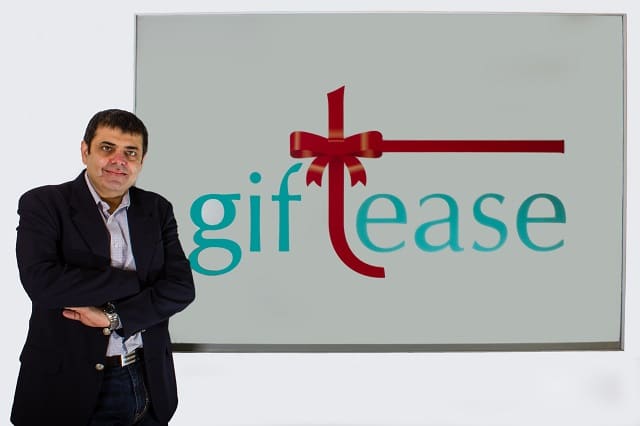 In an exclusive interview with LifeBeyondNumbers, Ashish Chandani shares their Giftease journey, challenges, learning and much more…
Inception of Giftease
Giftease's main promoter is Mr. Arun Nathani, a very successful technology entrepreneur, who is the founder and CEO of Cybage Software Pvt. Ltd. with a track record of high growth over a span of 18 years. He identified the tremendous potential in the e-commerce business space. Me and Arun Nathani decided to launch a portal that would cater to customers who are looking for gift options online.
Giftease aims to be an online gifting specialist which makes giving gifts as delightful as receiving them. We operate from Pune, and offer handpicked choices across a wide range of categories including home & lifestyle products, toys & games, fashion accessories, jewellery, gadgets, flowers, chocolates and many more.
Giftease offers a unique gifting experience through improved website usability for finding the perfect gift fast, fixed date delivery, choice of exquisite gift wrapping options, gift exchanges and more features to make the experience fun and special. We currently deliver to over 5000 locations across India, and this reach is continually being expanded. We incorporated Giftease in February 2012 and started operations with a Mall store at Phoenix Market City, Pune in November 2012, followed up with the launch of the website in May 2013. Our teamsize at Giftease is presently 40 members.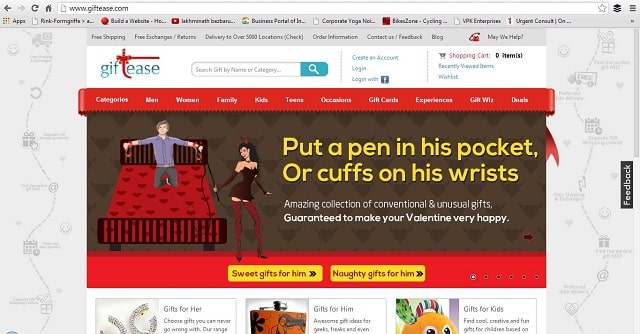 Giftease offers not only the standard convenience of online shopping but has additional offerings for the gifting market. We have now built up an offering of over 7000 handpicked gifting ideas, for various occasions and budgets, across multiple categories and offer a choice of beautiful paid and free gift wraps. Customers can also send a personalized message along with their gift.
The initial response to Giftease has been very positive, and we have served several thousand customers so far, of which a large number have shopped with us multiple times, which is very encouraging.
Challenges, Learning and The Way Ahead
It has been a very exciting journey so far, with challenges and celebrations in equal measure. Of course, as a start-up, one of our key challenges at this stage is to build a strong, customer-focused and talented team, which is committed and passionate about delivering delight to every customer. How we deliver the experience of gifting is ultimately what will differentiate us from much larger, mass e-commerce players, and hence the passion to acquire new customers, and delight customers each time, is crucial.
It is very gratifying when customers tell us that they prefer our website because they find it easy to find the right gift, or they love the way the gift was packaged, or compliment a team member who went out of her way to ensure that the gift was delivered in time. These are the things that make us believe that we are on the right track, and these are what we count as our achievements.
With just a few months of entrepreneurship with Giftease, we are hardly qualified to advise other entrepreneurs, however as far as online retailing is concerned, we believe that this is all about the customer, and not about technology, as some start-ups believe. Secondly, as it is about customers and changing their behavior is a gradual process, one needs to have the patience and the ability to stick it out.
We are investing across the business- in technology to improve the customer experience, in marketing, to build awareness and trial for Giftease; adding to our range, streamlining operations, etc. And we hope that these shall enable us to become the choice for sending a gift to anyone, anytime.