Hi! I am back with the second and final part of Biking Basics. In this part, I have shared tips on how to prepare your machine for the road, how to maneuver various types of terrain, particularly water streams, and a list of riding destinations around Delhi.
A bit about myself: I have been a biker for almost 10 years now and a proud rider of a Royal Enfield Bullet Electra 350cc called – The Messiah. In our 90,000+ kilometers of riding, me and Messiah have covered quite a few places in the hilly parts of Uttaranchal & Himachal and have had the privilege of riding to Ladakh & Spiti Valley twice.
This is a compilation of information that may come handy if you're planning to go out and explore the world on two wheels. I must warn you that it is highly addictive.
Preparing Your Bike 
Before you start off on your ride, you must ensure that your bike is in good shape. The bike needs to be serviced at least one week before the ride. Once the servicing is done, please ensure that you ride the bike for some time to determine if it needs further care.
The Tools
Make sure that you carry spare cables for clutch, accelerator and brakes along with a spare spark plug. A puncture kit is also required, but you can do without it if riding to easily accessible places. However, if you have plans to go on a long distance ride to remote places then make sure a proper puncture kit along with spare tubes find a place in your luggage.
Some basic training on changing cables and tyres can come really handy. Your local mechanic would be more than happy to oblige you on this.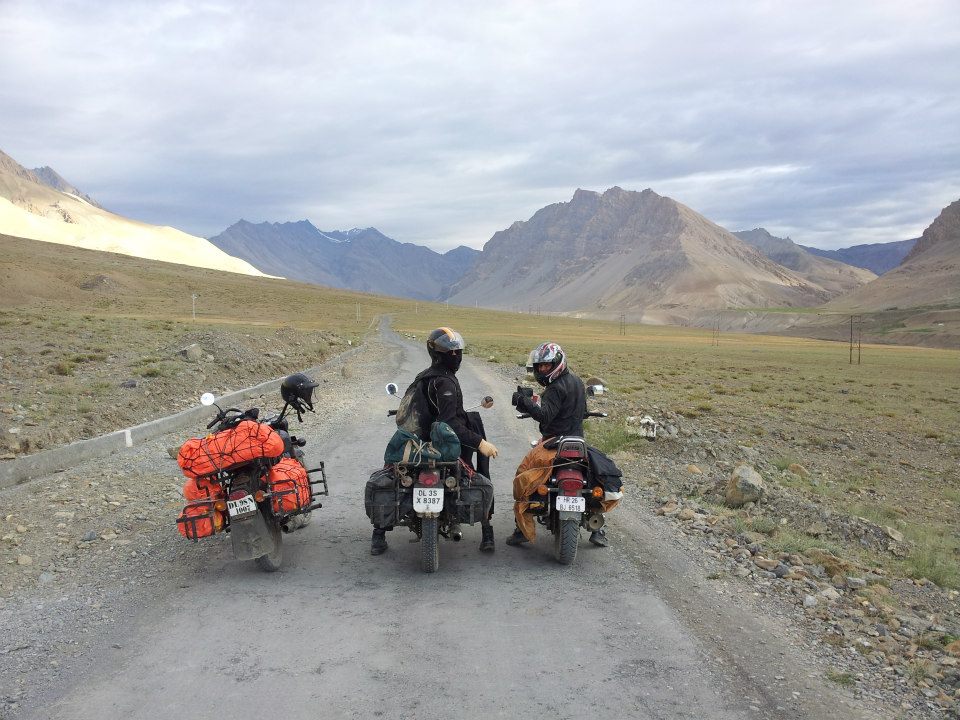 The Fuel
I usually tank up before I start the ride. This helps avoid unnecessary halts on the highway. Depending on your bike's mileage, you may have to top up once or twice based on the distance that you cover. As long as you are not heading to remote places like Ladakh or Spiti Valley, you would not need to carry petrol.

Riding In Different Terrains / Conditions
Plains – 4 lane/2 lane highway
Riding plains is relatively easy. Usually, 4-lane highways tend to have very less traffic between towns so you can carry yourself through pretty safely. However, on 2-lane highways, one needs to be completely focused since there is traffic incoming from the opposite direction. You have to very cautious while overtaking to avoid a head-on collision.
Riding in hills
Riding in hills can be tricky. When you are riding uphill, you need to make sure you are maintaining the right kind of gear so that you don't lose your throttle on those difficult turns. I recommend a shift between 2nd and the 3rd gear. Between these two gears, you can comfortably maintain a speed of 30-40kph and also not lose throttle while negotiating turns. Talking about turns, NEVER EVER overtake at turns and blind curves. No matter, how late you may be getting, do not take the risk of doing so.
Riding through difficult terrains like Leh
Its not just Leh but there are other places whose access roads are not always in good condition. You will encounter broken roads with potholes and stones and what not. Negotiating such a terrain requires close attention, maintaining slow speed and a low gear is important. Trying to ride at a high speed on such a terrain can likely lead to an easily avoidable accident.
Riding through water streams
And here comes the most exciting part. One of the most notorious things about a Ladakh ride is the myriad water streams that you would need to negotiate. It is always recommended to negotiate such routes early in the morning when the flow is low and slow.
Here are a few tips:
Never approach the water stream at high speed.
Always stop and survey the flow and depth of the water before deciding on the path you want to take.
Look out for hidden boulders and stones. Sometimes, you may only see the tip of what could be a bigger stone lying underneath the water. If your bike climbs one of these, you are bound to slip.
Never be scared of getting your shoes wet. You have to ensure that your legs are ready to provide support in case of a slip.
If you are in a group, ensure that you help each other while crossing the stream especially if the stream has lots of water.
Never let the bike's ignition go off. Keep giving throttle even if the bike gets submerged in water. If the bike switches off, don't panic, just try and push the bike out as soon as possible.
If you are not very confident about riding through a stream, you could put the bike in first gear and push it through the stream. You will end up completely wet but then you would stand a better chance of crossing the stream.
What To Wear?
A very important but often overlooked factor is the clothes that one should wear while riding. Again, the type of clothing depends on the weather you expect to encounter. I strongly recommend the following:
Full-sleeve T-shirt: protects your hands from the sun during summers.
Loose cargos – Comfortable throughout the ride, especially considering the fact that you would be sitting on the bike for nearly 8-10 hrs.
Sturdy riding boots -No prizes for saving money on your boots. Be sure to get a pair of sturdy riding boots, preferably high ankle ones which provide good balance if you have to stop the bike suddenly.
Gloves and balaclava (face cover).
A good riding jacket, especially in winters.
A good raincoat to be used during rains.
Ride Safe
It does not matter when you start but whenever you do, make sure you ride safe. Some safety tips I swear by:
Always wear a helmet. Never give yourself the excuses that you want to get some air into your hair or you want to enjoy the landscape. Never take off your helmet.
Always wear a pair of sunglasses or a full-face helmet. Do not ride with naked eyes.
Do not consume alcohol before or during the ride.
Follow traffic rules and don't be ashamed to stop at a red light even if you are the only one.
Learn road signs and hand signals especially if you are riding in a group. Some people have a habit of making random hand gestures assuming everyone is understanding what they are trying to say.
Avoid riding at night.
Avoid riding in rain or snow.
Rides To The Hills Around Delhi 
3-day/5-day ride: Lansdowne, Rishikesh, Kasauli, Shimla, Mukteshwar, Ranikhet, Nainital, Narkanda
6-day/8-day ride: Chopta, Munsiyari, Gangotri, Badrinath, Sangla, Chitkul, Jalori, Manali, Mcledoganj
15-days: Ladakh, Spiti
Rides To Plains Around Delhi
3-day/5-day ride: Pushkar, Jaipur, Ranthambore, Gwalior, Agra, Mandawa
6-day/8-day ride: Udaipur, Jodhpur, Jaisalmer, Bikaner, Chittorgarh, Khajuraho
There you go! I am hoping that my insights about biking come in handy for you all. I am also hoping that those who have never gone out on a ride before get ignited with the spirit of exploring the world, 1km at a time, on two wheels.
Did you miss out my previous post on Biking Basics? Click here to read it now.
Do share your thoughts, biking experiences and tips in comments below. Happy Ridding All The Way!