Paroma Sen-Basu is a professional content and creative writer with over 8 years of experience in the field. She regularly partners with various media and advertising agencies for out-of-the-box assignments. Originally from Mumbai, Paroma now travels around India for work opportunities and projects on a regular basis.
Latest posts by Paroma Sen-Basu (see all)
Imagine trying to pick up your toothbrush and not being able to hold it straight. Or, trying to tie your shoelace but not being able to control the movement of your hand. Imagine getting up tomorrow morning and not being able to see the fresh rays of the new morning sun…
Thankfully for you, all you have to is imagine, just so you can empathize for a moment or two. For some, this is life.
3rd December is celebrated internationally as World Disabled Day. I strongly disagree with the naming of the celebratory day though. People who have disabilities are not any lesser in form than the rest of us. At the outset, it is finally about how you perceive it.
If you have never observed someone with a physical disability, you would never know or understand how different their life is from ours. What we take for granted, is an obstacle for them. For persons who suffer from mental ailments and physical problems like spasticity, a simple task like typing a text message or brushing their teeth is something that requires more time, effort and commitment. However with adequate training, patience and love it can be made extremely possible.
This is where, as a society, we need to learn to try and bridge the gap. Adequate training, funding, support both emotionally and physically is the need of the hour. So is a greater amount of awareness. As a people, how much do we contribute to the needs of both the lesser priviledged and the disabled?
Maybe a little, but not enough.
Spasticity, Mental Retardation, Blindnesss… these are just some kinds of deformities that affect a child at birth. However, with the right kind of attitude and training, a child when detected with a problem early on can definitely learn to lead a normal life in more ways than one.
Special schools, built to serve and cater to the needs of special children, NGO's dedicated to the needs of the special and many more celebrated World Disabled Day with fervour on the 3rd of the month!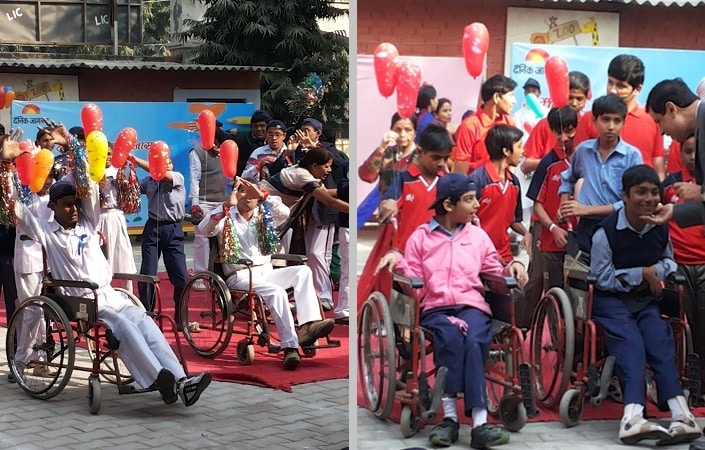 In focus we have The Spastics Centre in Kanpur, a dynamic organization that serves the needs of special children in and around the city limits here.
There were a host of events to mark the day. The children first initiated the proceedings with a wonderful March Past. It was ideal to begin the celebration. A quick welcome dance and prayer followed. The enthusiastic youngsters then enthralled the audience with a synchronized group Yoga performance.
The guests were impressed by the sheer energy and excitement in the air. Everyone could be seeing taking pictures on their phones and enjoying the performances thoroughly.
Inspired to
write

and

share

a story, or want to get

featured

for something

awesome

you are

doing

?
There was a lovely PT display and a game wherein the parents of the children being treated at the OPD clinic participated. The OPD clinic caters to helping the children gain better physical control over their everyday movements, special therapists work daily with the children and parents to that effect.
The solo performance by one of the beautiful young students who was dressed in a Ghagra Choli successfully captured the heart of everyone around. A quick costume show wherein the kids were dressed as little fairies, ministers and even flowers was also part of the programme.
Their cute replies when asked what they were dressed as made everyone around smile at their sheer innocence and life. What captured the audience's attention most was the Yoga display. The young talents coordinated their efforts and performed so well, you would wonder as to whether they were professionals or not.
The previous day, (2-Dec), the Centre had celebrated Sports Day, the prizes and results of which were announced at the end of the World Disabled Day celebrations.
Last but not the least, the young hearts sang a song that stands testimony to their undying spirit and enthusiasm – Hum Honge Kamyab.
Maybe we should learn a lesson or two from them and get Inspired!
Too many a time, we talk about problems and get bogged down by life's daily issues, most of which are actually not worth fretting about. So what if the newspaper man came late, so what if your driver scratched the car, so what if your boss didn't give you that raise…
Enjoy the essence of what you DO have. You have yourself, power in your hands and feet, the power to control every sense in your body. Nothing else in the world should make you as thankful as that!
LIVE - PEOPLE READING NOW
- write your thoughts about this story -
Be Thankful Today!

In your #pursuit to have more in #life, don't ever forget to be #thankful for what all you already have... #LiveLifeBeyondNumbers

Posted by Life Beyond Numbers on Wednesday, December 6, 2017