Let's accept the fact that not all of us are lucky or brave enough to follow our dreams, or do just what we love to do in life. That reflects another truth that there are two categories of people in this world – one who dreams and dreams and plan and plan only. And the people in the other category dream, plan and simply execute to live their dream. Piyush Goswami and Akshatha Shetty belongs to the second category. Yes!
This duo of Piyush and Akshatha, both engineers by profession, gave up their well-paying jobs to be with the people of rural India to understand their pain and needs. For the last two years, they have been traveling to various places in India and bringing forward the sufferings of the people in the interiors in the form of stories. They are on a mission to highlight their stories to bring in help and hope in their lives. In this journey, the duo beautifully complements each others skills, Akshatha brings in her expertise of writing and creating an impacting story whereas Piyush amplifies it with his visual expertise of photography and filmmaking.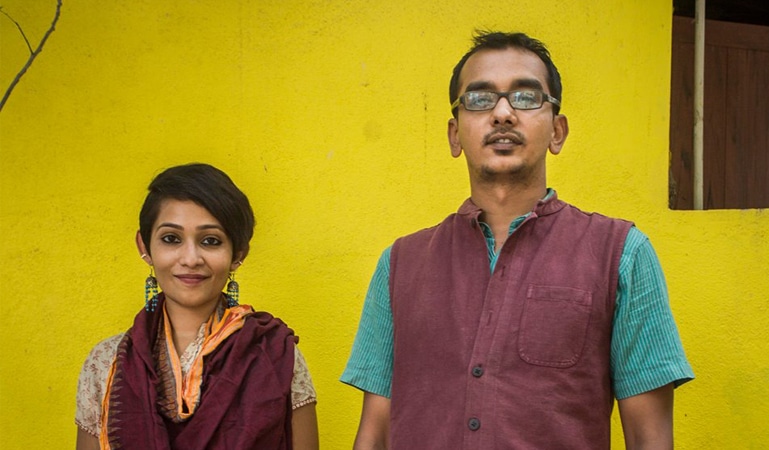 It was a pleasure talking to this young and energetic duo and inspire myself with their contagious passion to bring about a positive change and to live a life beyond numbers. In a candid conversation, they shared few chapters from their journey so far.
Their Background
Piyush was born in Charkhari town in Bundelkhand region of Uttar Pradesh. He spent his first 11 years of life in UP. In 1996 Piyush came to Bangalore to pursue an education in English medium. He then went on to graduate with a B.Tech. from National Institute Of Technology, Surathkal in 2008 and worked with Oracle SSI India for One year and Eight months.
Akshatha was born and brought up in Bahrain. Originally from Manipal(Karnataka), her parents moved to Bahrain about three decades ago. She did her schooling from Bahrain. Later she joined National Institute of Technology, Surathkal in 2004 and graduated as an Electrical and Electronics Engineer in 2008. She then worked with Infosys as a Systems Engineer in Bangalore for two years from 2008. Later she worked as a sub-editor/reporter at The New Indian Express, Bangalore from 2010 to 2013. When she moved to India, she instantly fell in love with the chaos and inconsistency the country offers. Even though it may be cathartic, she believes once you find your rhythm you will discover absolute freedom.
Both of them met during their engineering days. "We have known each other for 11 years now. We were very different individuals when we met, but over the years we found ourselves evolving in the same direction and we just found that sync to be part of our individual selves", says Piyush.
"Rest Of My Family" – The Purpose Of Life
For the last two years, the duo has been traveling to various places and meeting different communities to document their stories. Every story leads them to a new dimension in life. To them, the people they were writing about were not merely names, faces or yet any other figure in any statistics. They were family.  And with every new story, they realized over time that the stories they are documenting are not of any value-add to these people. Their existence is invisible to the nation and they are merely a part of the "national statics" and "surveys".
"Our project Rest Of My Family is an attempt to connect back, re-discover our relationship with and understand our responsibility towards the larger family that we are a part of – the rest of our human family", says Akshatha.
Piyush says, "I wanted to see how art and philosophy can be combined to do socially relevant work. There began my quest that eventually has manifested in the form of Rest Of My Family project. True human connection is my currency, the more I make, the richer I feel. By traveling to rural areas for the last 3-4 years, I formed a very deep human bond with people I met and documented about. And over time I realized that documenting alone didn't make any difference to the lives of these people who were no family to me. I felt incomplete in my efforts and work and I knew that I needed to do more. Rest Of My Family is just the answer for that. Through this project we will not only document social issues, human interest stories, and realities of people's lives but also follow up our documentation by extending relevant support to these people."
Though they have been traveling for the last three years, the project "Rest Of My Family" was launched officially only last month. The main motive behind this project is to give back whatever help they can to these communities which can change their lives. Piyush and Akshatha  wants to do something more substantial than merely sharing their stories with the world.
"Drive For Change" is the first campaign of the "Rest Of My Family" project. As a part of the first leg of this campaign they will embark on a drive through different regions of India, non-stop for an entire year.
Through this PAN India journey, they will focus on highlighting the social issues and human interest stories, documenting the triumphs of the ordinary man despite all the hardships they face constantly, and help these stories reach a larger audience and wherever necessary raise funds through fundraisers and crowd funding campaigns to extend necessary support to the individuals and communities that we write about.
They hope to connect the ones who need help to the ones who can help.
Family – The First Hurdle
In today's time of rat race and materialistic lifestyle, it's not an easy choice to give up on your well-paid jobs and the luxurious life. When both Akshatha and Piyush shared with their families about what they want to do, it was obviously not well received by their parents.
"Being honest with myself and everyone else has worked for me in my life. They are still coming to terms with my decision. They would be more than happy if I chased comfort rather than struggle. But I am certain that they will relent one day", says Akshatha.
Whereas for Piyush, the scene was nothing different – "My family was completely against the idea of me quitting my job, and they were not supportive at all. But I had to act towards my dreams, so I went ahead and walked in the direction I saw for myself. But all throughout they have reached out and supported me at the times when I most needed them. Now that they can see what my dream or vision was all about, they are  very proud and supportive."
The Experience So Far
"We spent about a month in Ladakh in extreme winters to experience the life of locals residing there in harsh weather conditions. We also spent a month camping on the Ganges at Kumbh Mela in Allahabad two years ago. We spent about four months traveling through various villages in Rajasthan. We've traveled through rural belts of Uttar Pradesh. We also spent three months in Nagaland. We've also traveled through some remote tribal and rural belts of Kerala and Tamil Nadu. That pretty much sums up our travels so far.
As we traveled, we met such beautiful human beings who still kept their humanity alive in their hearts. They strive really hard to treat everyone with kindness and love despite their own personal struggles. The fragmented view of the world we saw broke our hearts. And, that strengthened our resolve to continue doing what we are doing and, in the process, de-fragment the world through our own little ways by connecting the people we meet to the rest of humanity.
One winter evening, we were traveling to Tso-Moriri in Ladakh and got badly stuck in a snow blizzard. We somehow managed to pull our vehicle out of the snow and sought shelter in a Tibetan refugee village called Sumudhu nearby. We met an old man who offered to help us and gave us shelter for the night. At -25 degrees, we sat around the fire as Namgayal told us stories of his past. He was from Tibet and his village was close to Mount Kailash. He has been living here for the past 60 years and has still not applied for Indian citizenship because he hopes that someday he would be able to go back to Tibet.
The challenges we face with every community are unique in their own ways. For instance, when we went to visit the Malasar Tribe in Nelliampathy, Kerala, at around 11 pm we were taken to the police station and interrogated for 45 minutes because we were asking questions on the tribes who have been suffering for more than a decade owing to land displacement. In the pretext of confirming that we might be aiding Maoists or terrorists, they discouraged us from going to the tribal settlement. We didn't back down, and in the end, we decided to visit the tribe and understand their situation."
How Can You Help "Rest Of My Family"
"Our only source of income is our documentary work. We also freelance with a few publications. But documenting and freelancing pays very little in India. So far we have been living a paycheck-to-paycheck life. We have come so far only through our dedication, honesty, sincerity and support of the rest of our human family. We will let that decide our future course too. We just want to go as far as we can in the direction of our calling", says Akshatha and Piyush.
Last year in October 2015, they crowd-funded their campaign "Drive For Change" in Indiegogo . Their estimated target requirement was $30,000 and they successfully managed to raise $31,696.
Also, we request you to share this story with your friends who may find their "Drive For Change" initiative interesting enough to come forward with their share of contribution.
Image courtesy: Piyush Goswami