A team of young turks is out to "Make India Student Friendly" with a very simple yet effective idea. One that addresses a major pain point of every college student's life: limited money but unlimited expenses.
With frapp.in, this fantastic four is out to create an exclusive platform where students can avail special deals and offers, simply because – they are students. Armaan Vananchal, the 22-year-young founder of frapp, takes me through the triumphs, trials and turbulations of frapp's journey so far and plans for the future.
What Is frapp?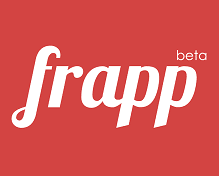 frapp.in is a digital platform connecting students with local businesses. With frapp, students can avail of exclusive deals and offers at businesses around them. It is an offering that is social, convenient and exclusively for students.
The idea behind frapp came up when I was pursuing BBA at NMIMS University, Mumbai. For our final year project, we had to create a business plan from scratch. We realized, from our experience as students, that students as a community were very important to a lot of brands and local businesses. 
Today, brands spend considerable sums of money in targeting college festivals and various campus activities. At the same time, students spend a lot of time and money at their favourite hang out spots, cafes, and retail stores. There existed a definite gap and I and the co-founders came across various successful business models abroad where students can avail special discounts at select outlets.
We thought of frapp to make the country student friendly! We are currently in our beta stage, launched in April 2014,  and are working hard to develop an awesome mobile app that makes saving easy and quick.
The frapp Team
We are a team of four – Co-Founders Niranjan Nakhate, Karan Karnik and myself, and Pooja Shah who takes care of Online Brand Strategy and Marketing.
Prior to this, Niranjan worked at ah! Ventures as an associate where he gained insights into start ups, seed-stage businesses and venture capital while Karan worked as a marketing and ideation manager at Fitternity, a start-up in health and fitness. After graduation, I worked with a hospitality and lifestyle company and launched a beach club in Goa.  On the job, I got first-hand insight into the industry, marketing, revenue drivers and key industry stats.
Brands Associated With frapp So Far
Since frapp is in the testing phase, our approach has been two-fold. We tried to reach brands that are:
Popular among the youth (Cafe Mangii, Stomach II, TLD, Alfredos)
Brands that are more niche and from different industries (TFNC, Furtados Music, Redwolf.in)
We believe online brands and e-commerce will be a very important aspect of frapp. We are currently tied up with 3 e-commerce sites and will be adding more.
Scalability and Expansion
Like any start-up, we believe there is a lot to learn in the first 6 months of our operations. We have begun our journey with a beta website that tests our concept and gives a sneak peek into our plans. The website has grown organically to over 800 users and has received good feedback on the concept.
frapp will be launching mobile applications soon and continuously refine it for both vendors and brands. Currently frapp.in is operational in Mumbai and the app will be launched here first. We are looking to scale up both geographically as well as across categories and industries. Territories such as Pune, Delhi and Bangalore are very important to us.
We will also be scaling the marketing and partner list closer to the app launch.
Why An App?
We realized that the key to make this work is to be always in the student's pocket. It's very important to be accessible and mobile. Our website analytics show that an increasing number of hits are from mobile devices.
Apps such as bookmyshow have revealed in the past how a large percentage of their sales have started coming through the app.
On the beta website, registered users can select an offer to be mailed to their inbox. They can avail the offer by showing this email at the store, along with an authentic college ID.  The founders are working on ways to authenticate a student during registration on the app – thereby getting rid of the need to always carry a physical ID.
Key Challenges As Young Entrepreneurs
Solving the chicken and egg problem: The first challenge we overcame. This was the typical market place dilemma in deciding strategy towards getting brands and students to get interested in us. We need both sides to grow to complement each other and thus had to take a very calculated approach towards expanding and marketing the website.
Limited technology know-how: The founders of frapp.in are all business students. Our limited tech knowledge was a definite initial hurdle. So far we've been lucky to have advisers backing us and have relied heavily on research and self-learning.
Taking the big plunge: It was a big plunge for us to leave our jobs and embrace the thrill of entrepreneurship so early in our lives as getting a monthly salary is a huge comfort factor!
Learning On The Way
No amount of planning can help you achieve everything correctly the first time. We under-estimated the importance of a first draft.
Initially, since we are 3 co-founders, our decision making process was really slow. While we still brainstorm and bounce ideas off each other and have lengthy discussions over trivial things, now we've found our niches within the organization and have begun to take decision control over our key areas.
Another learning on the way: Basic metrics like number of users or hits on the site are less important, actual conversions are what we need to focus on.
Funding And Way Forward 
frapp is currently boot-strapped, we are funding it ourselves. So far, we have had introduction calls with a few firms for investments and we have had positive interactions. There's a lot to be done and we are all geared up!