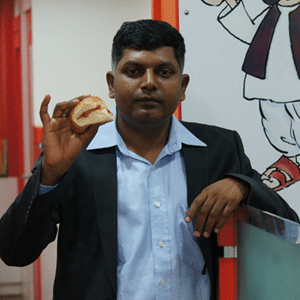 Venkatesh S (Venkat) was running a successful corporate finance business. Life was cushy with meetings in five stars, tailor-made suits and doing big financial deals for big business houses. Yet, he felt there was something else he needed to do.
He jokes, "I don't remember whether lightening struck me or I hit my head somewhere, but a thought popped up that I must quit this and set up a food business that could create blue collar jobs and entrepreneurial opportunities across India."  That's when Venkatesh and his colleague Shivadas Menon decided to start their venture which we know today as Goli Vada Pav.
Today, Goli Vada Pav is the largest Ethnic QSR (Quick Service Restaurant) player in the domestic segment with over 275 stores in 61 cities and 13 states of the country. The journey, however, was not without obstacles.
In an exclusive conversation with LifeBeyondNumbers, Venkatesh shares with us the high and the low points of 10 years of Goli Vada Pav.
The First Leap Of Faith
I love food. So Shiv and I decided to get into the food business. We were in search of a big idea – a product that would have pan India appeal. We didn't want to be a regional player. We had set high targets for ourselves. We wanted to build an ethnic Indian brand of mass consumption.
My wife supported our ideas and gave me the confidence that I can pull this off but the rest of the family was shocked. They wondered why I wanted to enter a new business when the ongoing venture was doing well. Their reservation came from the fact that I had no prior experience of working in QSR sector and that this might prove to be a wrong business call. However, with the support of my wife, I decided to pursue my idea along with Shiv.
That Big Idea
While we were searching for the 'big' idea, we didn't realize it was staring right in our faces all this time. One day while returning from a meeting, we saw a 40 Ft tall McDonalds' burger billboard opposite the CST Station in Mumbai, and right under that billboard was a vada pav seller selling this hot snack to a big crowd.
That's when we decided that vada pav was going to be our product for the consumers. We felt it was a twin brother of the American Burger. Both had a potato-based patty and were sold wrapped in fresh bun or pav. Further, each of the ingredients, like besan, potato, spices, wheat flour, etc. had a pan India appeal. We said to each other, "Let's make the humble vada pav stand alongside the burger and pizzas of the world." And an original Indian brand was born with Vada Pav.

The First Outlet
We started our first Vada Pav store in a Kalyan, a distant suburb of Mumbai, in Feb 2004. We used a hub and spoke model for our operations. We set up a central kitchen to prepare raw vadas (goli) and from there supplied them to the store. Within a month, we received 150 franchise inquiries.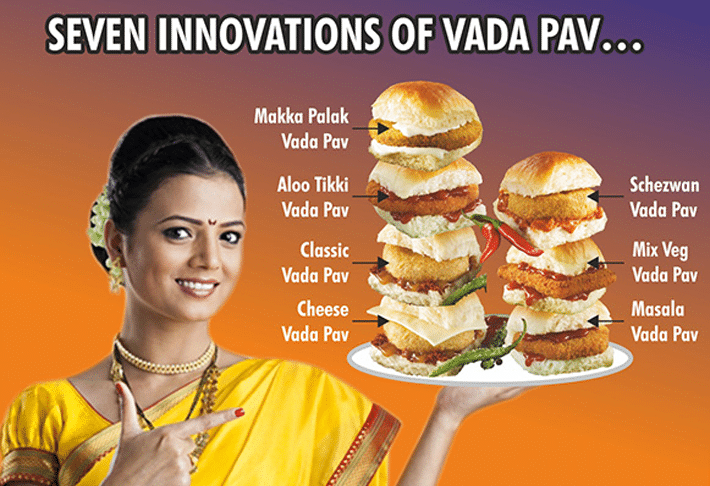 We realized that we were in the right business but scaling up was proving challenging. There were 3 major problems as we saw:
1. Our product, Vada Pav, had a little shelf life, thus wastage was very high.
2. The product was prone to pilferage.
3. Finally, we were dependent on the cook for the taste, thus every time the chef changed, the taste of Vada Pav would change. We felt, unless we addressed these issues, we would never be able to become a national player.
Time To Shut Shop?
Though we had nearly 20 stores by this time, running profitably, we started looking for technology to address the problems of wastage, pilferage, and non-standardization. We tried our hands at some of the best technologies as used by leading players in the food industry. Unfortunately, none of those proved applicable to vada pav. On the contrary, these experiments cost us a great sum of money and eventually, we got a warning from the bankers to close the business as they felt ours wasn't a viable model. For us, this was unthinkable.
We then approached Vista Processed Foods, a subsidiary of OSI Inc, which prepared patties for McDonalds Worldwide. They liked our ideas and shared the same passion. After a year-long discussion, they finally agreed to start preparing raw vadas for us in their fully automated plant using IQF Technology. With this one tie-up, we solved all the 3 challenges. The product shelf life improved significantly with a fixed expiry date and batch trail, the taste got standardized and the product could not be pilfered.
Funding And Expansion
Once we fixed the product problems, we went to the market for raising money. In 2007, we started meeting investors. Investors liked our story yet joked that vada pav couldn't be corporatized. Finally, one of the top names of Indian financial industry, Mr. Jerry Rao decided to invest in our company.
Following that, a couple of other HNI (high net worth) individuals took a stake in the business and like this, we raised a first round funding of INR 5 crores.
Thereafter we started expanding in Mumbai. We planned to open 300 stores in the city. However, steep rentals, high real estate costs, and unavailability of space prevented us from doing that.
Nashik Bound
Simultaneously financial markets went into turmoil following the failures of Lehman Bros, Satyam, Subhiksha, thus denying us the opportunity to raise more funds that were needed to scale operations. We were at a standstill, when one fine day, we got a call from Nashik. A customer who tasted our vada pav in Mumbai loved it so much that he wanted to open a branch in his city.
And just like that, we were back in business. The success of this single store resulted in opening 12 stores in Nashik in a span of a few months. Today, the interior Maharashtra region is a big market for us with close to 80 stores in cities like Nashik, Aurangabad, Beed, Nagpur, Jalna, Parbani, Akola, Amravati, Chandrapur, Yavatmal and more.
Wowing Critics And Skeptics
Later we expanded outside Maharashtra as well. Initially, we were ridiculed by many for doing that. They said a Mumbaiyya food item would not work anywhere else. People said this would prove to be a bad decision.
Today, we have more than 90 stores in Bangalore alone – the highest in any city in India. Besides we have multiple stores in each of the major cities like Chennai, Coimbatore, Cochin, Salem, Vizag, Raipur, Indore, Bhopal, Ahmedabad, Delhi, Gurgaon, Hissar, Kanpur, Lucknow, Gorakhpur, and several other places, all running successfully. Based on this performance, in 2011 we were able to raise the second round of funding from venture capital firm Venture East.
We have also been innovating with the menu, adding new items to cater to local tastes. Recently we launched the 'Dabba', a full meal including vada pav, a snack and a brownie.
Today,  we are the largest Ethnic QSR player with 277 stores in 61 cities and 13 states of the country. But I have learned a few things on the way. For any business to flourish, one must start with exploration. This means, try out new things that haven't been done before. Many of them may not work out but don't give up. Because exploration will lead you to innovation which will lead you to the best operational strategy.
The design of our business is the reason we have been able to scale up in an efficient manner and this came to us because we were not scared of exploring options and even failing at some.
Miles To Go…
With sales crossing 70,000 vada pavs every day, it may appear that we have achieved what we set out to do, but we are aiming to capture a lion's share of Rs 3,400 crore QSR market in India. We are calling this Goli 2.0. Over the next 3-5 years, we plan to open 1000 Goli Vada Pav stores across the country. A sizeable number of these Vada Pav stores would be company-owned flagship stores, which we will use for training our franchise and their manpower in best practices of the industry.
My vision continues to build an Indian brand of mass consumption with global reach. One that will stand tall among burgers and pizzas of the World.