Beginning with three men, a coffee table and a laptop, this matrimonial site is slowly turning stereotypes on their heads, bringing in compatibility as a key criteria for making matches, a concept unheard of in the traditional matchmaking environment.
While usually the focus of families is to match kundlis (horoscopes), biodatas, and pictures, the likes and dislikes of the individuals concerned takes a back seat. That's where Truly Madly differs – profiles are matched on the basis of personality, likes and preferences.
Thinkspiration
The idea was born when Hitesh Dhingra found himself looking through 200 matrimonial profiles for his sister-in-law, only to realize none of these catered to the population that looks beyond caste, creed and religion.
Full of obscurities and tall stories behind the veil of the internet, the mainstream matrimonial sites promised only a lot of spam mail. Thus entered the idea behind Truly Madly, where compatibility is key and matches are based on intellectual like-mindedness.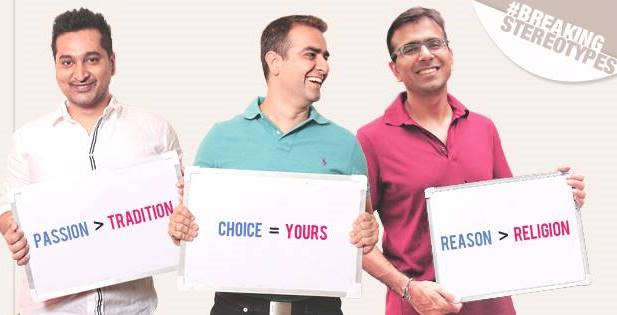 The founders Sachin Bhatia, a Commerce graduate from Delhi University, Hitesh Dhingra, MBA from Punjab University and Rahul Kumar with a Masters in Computer Science from UT, Austin, set out to create a unique product that would take the matrimonial space by storm in the days to come.
The website was launched on the international day of love, the very romantic Valentine's Day of 2014.
Different Does it
The USP of Truly Madly is that suitable profiles for every matchseeker are shortlisted taking into consideration the 'human' aspect of people than categorizing them in conventional boxes.
#1 Focus on compatibility instead of concentrating on caste, religion, income etc. There's a personality assessment that all registered users take based on which the site applies an algorithm to determine matches. The questions focus on daily activities, habits, values and expectations.
#2 Safety is of utmost importance. The website boasts of a stringent verification process and using a trust score to keep track of it. Users can upload government certified identity documents and employment proofs and link their social media accounts, which are then cross referenced by the site.
#3 Users can only access profiles of people they have been matched with, instead of browsing for men/women in an e-commerce website fashion. It is personal and very private.
Breaking Stereotypes
Truly Madly's media partner Drizzlin Media has worked closely with the website to generate interesting content in the matchmaking space. The #BreakingStereotypes campaign has generated a buzz that's implacable.
"We decided to run a little social experiment and speak with Delhi boys and girls about life (not just matches) and how they've faced generalizations while growing up. Surprisingly for them and excitingly enough for us, we hit gold! We found Hindus who eat beef, Punjabis who love masala dosa and baniyas who aren't businessmen (gasp!).
As our campaign gained pace, numbers multiplied and the cycle went on. We have successfully managed to curate funky and controversial stereotypes faced by real people across town and debunked them 'like a boss'! We are officially one step closer to breaking stereotypes in India," shares the founding team excitedly.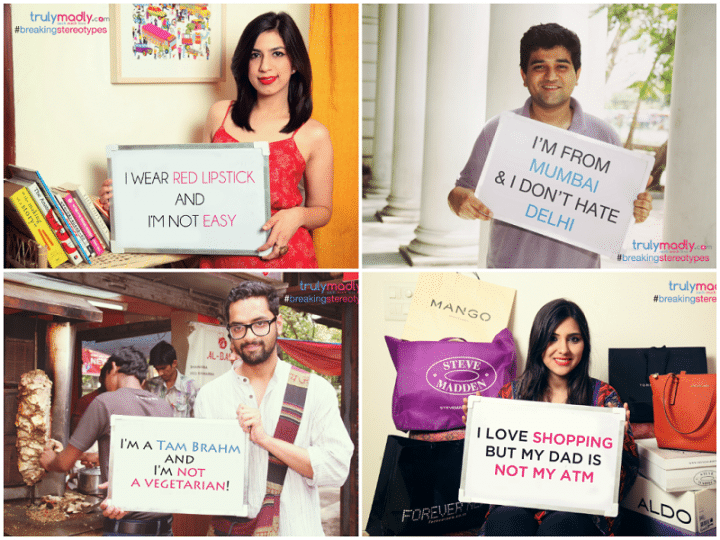 The facebook page 'Where's The Love?' is a growing community of men and women who question conventions and norms, and are keen to go beyond the conventional setup to find a soulmate.
So Far So Good
In three months, the overwhelming response to the idea has been the greatest validation for the team. Some numbers:
#1 There are 6000 profiles currently registered on the website.
#2 70 percent of profiles are from age group 22-27yrs.
#3 About 75 percent of the members have authenticated their profile using Facebook and LinkedIn.
#4 100 percent of the recommended profiles are verified.
#5 Almost 65 percent of the registered members are post graduates.
The Future
The team is coming up with a new mobile app next month and more interesting features on the site itself. The site has been earning its revenue through a nominal fee that is charged to unlock any profile that one is interested in connecting with, once a match has been made.
The focus in the past months has been to increase the member base, and now the team is ready to go beyond Delhi and venture into other major cities. Some serious fun is on the cards.
Truly Madly seeks to combine the perks of technology with the span of human functions. Turning probabilities into possibilities, marriages are not arranged by this website but love, found.