Who doesn't like the little and big giveaways in life for whatever reasons. Brother entrepreneur-duo of Ramakoteswarrao Papineni  and Laxman Papineni have started Giveaway.ly, what they define as the world's first Advertising platform that connects Advertisers with Bloggers to promote products/services through Giveaways on blogs. The brothers hold Master degrees from Osmania University – Ram in Electronics and Laxman in Computer Application having experience in working for Fortune 500 companies as well as start-ups before starting off on their own.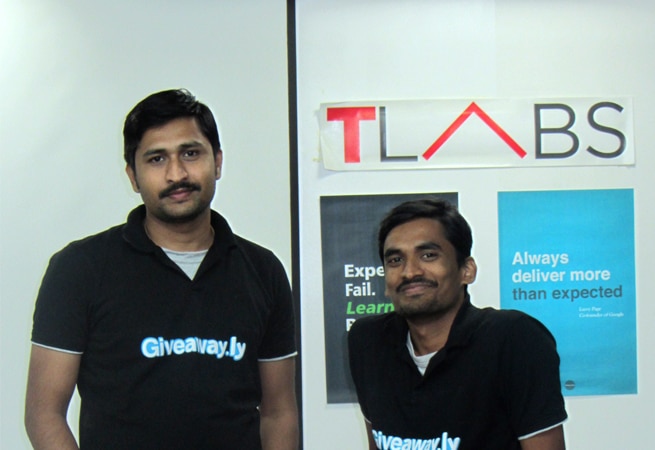 In an exclusive conversation with LifeBeyondNumbers, Laxman talks about their venture, their journey, future plans and more…
Inception of Giveaway.ly
We both started blogging as a hobby back in 2008 and later learned about blog monetization and different ways of doing it. Unknowingly we grew from 2 blogs to 20 blogs and then ended up creating a powerful 2300 blogs network by inviting like-minded fellow bloggers into network. Having 2300+ blogs across niches and demographics, we worked closely with 700+ advertisers offering every possible advertising method to promote their product or services. Going deeper into the market, we realized that brands are failing miserably in reaching and engaging the right influencers. We figured out that brands aren't getting enough ROI on those normal outreach campaigns.

Having experience in this field, we decided to solve that problem and that's how Giveaway.ly was born. Through Giveaway.ly, brands can find right influencers within minutes and promote their products by incentivizing blog followers. This way brands can interact and engage with the followers of the blog.
Giveaway.ly is an influencer marketing platform that helps brands to find right influencers to promote their products or services. Brands can browse through thousands of influencers with verified analytic and pick the right influencers to promote their brand across blogs or social media channels.
We are 4 months old and we already got 1800+ influencers and 250+ brands onboard. We were part of TLabs Accelerators fall 2013 batch and in the final round of talks with a few investors to close first round of funding. Right now, we are a 5 member team.
Giveaway.ly has already helped hundreds of bloggers make decent money by allowing giveaways on their blogs. We processed around $25,000 payouts to bloggers in last 4 months of our business inception. Ran more than 150 giveaways and delivered 300k plus social media followers/mentions about brands.
Challenges and Learning
Go to market is a big challenge for any business, and we are no exception. We have to move fast and gentle in dealing with different parties like brands, agencies, and influencers. We haven't spent a single penny on advertising till date; and the good thing for us is that we are growing organically. But in order to reach more influencers and brands, we are planning to have aggressive marketing campaigns in the coming months.
Ideas are everywhere and technology can be built around them, but in order to be successful one has to know and plan when in terms of go-to market strategy. For us we were lucky enough to be able to plan everything at an early stage since we were at TLabs Accelerator.
I would strongly recommend every entrepreneur to draw the plan before jumping in. How are you going to be in the market and how you make your customers happy is the only thing we need to look at the early stage. Funding follows.
The Future
We want to have 100k influencers and 10k plus brands onboard by the end of 2014. In terms of product, we are adding lots of features which enables brands to do end to end marketing campaigns inside a single system and dashboard.
In the mobile part, we are building a solid product which enables mobile first companies to add virality to their apps in every possible way. Aim is to increase social media mentions and number of downloads without having to spend money on promotions outside. We are planning to release it by end of February.
A very interesting concept that has garnered good response in the very few initial months of operation. It remains to be seen how this unique service shapes the ever so dynamic advertising scene. We, at LifeBeyondNumbers, wish Ram and Laxman all the success with their venture.