When few of these people woke up this morning, they all would have expected their day to be, well, like any other day. But then this guy happened in their lives.
This morning, a guy in Bangalore takes a bus to reach his workplace, loses his wallet in the bus, and without any knowledge of the incident he gets off at his stopping. The bus driver spots the wallet and so does someone who was traveling along side. Since the bus driver said that he cannot hand it over to her who was willing to find the person who lost it, she clicked a picture of the contents of the wallet. So what does she do next?
She Does This: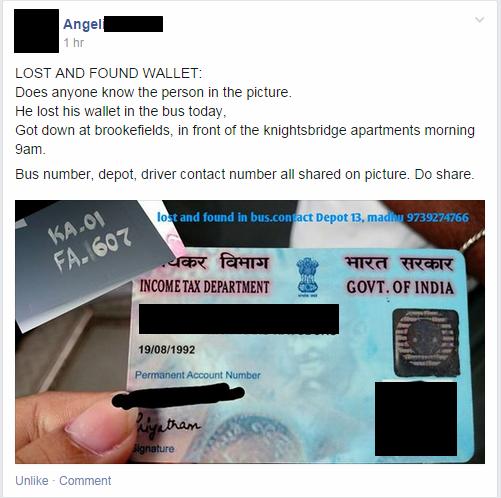 She doesn't go to the cops nor does she call up the Tax Department, but posts on a Facebook group called "Put Me In Touch" (PMIT). Speaks so much for her faith in Facebook. And has something like this ended well in any of the previous such cases? Who knows!
Two Minutes Later, This Happens: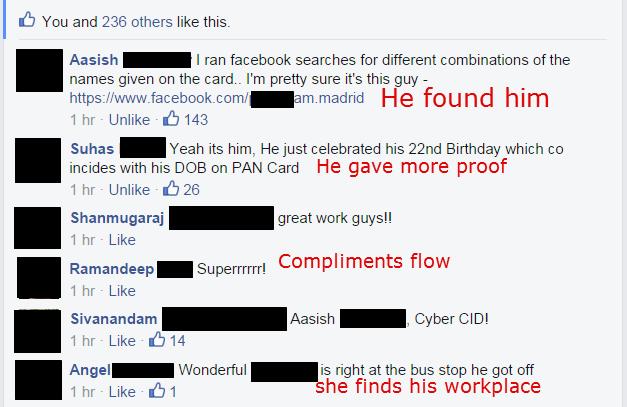 But they can't stop now. Can they? Or will they?
So how does it end? Did they make the contact? Biting nails…biting nails…ouch, bit the finger!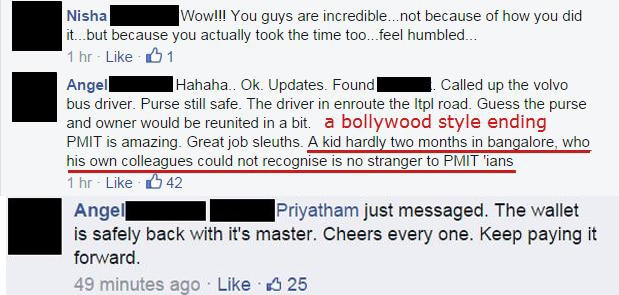 And we hear from our 'Wallet Guy', at last!!!

Seems like someone's got famous!

Do you know this person? Do you? Bet the whole of Facebook knows him now. Pictures please!

This may not be the first time something like this has happened on Facebook or any other website or forum:

And this won't be the last time either. So why share the story here?
It might all be a little game like thing where we try to solve a puzzle and that might have partly motivated the guys there to solve this 'puzzle'. Still they have done well and a bit more too.
These are no ordinary people. Because, inspired by what has happened on the page today, someone suggested this.

And the inspiration is so strong from this incident that a new Facebook Group that is dedicated entirely to doing this, Lost and Found in the city of Bangalore, has been spawned. And there are already 120 Sherlocks and Watsons on the ready at this group

At the end of the day some of us might think, 'ok someone lost something and some people found the guy, what's the big deal?' Well, here is someone who knows how big a deal is that:

It is stories like these which blossom from ordinary people just being more in touch with their human side and showing responsibility towards someone they have never met or heard or even connected to, creates that awe and respect. This comment here sums up the emotion nicely.


Do send in your compliments to the wonderful people of Put Me In Touch(PMIT).
PS: Someone wants this to be made into a movie!

Not a bad idea at all. It definitely has all the right ingredients of an edge-of-the-seat thriller. The Chronicles of The Lost Wallet…Coming Soon, to a theater near you…
Inspired by this story? It's your turn now to go and help someone without asking anything in return. Find out how Rushabh Turakhia is trying to change many lives with some good deeds.