We often hear of young professionals all around the world quitting their jobs. Sometimes it's for a better offer, a better work profile, study or simply a few months off to read, paint, travel, relax a bit and to get back to work feeling all rejuvenated. But few take this break to follow their passion. Hamid Shah's dream was one such, to go on one of his first solo trip across India:  The K2K – Kashmir to Kanyakumari mission – A mission to set foot in every state in India.
Hamid is like any other guy who constitutes the current generation of Indians. Born and brought up with a set of values and goals to become either an engineer or a doctor, get a job, aim for a master's degree, and have a family soon. Young, dynamic, well placed electrical engineer with a reputed company, Hamid's life was going well towards this planned path. His work let him travel within India and explore Europe striking deals for his company. "I was traveling a lot due to my job and I was also taking breaks trekking in the Himalayas. But this just wasn't enough for me. I didn't have any set goals then", says Hamid.
The Maiden Solo Trip: How It Started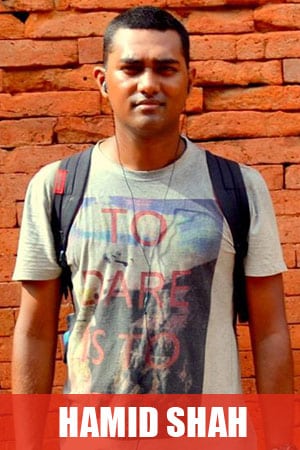 It was a conversation with an old foreigner couple, Hamid met during one of his trekking breaks in the Himalayas, that he realized his K2K – Kashmir to Kanyakumari dream. One morning, sitting in a Chai shop, in Harsil, on the banks of river Bhagirathi, Hamid waited for some breakfast and his tea when this couple joined them in the adjacent table. Hamid greeted them and they responded with a "Namaste." After exchanging introductions when the couple got to know Hamid hailed from Tamil Nadu, the old man said "Then, I should be saying Vannakam instead of Namaste to you." Hamid was surprised at the man's perfect pronunciation of the word. It was then the couple began telling him their story.
"Our first visit was around 1990 to South India with our first child. He lost his balance at the sea in Mahabalipuram when a big wave hit him and was taken into it. We thought we had lost him but one of the fishermen went after him and saved his life. From then on, we come to Tamil Nadu every year and we also have a Trust fund now to help that fisherman's village in whatever small way we can."
The couple then went on to tell him all about their love for south Indian food and the places they had visited in Tamil Nadu. Hamid joked that they seemed to know more about his state than him. The old man said "Son, you are so lucky to be born & living in this country. We save every penny of our pensions to visit India every year and we aren't still tired of this beautiful land. You should try to see it too." "I was already standing on the verge of the cliff and this incident gave the final push." Says Hamid. Dream of his first solo trip, K2K – Kashmir to Kanyakumari was born.
But even at this point Hamid wasn't sure if his parents would support him. And moreover, it's supposed to be my first backpack solotrip in India. "I was in a dilemma and was hoping to find a way out."
Hamid had also been making plans to pursue an MBA to add to his qualifications. He could travel a bit before preparing for the exams for three months or so, and this plan had the approval of his parents. He quit the job by Nov 2012.
Armed with his laptop, DSLR camera, a sleeping bag, a small notebook and his new companion, Amazon's Kindle, loaded with all the travel guides and books, Hamid took his first step to explore India on 12/12/12. "This was going to be the last date of its kind and I thought it would be a memorable date to start mission K2K – Kashmir to Kanyakumari" He says. A backpack solo trip to quench his thirst for travel and explore more of India.
"The plan was to travel from Kanyakumari to Kashmir – going through the western and central Indian route where the tourism infrastructure is well established. And I was more than excited for my first backpack solo trip in India"
It took him more than 40 days to backpack Tamil Nadu, his home state where he was born and had lived for more than 21 years of his life. His mom had then commented, "If this can take you 40 days imagine covering all the 29 states!" Her comment further added to Hamid's determination. Though two months later as promised to his parents, Hamid was back home to prepare for his MBA but his heart wasn't in it anymore. This time when he left home, he planned to be back only after he had seen the rest of India.
It took him nearly two years to cover all the 29 states of India, finishing in October 2014 in New Delhi. This is how his travel map looks like now, as his journey continued.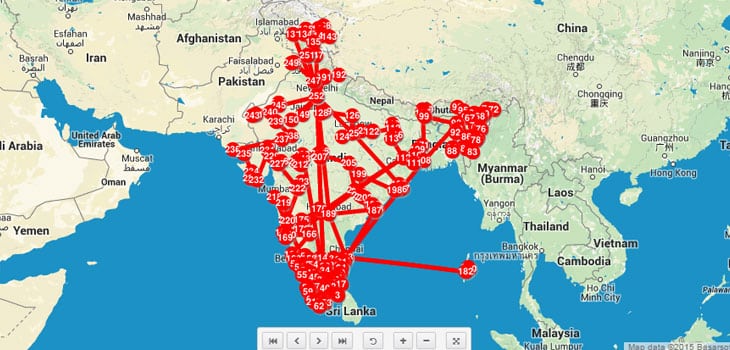 The Journey
From exploring the Andaman islands to skiing in Auli in Uttarakand, Hamid traveled from South to North, from East to West taking the cheapest and the best-suited routes discovering India. And as he traveled one end to the other, he penned down details each night into his travel diary throughout his maiden solo trip. He also did a picture log every time there was network access onto his newly started facebook page.
"India is a country which has everything you can ask for as a traveler – beaches, high mountains, Islands, desert, dense forests, monuments, diverse culture. In my Kanyakumari to Kashmir trip spreading from 12-Dec-2012 to 4-Oct-2014, I ended up clocking close to 60,000 kilometers, traveling across the 29 states of India and 5 union territories. I saw countless sunrises & sunsets, crossed various rivers & mountains, traveled in all sorts of transportation – planes, ships, trains, cars, jeeps, lorries, bikes, auto rickshaws, bicycles, by foot and I am still amazed by the experience."
It was not just nature and structures that left him with indelible impression but also the people he met who've changed his approach towards life. "I got free stays, free food, free rides, and people taking time to help me in finding a place."
Like when in Kashmir, Hamid felt almost lost when a Kashmiri woman helped him find his way to the Shahi Hamdan Mosque. When they got into the bus she offered to pay for his ticket and said "I have daughters but not a son. Why don't you let me treat you as my son & let me pay for this ticket?"
Another time when he was in Tashiding, Sikkim- A local woman running a small tea refused to take any money for the tea and said "When I came to Tamil Nadu for my eye operation in CMC Vellore, your people were so kind to me and to my family. It's the least I can do for you."
"More than the sense of pride in completing my trip, I was weighed down by the gratitude of so many people who helped me –There were times I felt if I'll ever be able to repay these people in anyway and I felt overwhelmed by them." said Hamid, reliving some of the moments with the people he met during K2K – Kashmir to Kanyakumari trip.
Food is an added bonus that comes with every travel, be it long or a short trip. No travel is complete without tasting the delicacies of the new place. Hamid too did not want to miss this opportunity. "I enjoyed all kinds of food. Though I didn't spend too much time on food at each place, I made sure that I had had a taste of the specialty of the state before I left from there. But most of the time I ate what the locals ate, as it was cheap and freshly made." He says. "Even if it was pork in Nagaland, although it is banned in Islam. I had a taste of it and it was the only time. But then my heart didn't let me try dog's meat." Says Hamid.
The Hiccup
Certainly covering the entire country like India was not easy. Though young and physically fit to brave the odds like the terrain, the climatic conditions, Hamid was least prepared for the unforeseen break in his mission that hit him when he was in the 24th state on his list- Madhya Pradesh.
"I was infected with severe Malaria & Hepatitis. My kidney failed functioning partially for reasons unknown. The doctors attributed this to drugs or alcohol even when my parents and I refuted the same."
The problems just didn't end there. His relatives began blaming him and held his parents responsible for letting him quit his job and go on a solo trip this way. "A month in the hospital almost killed my dreams. I could not bear to see the pain and suffering of my parents. When I walked out of the hospital, both, my confidence and my dream were shattered. I kept hearing things from relatives, friends and doctors that I had done enough traveling and I should get back to a job once I recovered." Hamid was broken mentally, physically and even financially. He wasn't even sure at this point if he could ever backpack again considering the frail state his body was in. He somehow felt that it's not always that exciting to step out on a solo trip.
His parents were silent all through this ordeal and all they wanted was to see him healthy again. Hamid too decided once well, he would go by their word. But they knew where his heart was. So they let him follow his dream and just prayed that he was safe. "Words are not enough to express my love and gratitude to them. There are many I am indebted for helping me on the way and for completing this trip successfully but my parents will be the first one in that big list." He says.
All's Well That Ends Well
Kashmir to Kanyakumari was known to his friends and family through his facebook page as he traveled over the last two years. Once back home, Hamid has been sharing many of his experiences with the online travel community. He, for sure, also learned how to travel the distance without spending much. His next mission is to document the journey of Kashmir to Kanyakumari into a book.
A two-year break from work to explore India has left Hamid further unsatisfied. While he looks forward to more travel, he is also working on improving his skills as a writer and photographer. "I have just seen one country which is a continent by itself. I have got plenty more to see. Maybe another Kashmir to Kanyakumari but this time it would be Kolkata to Kochi and I'll take the long route of going around the world. Only time will tell if I can do this." says Hamid, gearing up to get back to work life before he begins packing his bag again for another self-discovering solo trip.
[socialpoll id="2248323″]