Hanoi needs to be spoken of more. While cities like Bangkok, Singapore and Hong Kong get all the buzz, not much is said about Hanoi. This is a big oversight because this city is amazing and totally deserves to feature high up on the South East Asian traveller's list.
Hanoi, the capital city of Vietnam located in its Northern region, is whopping 1,000 years old. And it has a lot to show for it. Colorful, vibrant and delightful – Hanoi has everything, from ancient temples and puppet shows which were invented 900 years ago to delicious street food and a vibrant nightlife.
Most people end up waltzing by Hanoi for a day or two, before they head to the mountainous Sapa or embark on a cruise along the Halong Bay. We belonged to the latter category as well but made the most of our 36 hours halt. Here are some of the tips we gathered on how to make the most of a day in Hanoi.
Where To Stay:
Hanoi is well known for its relatively affordable hotels. Whatever your budget, chances are high that you can find clean and comfortable accommodation easily. The bulk of tourist hotels are located in the Old Quarters which is probably the best place to stay as it places you very close to the city centre. It is $10 or $15 away from the airport and has numerous restaurants and eateries.
If you are on a budget, there are low-priced hotels like the Blue Paradise charging close to $28 a night. Mid-range hotels like Hanoi Elegance charge $60 per night. This is where we stayed. The service was top-notch, room was well designed and the breakfast, though a la carte offered great variety to choose from. If you prefer to stay at a luxurious hotel, then the Sofitel Metropol Hanoi Hotel is a great choice.
What To See In Hanoi:

Hanoi has an endless list of places to see. However, in my humble opinion, these 3 surely deserve to be checked out –
1. Ho Chi Minh Mausoleum
When Vietnam's legendary leader Ho Chi Minh died, the country wanted to honour him in the way only Vietnamese can do. They wanted to build for him a monument which would last forever. Borrowing a leaf from the Russians, they decided to build him a mausoleum (just like the Russians did for Lenin in Moscow).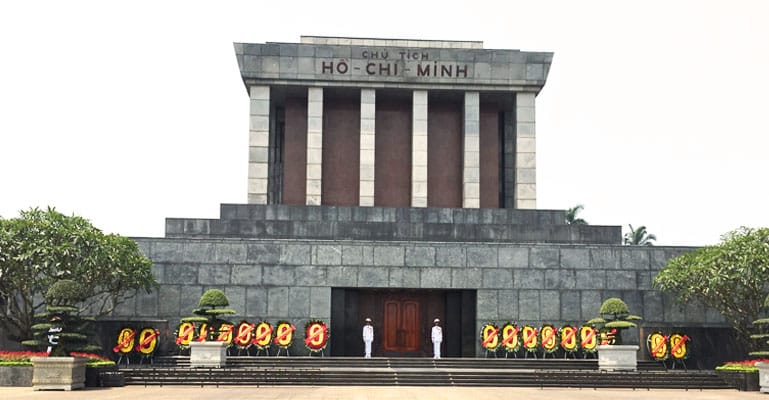 And they did. A beautiful mausoleum was erected at the very spot where Ho Chi Minh read the declaration of independence. A magnificent building it is too – a true testament of Vietnamese art, design and architecture.
The mausoleum is located in the heart of Ba Dihn Square. It holds the preserved remains of Ho Chi Minh, and people still come to pay their respects. Within the mausoleum complex there are other interesting sites including Ho Chi Minh Museum, One Pillar Pagoda, Dien Huu Pagoda and the Presidential Palace.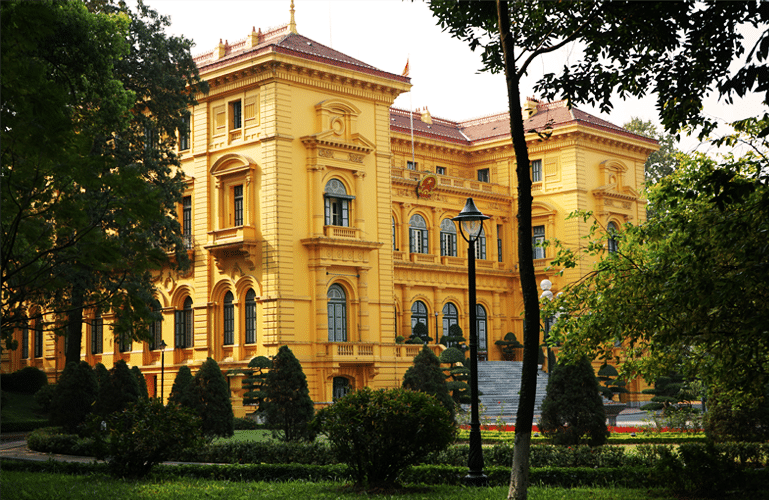 The Presidential Palace of Vietnam, located opposite to Hi Chi Minh Mausoleum housed the French Governor-General of Indochina.
2. Temple of Literature
Ever heard of Confucius? If you have, then you'll absolutely love the Temple of Literature. Temple was constructed in his honour. And there is a magnificent statue of him at the premises. The temple is built according to the Confucian philosophy of balance – the yin and yang. Installations like peacock balanced on a turtle, a bell on one side and a drum on the other side illustrate the principle of harmony.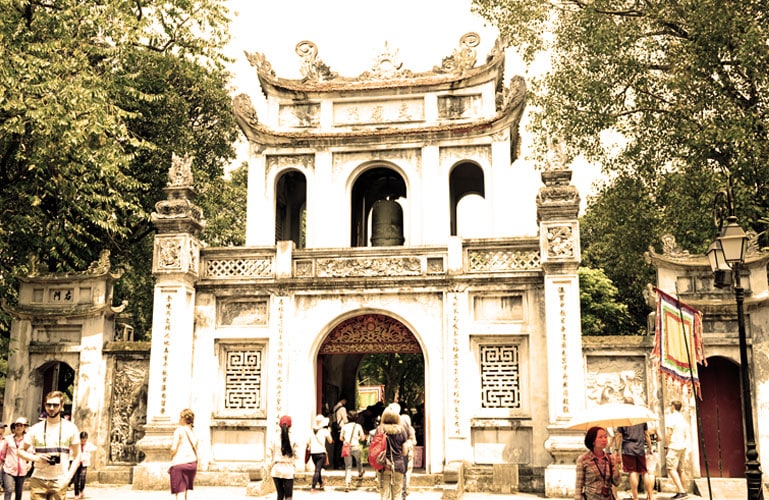 This temple was constructed in 1070 AD which basically means that it is approaching 1000 years but the temple is still in pristine shape. It is elegant and colorful.
The temple itself is composed of 5 courtyards, each having its own historical significance. Among the prominent features around the temple are the statue of Confucius, Khue Van Cac pavilion, tortoise statues and a collection of 82 tombstones. The tortoise is popular among locals – especially students. Every January – when exams are near – students come to rub the head of the tortoise. It is believed that doing so brings luck. And after their results are out, they come to take pictures with their certificates in their graduation dress! One such 'Graduation performance' was on during our visit.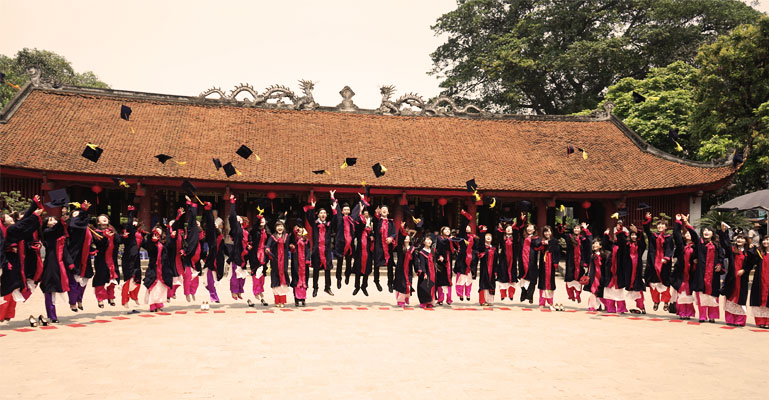 At the Temple of Literature, you can walk through the ancient courtyards, breath in the fresh air, and gaze at the delightful statues. You never know – you might just catch a glimpse of enlightenment.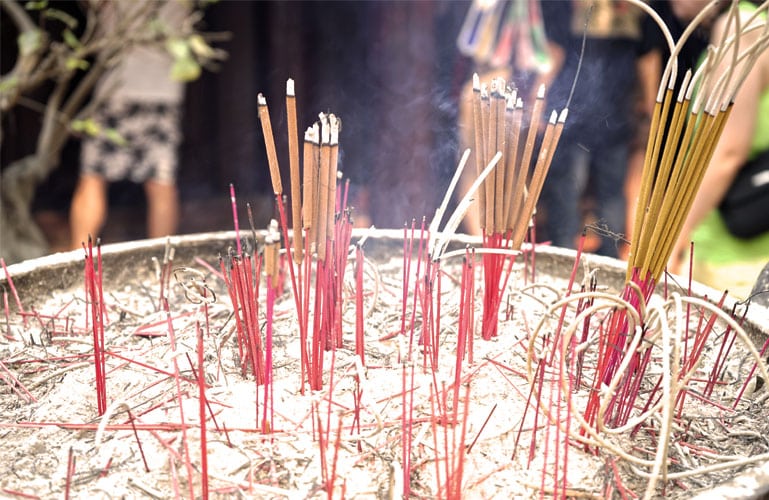 3. Tran Quoc Pagoda
With a history stretching back over 1,500 years, Tran Quoc Pagoda is the most ancient Buddhist temple in Hanoi. It is even older than the city itself.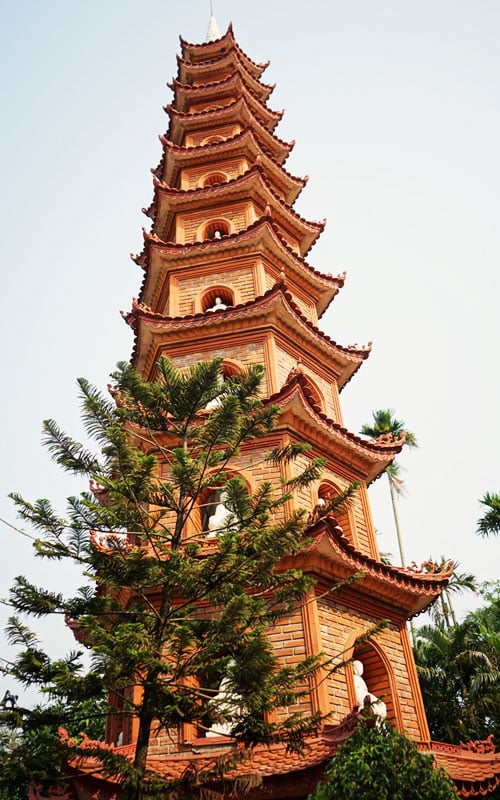 Located in a peninsula in West Lake, this pagoda is famously referred to as "the jewel of West Lake." This is because of its colorful ancient architecture which is accentuated by the ambiance of West Lake. Tran Quoc is elegant, tranquil and serene.
However, the temple is also a historical treasure-trove. There are many priceless artefacts some of which are thousands of years old. Among them are statues which represent the epitome of Vietnamese artistry. One of these statues has the distinction of being called "the most beautiful statue in Vietnam."
What To Eat/Drink:
Vietnamese cuisine is renowned for being simple to prepare and defined by sumptuous aromas and distinct flavours. The secret to this is that Viet chefs have mastered how to manipulate fresh herbs and seasonal ingredients. As such, a Vietnamese delicacy which is served by a street-side vendor is as good as (some would even say better than) one which is served in a top-grade restaurant.
In fact, Hanoi offers plenty of these street-side eating options. There are plenty of barbecue stalls, noodle stands and corner coffee shops dotted all over the city. There are several such eateries around Old Quarter. Make sure you try out popular delicacies like Pho, Bun Cha, Cal Lau, Bun bo nam bo, Cha ca, Banh xeo and Chan Ga Nuong.
Some mid range restaurants popular with tourists include Xoi Yen (39b Nguyen Huu Huan), and Pho Ran (Nguyen Sieu Str).
For dessert, Hanoi, Old Quarters offers great options too. The Waffles store close to Hanoi Elegance Hotel serves mouthwatering strawberry waffles and caramel panacotta.
For drinks, the one thing you may want to try out is Hanoi's legendary coffee. Vietnamese coffee is renowned for being strong and potent. Almost any restaurant you walk into will be able to serve you excellent coffee.
And then of course there is the beer! All Vietnamese cities have their own beer, and Hanoi is no exception. Hanoi Beer is actually one of the top favorites – rich, crisp and has a draft beer taste to it. The city also has numerous street-side pubs where you can enjoy Hanoi Beer at a bargain.
Pop into one of the pubs along Ta Hien Street you can enjoy "Bia Hoi" – 4 glasses of beer at only 1 USD. Would be hard to find a better bargain elsewhere. They offer you little plastic stools to sit and tiny plastic tables where you place your food and drinks. The atmosphere is electric and the crowds are amazing!
Where To Shop:
Finding gifts and souvenirs is the easiest in Old Quarters. By simply taking a stroll around, you can find decorative items, kids toys, local DVDs, T-shirts, etc.
Speaking of T-shirts, you may want to check out Vietnamese manufactured clothes. Most shops in Old Quarters sell Chinese clothes. Since you are not in Beijing or Shangai, you don't want to end up with Chinese stuff. The trick is to look out for signs on the shop fronts. Those with Vietnamese made clothes state it clearly. A good local brand which is comfortable, stylish and popular among youth is Kanifa.
Moving beyond Old Quarters, another popular shopping area – particularly with tourists – is Hoan Keim Lake. The elegant area is usually thronging with tourists – especially in the evenings. Shopping aside, the sheer color and ambiance of the place makes it worth checking out. However, Hoan Keim Lake also offers an opportunity to get some delightful souvenirs in the form of colorful crafts made by Vietnamese artisans.
---
You may also love: To My Mecca And Back – A Trip To William Shakespeare's Birthplace
---
Two places which are popular with locals to shop are Ba Trieu Street and West Lake. Ba Trieu Street is where the average middle-class Hanoians shop. West Lake is where the upper middle class shop. Between these two places, Old Quarters and Hoan Kiem lake, you would have a complete shopping experience of Hanoi.
The people in Vietnam are warm and friendly, the city has a charming mix of old and the new, the food is simply delish and the drinks are crisp and cheap! Also, the city is still relatively noncommercial compared to its South East Asian counterparts.
Tempting reasons to swing by in your next trip.. Don't you think so?