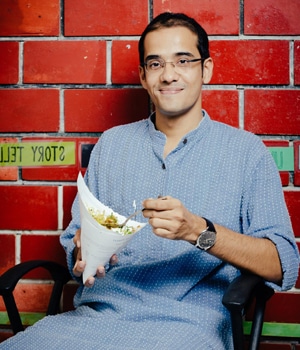 Professional maintenance service have come of age in Mumbai with start-ups like Hammer & Mop not only making its mark in the space but also setting new standards for new and existing players. What started off as a cleaning company has turned concierge-cum-property management business in a short span of three years, having several elite and famous clientele (the latest being Ms Malini herself) and a great story to keep investor's interests high in the company.
Founder and MD Sushrut Munje, an engineering college dropout, started working on the idea in 2010, with no prior work experience and very little as seed capital. Almost 4 years into the business, he reveals what it has taken for Hammer & Mop to become one of the most sought after professional maintenance services in the region.
In an exclusive conversation with LifeBeyondNumbers, Sushrut spoke passionately about his journey as an entrepreneur and how Hammer & Mop has evolved with time.
Hammer & Mop – The Beginning
The journey of Hammer & Mop has been an evolution, since it helped me grow at a personal level too.  I started with a capital of Rs 50,000, sourced from family and friends. While we got paying customers immediately allowing us to survive, the follow up working capital (which had to be brought in for growth) was sourced from the same loving people.
Today Hammer & Mop offers premium cleaning and professional upkeep services to homes and offices across Mumbai, along with products like Moving In, After Party, Pet Hair and Baby Cleanups. For properties, we offer one-time and multiple clean-ups scheduled at a frequency of the customer's choice. We also offer property management services, from concierge, real estate advisory to utilities ideal for corporate offices, consulates and high end residential societies.
This is done in collaboration with our 20+ allies, with Hammer & Mop being the sole point of contact.
How Commitment to Outstanding Customer Service Worked In Our Favour
Businesses like ours are built on customer service, since that's the only way for us to grow. Referrals and recommendations cannot be purchased, but earned through consistent and empathetic service. We have had our set of gaffes, but our wonderful customers helped us with constructive criticism and offered support.
In fact our commitment to going the extra mile for our customers is what gave birth to the idea of evolving into a full-fledged concierge service.
I feel Hammer & Mop always acted as something more than just a cleaning company, by leveraging our love for communication (most of our team members are writers) and by collaborating with some amazing like-minded companies in parallel sectors. We're on our way to becoming a concierge and a property management company. This involves understanding the nuances of all the services in the real estate sector. The process involves empowering our front line captains, setting up processes from scratch, deciding what to focus on and communicating it effectively to all the stakeholders.
Re-branding and Repositioning
Late last year, Hammer & Mop undertook a re-branding exercise which has helped us in getting additional business and growing our team.
Our first logo was made in house, and it reflected an amateur understanding of what we're getting into. Two years into the game, we knew what we stood for. The re-branding exercise enabled us to communicate our personality, our tone, our youthfulness and the enthusiasm bubbling inside us. The color (rich, reliable, calm), the logo (warm, fuzzy, sophisticated) and the custom font stood for everything we believe in. As a result, customers found it easier to relate to us, and so did multiple team members and allies who joined forces.
Social Media has played a crucial role in taking Hammer & Mop where it stands today. I remember the naive pleasure of starting the Facebook page even before we had the first transaction. It gives a platform to publish our story, engage with interested people and market ourselves.
Hammer & Mop helped a lady from Texas clean her carpet by guiding her through Facebook messages, helped a few patrons purchase the right vacuum machines, had funny Twitter conversations with partner brands, shared customer testimonials which were shared further and wrote about our interns which was widely appreciated as well.
It is like being amongst people we love, only that it's a virtual audience.
The Recipe For A Successful Startup
In my learning, Focus, Consistency, Resilience and Humility are the key factors in making a startup successful. Also, managing the cash flow, building the right team, being fearless in face of adversity and keeping one's head on one's shoulders no matter what are the factors which help too. Although I must admit that it's easier said than done.
Within the company, we believe in an open two way communication, thus avoiding conflicts and misunderstandings. Regular team meetings ensure everyone is on the same page. There is mutual respect, and a common goal we all work towards. Focus is on the person and his ethics first, and then the person's skill sets. This helps us retain talent and in turn transforms to consistent service delivery.
The Way Forward
The first year was spent in learning how to exist and build work relationships. The second year was where I had a core team, my first set of seed investors and we focused on the 'product'. Now into our third year, we're figuring out the best ways to grow. Key lessons revolve around empathy, focus and consistency.
We're still quite obsessed about getting our product right, and are working on building the right scalable model around our business. We do see ourselves operating in multiple cities in the near future. It is a very interesting business to be in, thanks to the awesome patrons we serve on a daily basis.