"I myself have never been able to find out precisely what feminism is: I only know that people call me a feminist whenever I express sentiments that differentiate me from a doormat."  – Rebecca West, author, literary critic.
'I NEED FEMINISM' is a public awareness campaign where men and women are asked why and how feminism is important to them. The campaign is directly inspired from a similar campaign held at Oxford University and Cambridge University, which later became a rage at many campuses across the globe.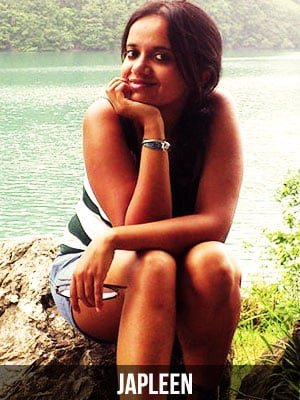 The campaign is brought to India by Feminism in India, a cause founded by Japleen Pasricha, a young research scholar from JNU who identifies herself a feminist. Pasricha opines that a movement is required to unravel the F-word and demystify the negativity surrounding it. She has been working on this project since a year now and plans to take it forward by holding campaigns and events and providing sex education workshops in schools and universities.
On April 15, 2014, Pasricha with a group of close friends and volunteers organized the INF campaign at Indira Gandhi Institute of Technology (IGIT) and Ambedkar University Delhi (AUD).
The INF campaign is a collection of photographs of people using words to voice their opinions about feminism. Both young men and women hold placards, which through the written word raises their voice against gender discrimination and baseless societal and cultural stereotypes. A similar campaign was also organized by the Feminist society at LUMS, a university in Lahore, Pakistan and it was a remarkable success.
To break the ice, the volunteers started by asking people what they understand by the term 'feminism'. Soon people started warming up to the idea and powerful slogans began to emerge with Pasricha and her team running from one group of excited students to another.
The participants were informed that the photographs would be published on social media. Those who wanted to remain anonymous held the posters against their faces. The volunteers also encountered a number of students who turned down the offer; however the response was largely encouraging.
At AUD, the students engaged in intriguing conversations on the topic of feminism and patriarchy. Some students were skeptic and some didn't want to include the term 'feminism' in their slogans but almost everyone wanted to participate. The team even managed to crash a Gender Studies class and requested all the students to participate, only after due permission from the good spirited professor, who also joined in and wrote a slogan.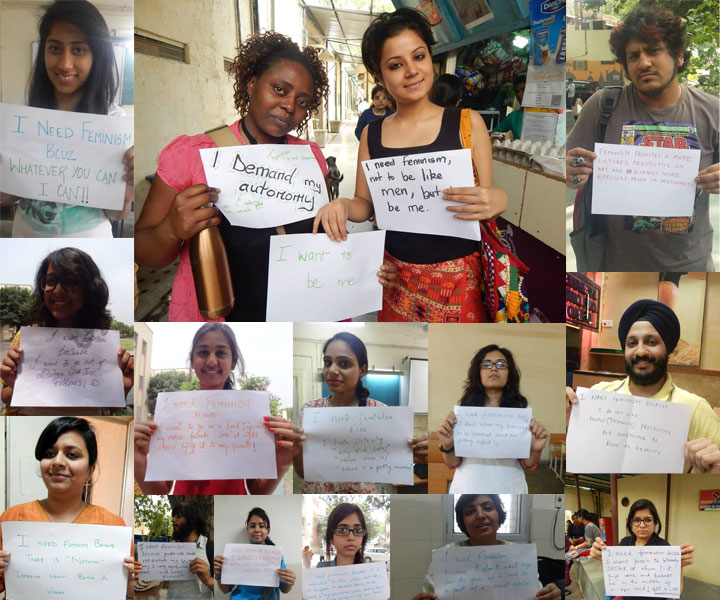 By the end of the day, the team had exceeded their initial target of photographing 100 thoughts on 'I Need Feminism'. Here is a random collection of different individual's thoughts, both male and female:

I Need Feminism Because…
… whatever you can I can.
… men with male boobs should also be asked to wear a bra.
… I love men and women and everyone! Do you see any difference? I don't.
… I see sex as a secondary trait, before to being a man or woman we are human being with our set of limitations and strength. There are no and should not be any stereotypes and restrictions because every man is different from every other man or woman is different from woman or man from woman.
… I want to go out into the streets carefree.
… I deserve equal pay for equal work, I'm tired of people telling me what to do with my body.
… I demand my autonomy. I want to be me. I need feminism, not to be like men, but to be me.
… I was once sexually harassed in the metro and I was scared to speak up.
… I do not like people (*feminists) protesting for something as basic as equality.
… feminism provides a more cultured perspective on art and enables more efficient proof of multi-versity.
This was India's first ever 'I Need Feminism' campaign successfully organized and executed by young students keen to bring about a change in popular mindset as well as action. The team received an overwhelming response both at IGIT and AUD, and is inspired to organize more such events at University of Delhi and JNU during the upcoming semester.
Do share your thoughts in comments below.