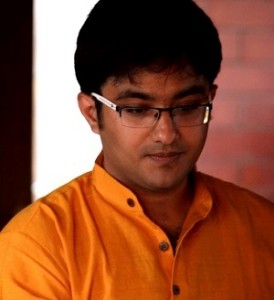 Vikram Sridhar is a 30-year-old child who still loves watching an elephant from its back, plucking mangoes from the tree and sleeping in a lake for hours (a still lake!).
While keeping a full time job as an IT professional in the country's tech capital, Vikram spends his evenings telling stories to children, a medium which has helped intertwine his interests in performing arts and wildlife conservation. Vikram is also a co-founder at Tahatto, a theater company based in Bangalore.
At a young age, Vikram Sridhar has managed to strike the delicate balance that many of us struggle to master, citing dearth of time or excess of responsibility. Sharing with you yet another real life story which inspires us to do more with our lives.
Let's start from the beginning. Can we say that the way you have shaped your life comes from how you were raised?
Yes, to a great extent. I was born and brought up in Chennai. My school life laid a strong foundation in my appreciation for performing arts, and my parents always encouraged me to do what I liked. I learnt Carnatic music for 5 years and my school years were spent in singing, acting, learning chess while the focus remained on studies.
Once I was almost selected to play Kamal Hasan's son in the movie Avvai Shanmughi which was later made in Hindi as Chachi 420. Eventually Mr. Hasan decided that he wanted a daughter in the movie so there went my chance!
I went on to do Mechanical Engineering where one day a classmate who was also the only girl in the department, asked me to accompany her to see a play. The play was NagaMandala, an English adaptation of a Girish Karnad play performed by the oldest English theatre group in Chennai, The Madras Players. That evening, I got hooked to English theatre. The habit stuck while I pursued MBA at IIT Madras to study Finance.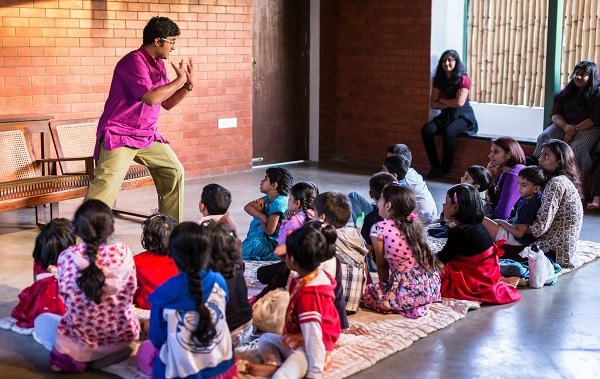 At IIT I bombed in Finance and realized how good score in a subject at school doesn't guarantee your lifelong interest in it. I opted for Marketing & Sales and got placed in IBM Bangalore as a consultant. As life fell into place, I began to spend my after-work hours in my three interests: Theatre, conservation and social service. I began volunteering with various theatre groups which eventually led to Tahatto along with four friends.
I also began participating in conservation activities such as wildlife surveys, census, rescue operations, and learnt a lot in terms of Urban Conservation and the current issues of Man- Animal coexistence.
In 2011, I joined Ariba, a SAP company and have been here since then.
Technology and Storytelling are poles apart. While one requires analytical dexterity, the other calls for sensitivity, visualization and the skill to engage. How did Storytelling come about?
Once I volunteered to do a storytelling session for an established writer who was looking for a Theatre person to Storytell her folk tale to a bunch of class 5 students. At first it was easy; I went and read aloud the story to the children. Of course the children wanted more so they asked me tell the story without reading from the book.
At the end of it they were so delighted to hear me narrate this Bengali folktale of a crocodile and a fox that they asked for my autograph. I was dumbfounded. Never had this happened to me. And when I looked deeper I found an answer to some of my questions and difficulties in theater, conservation and social support activities.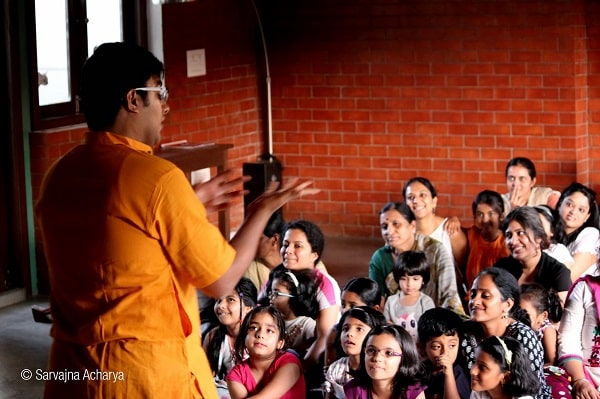 Here I was talking about animals using theatre as a performing art and taking it to children.  All three rolled into one.  I had always felt stories stereotyped animals leading to greater distance between us and them. Like a fox is cunning, a snake evil etc., and I could correct it in my own way, showing children the good side of animals as a Storyteller.
That's when I started taking Storytelling seriously and the journey has been on since then. Around The Story Tree has evolved as an initiative which connects the age old tradition of Storytelling as a strong medium for Conservation in a contemporary form.
After office hours, I channelize my time and effort towards my three interests and Storytelling becomes my output and identity.
You are a classic example of "When you love something, you find the time to do it". How do you do it?
Once during an IIT fest, I had the privilege to speak with the then SEBI chief. While he was getting ready he asked me the Cricket score for the day. I couldn't help asking how he had the time to track cricket. He told me, "Vikram, if someone tells you they don't have time; they don't know what they are doing. If someone tells you they don't have time to do what they like, they are lying".
There will always be a way to do things we love. At the end isn't that what we are! For me, my storytelling is my time out, my way to unwind amidst all that I love.
What is the relevance of Storytelling in a child's development?
There's a saying in Tamil- What can't be imparted at 5 can't be done at 50.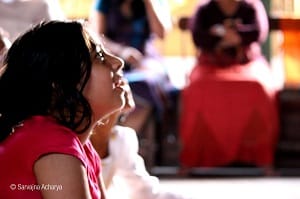 Stories connect children with the world, people, nature, culture and the valuable aspects of life. Humans build strong emotional and psychological foundations through Oral and Visual memory. And we have always capsuled these in stories through music, dance, literature and theatre.  Three main areas where I feel Storytelling helps children are
1. Cultural connect
In a fast paced world, stories help children to understand the culture of the land. Parents can use Storytelling to talk about their lineage and their personal history. Storytelling strengthens the child- parent bond. I would say the more stories a parent has told a child, more chances of the child being a responsible citizen.
2. Social interactions without gadgets
With Facebook and twitter becoming more talkative, there is a sense of disconnect between children and adults. Through storytelling a child's healthy oral memory is built over time. Today we all are social animals and hooked to a technology which is hardly few years old whereas for centuries we have built a society exchanging stories. I believe connecting through stories would lead to a positive impact than connecting through gadgets.
3. To identify the issues and interest in a child
Stories and the responses of children can be useful in understanding a child's interests. Storytelling is also a powerful tool to unearth the challenges faced by a child and help in early intervention.
Parents also read stories to children. How is a Storytelling session different in terms of experience?
While parent-child storytelling is always special, a Storytelling session is like watching a performance. That's why I call it Performance/Oral Storytelling. Like we do sing songs at home to ourselves, to our children and in social gatherings. But we still go for a concert, watch it from a distance and enjoy the true power of the art form.
Similarly, watching a story performed before us takes us to a different space. Every time we listen to a new story, it can open a new layer before us .
Is Storytelling like a second career for you? Do you see yourself giving up corporate life to immerse yourself in the Arts?
No. Not right now. I do get compensated for my efforts and the recognition and acknowledgement is steadily increasing. I'd like to take it organically and see where the road leads.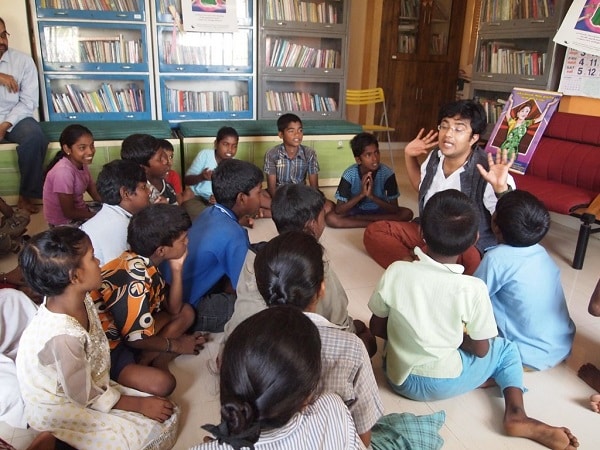 And as there's no precedence in this form like many other art forms, the road ahead is self-made. Though there are many Storytellers across the globe who make a career out of Storytelling, it is still in a nascent stage in India with only a handful of seniors who do it fulltime.
Having said that, will be wonderful to see a day I do just Storytelling 24*7!
Please tell us about Tahatto.
Founded in 2009, Tahatto is a Bangalore-based theatre entity focused on creating and being part of theatre that is meaningful, relevant, and entertaining. At present Tahatto is run by 5 core members. Prashanth Nair, Lakshmi Menon, Badari Vishal, Piyush Agarwal and myself. Apart from 5 full-scale productions so far, Tahatto is quickly emerging as a theatre company that is being managed by theatre professionals with expertise across the life-cycle of theatre-making from writing and creation, to production (including lighting, music and design), performing and marketing plays.
Prashanth won the Hindu Metro Plus Playwright award in 2012 and we went to stage the play 'Romeo & Juliet, No Strings Attached 'across various festivals. Some new initiatives, plays and programs are in the pipeline.
Most of us are waiting. Waiting for the day when we will paint, sing, travel, cook, draw, submit pictures to a photo competition, quit the 9-5 grind to do what we really want. Please say something to us.
Keep doing things which you like. Be it anything. Don't push it to tomorrow. Even if its 5 minutes a day, keep going and there would be a day you will be able to connect the dots.
If you can't find the inspiration to draw, go watch an exhibition, can't cook, watch a cookery show,  can't send pictures to NatGeo, upload them to social media.
One thing will lead to another and the day might come when you actually quit the 9-5 grind. As for me, SAP has helped me evolve and sustain, and reach higher goals.
If I were unhappy with what I do during the day, how would I do justice to my craft that fills my evenings?
Indeed! You can connect with Vikram Sridhar here.