We were pleased to come across a new online shopping portal that sells Power tools, Small/Heavy machines, Home Improvements, Drillers, Hardware, Construction equipment & accessories. Being a hardcore DIY enthusiast, I personally loved the website at the first look of it. Niyaz K, the creator of MrThomas.in says he always wanted to do something different on the e-commerce platform with fun, enjoyment and love. But he was not excited about selling salwar and sandals. MrThomas was born with the belief that it will help experts and also common man's daily work easier & faster with the help of a tiny team. MrThomas is owned and operated by 3dots.in.
In this exclusive conversation with LifeBeyondNumbers, Niyaz talks about his venture MrThomas, the future plans and lots more…
The Beginning And The Inception of MrThomas
I have done my graduation from Madras University, Chennai. Basically, I haven't been a rank holder in my school days but I was very interested in start-ups from my early days. I was also into motorcycle racing. My first job was as a Marketing Executive in Al Badeel, Sharjah, UAE. Prior to my recent start-up, I was working as Head of Online Business Operation & Product in Network 18 Publishing. Overall I have 9 year's experience in the internet industry.
MrThomas.in is a one stop spot for all home improvement & business improvement products which will help you in your daily work to make it easier & faster. We do sell various products like Power Tools, Garden Tools, Automotive and Electronics, Home Improvements, Drillers, Hardware, Construction equipment, accessories, etc. but now we are mainly selling power tools. Other verticals like Hand tools, Generators, Inverters, Hardware, Batteries etc. will be displayed shortly on the website. Basically we have identified some real-time problems to which we have decided to draw a solution. The two primary problems are:
#1 – Marketplace giants in India are just connecting buyers and sellers when it comes to core B2B/DIY products, we are stepping ahead to sell those product to the end users/customers with the help of MrThomas.in
#2 – Small, medium and big scale industries/factories are located in the remote areas; and people in tier I & II cities find it difficult to purchase products like Power tools, Small/Heavy machines, Home improvements, Drillers, Hardware, Construction equipment, accessories, etc.
MrThomas.in comes in to help choose, pay and receive these products in an instantaneous way at the door-step with free home delivery. There are 2 set of audiences – The individual professionals like builders, carpenters, plumbers, electricians and the same professionals from factories, industrial plants, small scale machinery companies; and the DIY (do it yourself) enthusiast.
Mr.Thomas helps in buying products in just a few clicks, sitting anywhere. We deal with all top brands products and committed to deliver the best products from the market at the lowest possible rates to our customers. We deliver the products all over India.
Our vision is to sell the machinery, tools & related products which people might not find easily on the internet. We are also focusing on delivering the best products from the market at the lowest possible rates. With MrThomas power tools, hand tools, home improvement products are now available online. On a larger scale we are planning to educate the people of India in the DIY (Do It Yourself) concept. We also aim to reach millions of people who want to buy our products, particularly those associated with the home improvements and machines and make their daily life easier &  work faster!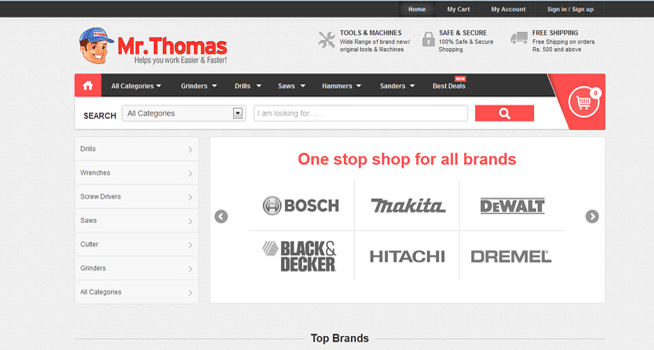 In comparison to B2B, the B2C ecommerce is dominating in India for past 10 years or more. Now the  B2B e-commerce market in India has been growing at a fast rate and thus the online advertisement for B2B section is also increasing. Since we are very tight in our verticals like power tools, home improvement goods, hardware, etc, it is a bit tough to hit an accurate market size from the overall SME/SMB crowd. Size of e-commerce market in India is $10 billion for the year 2013 according to sources.  If we segregate only power tools category, the overall market size (offline+online) is around Rs. 1000 crores, as per my personal notion – the e-commerce market size for these products will be like between Rs.3 to Rs.8 crores for the year 2014.
The Current State of Affairs
MrThomas is completely bootstrapped. We will be looking for some funding to scale this business reach out in a much bigger and better way. As of now the response we have got is very good, people liked our website design because of the subtle color combination where users can stay on the page for a longer time and the easy to use interface. At this point, the orders are mainly coming from the cities like Vellore, Mizoram, Shillong, Gurgaon, New Delhi, etc.
We do have basic features like brand wise products list, the comprehensive filter feature in the SERP like filter by brand, price & category, auto suggest search engine, quick view etc.
The Learning
Although I don't have much experience as it has been just couple of months that I started, I would still want to share my little experience. The current scene in India is changing and people now respect you if you are from start-up. Initially I thought people might not encourage or support a start-up and believe in only the big brand names. But I was wrong, nowadays the perspective has changed completely. So I feel one should plan and sort out the revenue model and start a business, it gives you super power.
The Future
We are planning to introduce more than 10 new verticals to the list. Units like hand tools, safety equipment, hardware, home improvement products, construction material, etc. Planning to setup a helpline/chat facility especially for product explanation which will helps buyers to choose the right products. We are also planning to promote a video which will help buyers to know the exact product specifications and features, and probably how-to-use demo videos as well.
Another plan is to launch a new segment called "You Can Do" which is based on the Do-It-Yourself  (DIY)concept. We want to educate people how to paint their walls, or how to make a reading table on your own with the help of MrThomas and things like that. This is just to build and encourage the do it yourself attitude in our people. We are expecting a business of Rs. 144 crores per year in sale five years down the line.
Click here to visit MrThomas.in
It's good to see an effort for the encouragement of the do-it-yourself habits in our country, and the availability of high-tech working tools online. Let us see how this space shapes up in the times to come. At LifeBeyondNumbers, we wish Niyaz K and his venture, MrThomas all the success in the future.