W
ith the world shrinking into the mobile phones, have you realized that it has paralyzed us in a way? We don't even remember the phone numbers and email addresses of our dear ones. And we bet that out of all the phone numbers you have stored in your mobile, for 80% of those people, you don't have their email addresses. If in case you want to mail them something or anything urgent, all you have to do is call them up or text them asking for their email address.
But what if we can email them via their phone numbers without the need of actual email addresses?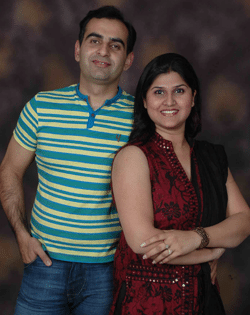 NoMyID, a mobile application, does exactly that. It empowers us to email to anybody using just their phone numbers. Isn't it cool?
Aman Sikka, with a Masters in International Business, along with his wife Rajula Sikka has co-founded NoMyID. Aman is a banker by profession and his passion lies in finance and technology. Presently in the holding position of Deputy Vice President with HDFC Bank handling retail branch banking business in parts of Punjab and Himachal Pradesh. Rajula Sikka, CEO of NoMyID, comes with an experience of more than a decade in the field of creative arts and education. She is Masters in Fine Arts with specialization in Advertising.
The Inception of NoMyID



Most of the times we need to share some important and detailed information like individual's profile, companies profile, useful offers, some news, regular communication, with friends, colleagues, relatives, mentors etc. But due to unavailability of mail Ids we don't share these information. We felt the need of a solution which can solve this issue. So by using NoMyID mail can be sent to any mobile number. There is no need of the actual mail Id of receiver. Just select the mobile number and send the mail. That's the power of NoMyID.
Overall response from the users so far is very good. People who have downloaded are using it for communication. With this, mail can be sent to any mobile number. It is useful for corporate, services industry, customer care, regular communication etc. As mail is a kind of communication which everyone requires so it can be targeted in any market.
The Present Status And How It Works
Presently there are 3000+ downloads for the NoMyID mobile application. Presently it is self funded and from few small investors.
With this app user can send mail to any mobile number. After configuring this app user can send email to any mobile number. There is no requirement of mail ids. Just select the mobile number and send the mail. If receiver of mail is an existing user of app then he will receive the mail inthe app Inbox. In case the receiver is not using the NoMyID app,  a SMS will be sent to receiver stating that he has received mail from ABCD with mobile number XYZ. To check the mail, app download links and web link will be provided with user Id and password.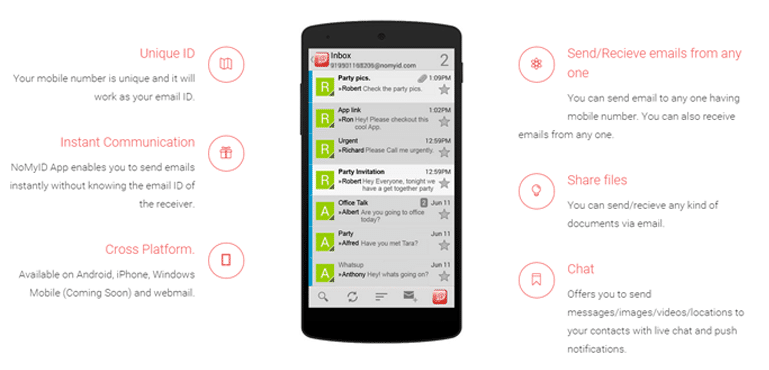 NoMyID app also includes a powerful live chat client to send/receive messages. You can chat with your contacts. You can share files/images/videos/locations as well. You can see who has received and read your message. Messages will be delivered via Push Notifications to offline contacts.
In future, this app will be used by corporate, E-comm companies, Service providers etc for sending all kind of communications to their customers as they have contact numbers of all customers but mail Ids are not available. It will be very cost effective for them.
[mashvideo]
Challenges And The Road Ahead
In this app chat platform is also available. Major challenge was to integrate Mail and Chat platform in one single App. Going ahead, we will make sure that mails can be also sent to any Landline number. Chatting and calling to non user of app will be possible soon and we are working towards it.
Right now there is no mobile app which is providing these kinds of services. Yes there can be competition in coming days because with this kind of concept detailed information can be shared with any one worldwide with knowing mail ID. Just mobile number is required. Since, this app is one of its kind right now, there is no actual competition right away. But we are sure, more apps will be mushrooming soon in around this concept. Competition is good. A healthy competition always helps you to bring out the best in you if you consider yourself seriously as part of the competition.
To visit the NoMyId website and download the app: Click Here.
Want to share your start-up story? Click Here.