We all know Oats are healthy!! Ask all us mom-like-creatures and we would have a whole list of benefits on our fingertips; Oats are great source of dietary fiber, have the right mix of essential nutrients and dietary minerals and so on and so forth!! For the ones I missed, you could Google, just like I did.
Armed with this knowledge, I was all set to make it a regular feature on my kid's morning menu. However every time I tried to push a bowl of piping hot oatmeal in front of her for breakfast all these years, she would dismiss it as "too boring" or "too bland" for her taste. Now, I must tell you a bit about my 9 year old, she is smart and tech savvy like most kids of her age, however most of all, its her reasoning prowess since a very young age, that never fails to amaze me. And when it came with a "c'mon ma, you surely can do better" with a wink and a hint of sarcasm, the gauntlet was thrown, and the unrelenting mom (that's me) rose to face this challenge.
So featured here are four of the most interesting, unique and healthy recipes (great taste, included) some that I created and some I recreated with my own twist. These innovative recipes are guaranteed to create a wow element and tickle taste-buds of both kids and grown-ups alike.
[su_dropcap style="flat"]1.[/su_dropcap] Oats Banana & Mishti-Doi Muffins
(Easy, Prep time 8-10 minutes, Cooking Time 20-22 Minutes)
These Oats Banana muffins have a lovely texture and earthy flavors of Mishti Doi and Shakkar (rustic powdered jaggery) and cinnamon and could completely transform the breakfast scene, and are super healthy as they do not use Butter, any processed sugar and flour.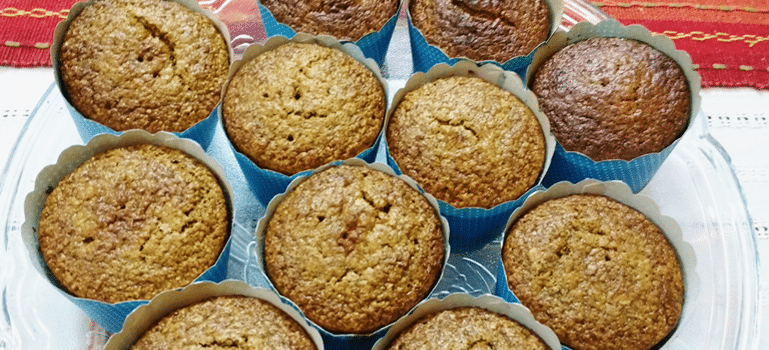 [su_accordion] [su_spoiler title="
Ingredients
"]
To make 10-12 medium sized muffins:
Oats (Quick cooking/ rolled) – 3 + 1 Cup
Mishti Doi (Readymade- Mother Dairy/ or Homemade) – 1 Cup
Eggs- 4 Nos. (3 if large size)
Ripe Bananas- 4 Nos.
Shakkar (Powdered Jaggery) – 1 Cup
Honey – 2 Tbsp.
Cinnamon powder – 2 Tsp
Salt: 1 Tsp
Baking Powder: 2 Tsp
Baking Soda: 1 Tsp
Vanilla Essence: few drops
[/su_spoiler] [su_spoiler title="
How To Cook
"]
Let's Get Cooking:
Preheat Oven to 200 degree Centigrade.
In a large blender/ mixer jar, add all the wet ingredients first and blend at low/medium speed for 2-3 Minutes.
Add all dry ingredients (except 1 Cup) oats and blend for another 2 minutes, till it blends into a paste of cake batter like consistency.
Fold in the remaining oats using a spatula and immediately pour into pre-greased Muffin cups till about 3/4 full.
Tap gently to release any air bubbles trapped and then bake in the preheated oven at 200 degree centigrade for 20-22 Minutes ( Or till the tops become firm and little browned and a toothpick inserted should come out clean)
Let them cool, if you want to store them for an easy "Breakfast on the go", wrap them in cling film when completely cooled and store in an airtight jar.
[/su_spoiler] [/su_accordion]
[su_dropcap style="flat"]2.[/su_dropcap] Baked Oats Cheese-Straws
(Easy, Preparation time: 10 Minutes, Cooking time: 15-18 Minutes)
A completely healthy take on snacking, these savories can be relished with afternoon tea, and evening snack for kids or even go well with drinks.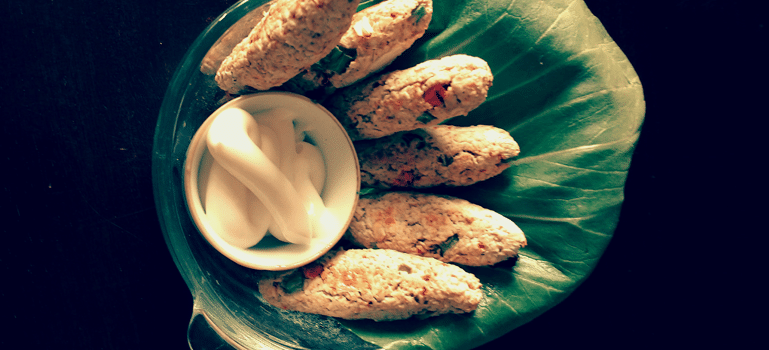 [su_accordion] [su_spoiler title="
Ingredients
"]
To make 8-10 straws:
Oats (quick cooking) – 1 Cup
Paneer/Cottage cheese/ Tofu: ½ Cup crumbled
Plain curd: 1-2 Tbsp.
Onions: 1 Tbsp. finely chopped
Parmesan/ cheddar cheese: 1 Tbsp. grated
Green chilies (optional): 1 deseed and finely chop
Carrom seeds (Ajwain seeds): ½ Tsp
Salt, Pepper, Cumin powder, Paprika- to taste
[/su_spoiler] [su_spoiler title="
How To Cook
"]
Let's Get Cooking:
In a mixing bowl mix well all the ingredients, add little curd at a time and knead using hands into a crumbling dough like consistency.
Grease your hands and divide dough into equal sized balls and roll into finger like shape.
Place in a greased butter paper lined dish and bake in a preheated oven at 180 degree for 15 minutes ( or till the fingers firm up and get golden brown in colour)
Serve with mayo, chutney or any other dip of your choice.
[/su_spoiler] [/su_accordion]
[su_dropcap style="flat"]3.[/su_dropcap] Oats Banana Raisin Cookies
(Very easy, Preparation time: 2-3 Minutes, Baking time 15 Minutes)
Baking cookies never got simpler, I came across this winner in less than 20 minutes and with a handful of ingredients, you can create these tasty, soft and chewy cookies. And the good news is, they are healthy. That's how we roll, Bananas and Oats, that's all we are eating folks.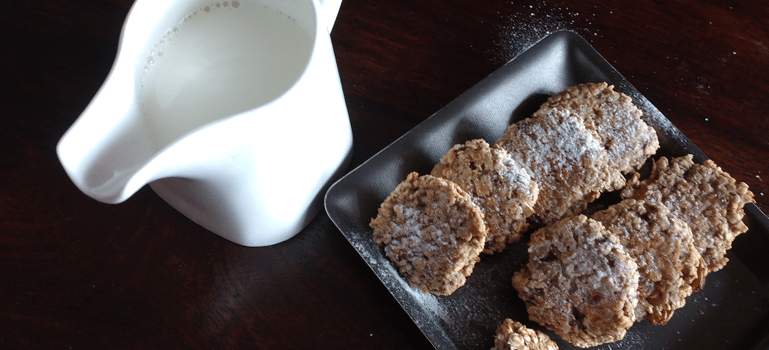 [su_accordion] [su_spoiler title="
Ingredients
"]
To make 8-10 small sized cookies:
Oats (Quick cooking/ ready-made): 1 Cup
Very ripe Bananas: 1-2 depending on size
Cinnamon powder and handful of raisins/sultanas
[/su_spoiler] [su_spoiler title="
How To Cook
"]
Let's Get Cooking:
Preheat oven to 200 degree centigrade.
Mash bananas, add oats and cinnamon power into a thick coarse paste, if it gets runny simply add some more oats.
Using an ice- cream scoop , scoop out 8-10 cookies on a greased baking paper lined tray.
Press it down gently with your hand or flat spatula to give them a cookie shape.
Bake for 15 -18 minutes and they are done.
A great substitute to regular cookies with milk time for kids to dunk in- if you want to jazz it up a bit add little chocolate chips or finely chopped walnuts for added oomph and texture (but not too many as the mixture may not hold then). Enjoy!
[/su_spoiler] [/su_accordion]
[su_dropcap style="flat"]4.[/su_dropcap] Oats Mutter Keema Fry
(Easy. Preparation time 15 Minutes, prep time 20-25 Minutes)
While the other three recipes were to get my kids attention, this one I created just for grown-ups, a hot spicy and flavorful and vegetarian take on the classic Keema mutter curry typically made with minced lamb meat or chicken. This was so good, that it actually took a while for a dear friend (who loves meat) to identify that this wasn't meat curry that I was serving.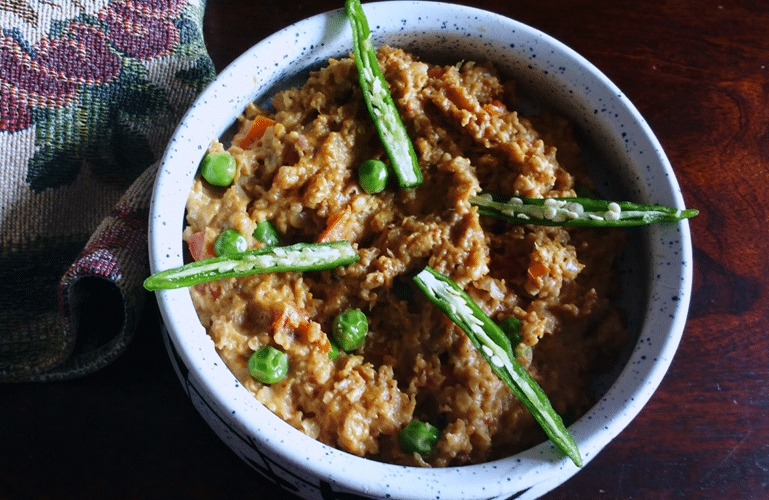 [su_accordion] [su_spoiler title="
Ingredients
"]
To serve 2-3 people:
Oats (Quick cooking/ regular): 2 Cups
Plain curd – 1 Cup
Peas- frozen/ fresh- ½ cup
Onion: 1 medium sized
Brown onion paste – 1 -2 Tbsp.
Ginger & Garlic: finely chopped- 1 tsp each
Green chilies (optional): finely chopped 1 Tbsp.
Tomatoes- 1 small, finely chopped
Mutton masala- 2-3 Tsp
Coriander powder- 1 Tsp
Cumin Powder- 1 Tsp
Cinnamon- 1 inch stick
Turmeric powder- 1 tsp
Red chili powder- to taste
Cloves 2-3
Black Cardamom: 1-2
Cumin seeds: 1 Tsp
Ghee / oil to cook
Salt to taste
Lemon juice: 1 tsp
Coriander leaves for garnish.
[/su_spoiler] [su_spoiler title="
How To Cook
"]
Let's Get Cooking:
Heat oil in a pan, add black cardamom, cinnamon and cumin seeds till they splutter.
In another pan, toast oats till they become a little brown and start giving out an aroma.
Add finely chopped onions and fry till they become translucent, if you are using fresh peas add them now, add little salt and fry another 3-5 minutes till peas become soft.
Now add tomatoes and all the spices except meat masala and fry for another 2-3 minutes, add oats and 2 cups water and simmer till it gets thick and oats seem cooked.
Now add 1-2 tsp meat masala, a cup of yogurt and keep frying till curd start leaving a bit of oil on the sides / mixture thickens to desired consistency.
Take off the flame, add a dash of lemon and garnish with coriander leaves.
Serve with Paranthas or Rumali rotis.
[/su_spoiler] [/su_accordion]
Follow Riya's delicious & unique recipes on Instagram.
You too think that Oats are boring? Taste these recipes. Think again.